"What do you do all day in Cozumel?" An Invitation to Join Communitas
"What do you do all day in Cozumel?" It was the least expected- but most common question- we received after we made our decision to live part of our year in Cozumel. Over these last 11 years, we have considered the question and formulated a simple answer: "We live! Cozumel is a place where you can live and a great place to live."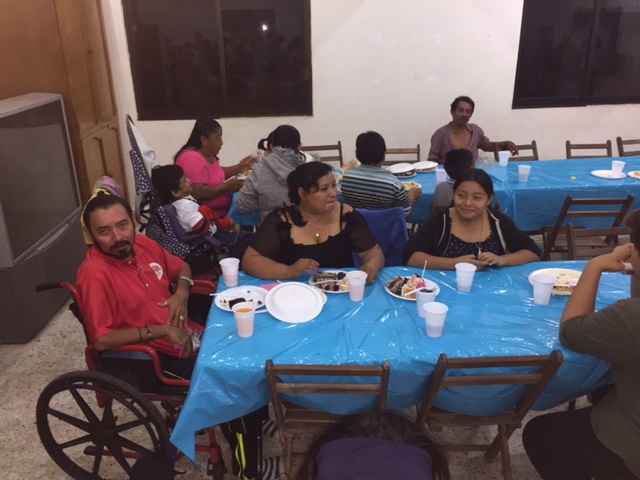 For many, a full life in a new place includes joining a faith community. Cozumel has a rich religious history with many spiritual expressions but most are inaccessible to non-Spanish speaking visitors.
Communitas, the English Language Congregation of Cozumel, provides Christian worship and service opportunities. We are an interdenominational community of all volunteers. On any Sunday at 9:00 am, you may hear an inspiring message from one of our pastors or a laypersons.
Our Food Bank volunteers provide "end of the month" provisions for over 30 poor families.
As a Communitas participant, I can assure you that there is always something inspiring to receive, or significant to give, at Communitas. Join us.
Communitas – the English language congregation of Cozumel –  meets at Eben Ezer Presbyterian Church on 30th at 9:00 am Sunday morning. It is  an interdenominational congregation of all volunteers.  We are happy to be one small tile in the mosaic of church life on the island. We are grateful to all those from inside and outside our congregation who have helped with our efforts to meet island needs.   For more information, check out their website.    https://www.facebook.com/groups/1769941493269595/
"¿Qué hace todo el día en Cozumel?". Una invitación para unirse a Communitas
"¿Qué hace todo el día en Cozumel?" Desde que tomamos la decisión de vivir una parte del año en Cozumel, esta es pregunta menos esperada, pero más común, que nos han hecho. Durante estos últimos 11 años hemos considerado la pregunta y formulado una sencilla respuesta: "¡Vivimos! Cozumel es el sitio donde uno puede vivir y es un gran lugar para vivir".
Para muchos, vivir completamente en un lugar nuevo incluye unirse a una comunidad de fe. Cozumel tiene una rica historia religiosa, con muchas expresiones espirituales, pero muchas son inaccesibles para los visitantes que no hablan español.
Communitas, la congregación de Cozumel en idioma inglés ofrece culto cristiano y servicios. Somos una comunidad interdenominacional de todos los voluntarios. Cualquier domingo, a las 9 am, podrá escuchar un mensaje inspirador de alguno de nuestros pastores o seglar.
Nuestros voluntarios en el banco de alimentos ofrecen suministros "de fin de mes" a más de 30 personas pobres.
Como participante de Communitas, puedo asegurarles que en Communitas siempre hay algo motivador para recibir, o importante que dar. Únanse a nosotros.
Communitas, la congregación de Cozumel en idioma inglés se reúne en la iglesia presbiteriana Eben Ezer sobre la 30 los días domingo por la mañana a las 9:00 am. Es una congregación interdenominacional formada por voluntarios. Nos complace ser una pequeña losa en el mosaico de la vida religiosa en la Isla. Damos las gracias a todos dentro y fuera de nuestra congregación que han apoyado nuestros esfuerzos para satisfacer las necesidades en la Isla. Para más información, visiten su sitio web.    https://www.facebook.com/groups/1769941493269595/
An ex-Connecticut Yankee who has called Cozumel home for over 18 years, Laura ran away to the Caribbean years ago, bumped around the islands teaching SCUBA diving, lost some time in Jamaica, and finally stopped in Cozumel for a 2 week vacation that hasn't ended yet. With a degree in Journalism from a fancy private college she convinced her parents to pay for, Laura writes, edits, and creates the weeklyCozumel 4 You news,social media, and promotional articles about the island, as well as moderates the Cozumel 4 You Facebook group, which currently has over 25,000 members. Her long suffering husband, Fabian, has long since resigned himself to having zero private life, as he's been involved in her various schemes and plots since his arrival. Proud parents to a variety of rescue dogs and cats, Laura continues to be the bane of her traditional Mexican mother-in-law's existence, as she muses her way through life in the Mexican Caribbean.
______________________________
Una ex yanqui de Connecticut quien llama hogar a Cozumel desde hace más de 15 años. Laura escapó al Caribe hace años, desplazándose de una isla a otra dando clases de BUCEO. Se dedicó a perder el tiempo en Jamaica y finalmente se detuvo en Cozumel para pasar unas vacaciones de 2 semanas que aún no terminan. Convenciendo a sus padres que pagaran una elegante universidad privada, obtuvo su título en Periodismo y Laura crea semanalmente Cozumel 4You, medios sociales y artículos promocionales sobre la Isla y también es moderadora en el grupo Cozumel 4 You en Facebook que actualmente cuenta con 25,000 miembros. Fabián, s umuy tolerante marido, desde hace mucho tiempo se resignó a no tener vida privada, pues se ha visto implicado en los diversos proyectos y planes que urde Laura. Son orgullosos padres de diversos perros y gatos rescatados. Mientras contempla su paso a través de la vida en el Caribe mexicano,Laura continúa siendo la pesadilla en la existencia de su muy tradicional suegra mexicana.
Latest posts by Laura Wilkinson (see all)