Humane Society Cozumel Event
Humane Society Meet & Greet: El Palomar Nov 4th
Join the HSCI for the 3rd Annual Pre- Putts for Paws cocktail event…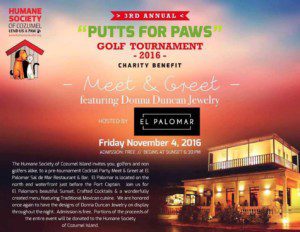 El Palomar is Cozumel's newest hotspot!! On November 4th they are hosting a Meet & Greet for the people of Cozumel to inaugurate the 3rd Annual Putts for Paws Charity Golf Tournament benefitting the Humane Society of Cozumel Island. Donna Duncan Jewelry Designs will be on display throughout the night. A wonderful opportunity to get some early Xmas shopping done. Admission is free. See you there!
Evento para conocerse y saludarse de la Sociedad Humanitaria, el 4 de noviembre
El sitio de moda más nuevo en Cozumel es El Palomar. Para la gente de Cozumel, el 4 de noviembre serán los anfitriones del evento para conocer y saludar con el fin de inaugurar el 3er. torneo anual de  golf de beneficencia Putts for Paws para la Sociedad Humanitaria de la Isla de Cozumel. Durante la noche habrá una exhibición de los diseños en joyería de Donna Duncan. Esta es una gran oportunidad para anticipar sus compras navideñas. La entrada es libre. ¡Los esperamos!
Laura Wilkinson is the Editor for Cozumel 4 You. An ex-Connecticut Yankee who has called Cozumel home for over 15 years, Laura ran away to the Caribbean years ago, bumped around the islands teaching SCUBA diving, lost some time in Jamaica, and finally stopped in Cozumel for a 2 week vacation that hasn't ended yet. With a degree in Journalism from a fancy private college she convinced her parents to pay for, Laura writes, edits, and creates the weekly Cozumel 4 You news, promotional articles about the island, and her very own blog, which she finds hilarious. Her long suffering husband, the Fabster, has long since resigned himself to having zero private life, as he's been involved in her various schemes and plots since his arrival. Proud parents to a variety of rescue dogs and cats, Laura continues to be the bane of her traditional Mexican mother-in-law's existence, as she muses her way through life in the Mexican Caribbean.
Latest posts by Laura Wilkinson (see all)