Toys for Military Children:  A Great Way to Help Cozumel
Have a little extra room in your suitcase?  Would you like to help out the Cozumel island community and give a child a happy holday?  Consider bringing an unwrapped toy for a military child.  Coparmex Cozumel, a union of island businesses, is working  together with the island military base (BAM #3)  to ensure that all of the nearly 200 children who live on the base, or are part of a military family,  have a happy holiday, in spite of military cutbacks.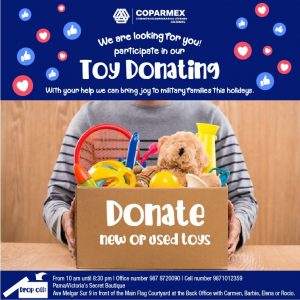 The toys are for the Base's holiday party which takes place December 15th, and will be attended by all the boys and girls ages 0 – 12.  Coparmex is working with national toy companies to provide toys at a wholesale cost, so that all donations can be optimized as much as possible.
Toys can be dropped off at the Pama store – located directly in the downtown plaza. Elena, Barbara, Rocio or Carmen – in the office – would be happy to receive your gift.   If you're interested in getting involved in this community endeavor please get in touch with Miguel Burgos, who is the President of Young Coparmex,  either through email – Mr.burgos.miguel@gmail.com or by local cell 987 114 3305.
Coparmex President Carmen Joaquin and the Base's Commander General Iram Moreno recently invited members of the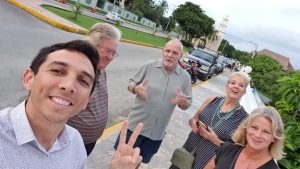 American/Canadian Community to visit the base, which was constructed in 1942 during World War II.  Through posts in the Cozumel 4 You Facebook group – a small group was assembled that braved torrential rain, but learned a lot about the Mexican military, the Bases' history and were even treated to a presentation by the Special Forces that train at the Base.
Juguetes para los hijos de militares. Una gran forma de ayudar a Cozumel
¿Le sobra espacio en su equipaje? ¿Le gustaría apoyar a la comunidad de la Isla de Cozumel y que un niño tenga felices fiestas? Piense en traer consigo un juguete sin envolver para darlo al hijo de un miliar. Coparmex Cozumel,, una asociación de negocios en la Isla, está trabajando en conjunto con la base militar de la Isla (BAM #3) para garantizar que los casi 200 niños que viven en la base, o que son parte de una familia militar, puedan gozar las fiestas navideñas a pesar de los recortes a la milicia.
Los juguetes son para la celebración en la base el 15 de diciembre en la cual se contará con la asistencia de niños y niñas de 0 a 12 años. Coparmex está trabajando con empresas nacionales de juguetes para dar juguetes al mayoreo de manera que los donativos puedan optimizarse lo más posible.
Puede dejar los juguetes en la tienda Pama, justo en la plaza del centro. En las oficinas, tanto Elena, Bárbara, Rocío o Carmen recibirán con gusto los regalos. Si desea participar esta iniciativa de la comunidad, por favor póngase en contacto con Miguel Burgos, presidente de Jóvenes Empresarios – Coparmex, ya sea por medio de correo electrónico a Mr.burgos.miguel@gmail.com o al celular 987 114 3305
En fechas recientes Carmen Joaquín, presidenta de Coparmex, e Iram Moreno, Comandante General de la Base, invitaron a la comunidad estadounidense/canadiense a una visita a la base que fue construida en el año 1942 durante la Segunda Guerra Mundial. A través de publicaciones en el grupo Cozumel 4 You en Facebook se reunió a un grupo pequeño que, desafiando la torrencial lluvia, aprendió mucho acerca de la milicia mexicana, de la historia de la base e incluso hubo una presentación por parte de las fuerzas especiales que entrenan en la Base.
An ex-Connecticut Yankee who has called Cozumel home for over 18 years, Laura ran away to the Caribbean years ago, bumped around the islands teaching SCUBA diving, lost some time in Jamaica, and finally stopped in Cozumel for a 2 week vacation that hasn't ended yet. With a degree in Journalism from a fancy private college she convinced her parents to pay for, Laura writes, edits, and creates the weeklyCozumel 4 You news,social media, and promotional articles about the island, as well as moderates the Cozumel 4 You Facebook group, which currently has over 25,000 members. Her long suffering husband, Fabian, has long since resigned himself to having zero private life, as he's been involved in her various schemes and plots since his arrival. Proud parents to a variety of rescue dogs and cats, Laura continues to be the bane of her traditional Mexican mother-in-law's existence, as she muses her way through life in the Mexican Caribbean.
______________________________
Una ex yanqui de Connecticut quien llama hogar a Cozumel desde hace más de 15 años. Laura escapó al Caribe hace años, desplazándose de una isla a otra dando clases de BUCEO. Se dedicó a perder el tiempo en Jamaica y finalmente se detuvo en Cozumel para pasar unas vacaciones de 2 semanas que aún no terminan. Convenciendo a sus padres que pagaran una elegante universidad privada, obtuvo su título en Periodismo y Laura crea semanalmente Cozumel 4You, medios sociales y artículos promocionales sobre la Isla y también es moderadora en el grupo Cozumel 4 You en Facebook que actualmente cuenta con 25,000 miembros. Fabián, s umuy tolerante marido, desde hace mucho tiempo se resignó a no tener vida privada, pues se ha visto implicado en los diversos proyectos y planes que urde Laura. Son orgullosos padres de diversos perros y gatos rescatados. Mientras contempla su paso a través de la vida en el Caribe mexicano,Laura continúa siendo la pesadilla en la existencia de su muy tradicional suegra mexicana.
Latest posts by Laura Wilkinson (see all)