2020 Cozumel Hurricane Predictions
2020 Hurricane Predictions Revisited: July Updated Predictions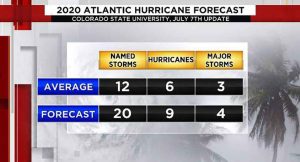 Although June 1st marks the official start of Hurricane Season in the Caribbean, now that we're into July, and we've already experienced 5 named storms, meteorologists are able to update their prediction, with a little more accuracy.
According to experts, the Atlantic ocean is quite warm this year, combined with an active west Africa monsoon season, and this will contribute to a more active season than originally predicted.
Meteorologists from the Colorado State University are now predicting there will be 20 named storms (as opposed to the average of 12) and 9 hurricanes (as opposed to the average of 6).
Hurricane season runs from June – October. For a quick summary of the 2020 predictions, check out the official NOAA page.  The National Weather Service has also published a comprehensive list to prepare for a hurricane. Another good resource for tracking weather is Wind Guru.com.
Un nuevo análisis a la temporada de huracanes 2020. Actualización de los pronósticos de julio.
Si bien el 1º de junio marca el inicio oficial de la temporada de huracanes en el Caribe ahora que estamos en julio y que ya se han presentado
5 tormentas con nombre, los meteorólogos han podido actualizar sus pronósticos con un poco de mayor precisión.
Según los expertos, este año el Océano Atlántico ha estado bastante cálido, combinado con una activa temporada de monzones en África occidental, y ello contribuirá a que la temporada de huracanes sea más activa de lo que se previó originalmente.
Meteorólogos de la Universidad de l Estado de Colorado ahora pronostican 20 tormentas con nombres (en lugar del promedio de 12) y 9 huracanes (contrario a la media de 6).
La temporada de huracanes es de junio a octubre. Para ver un resumen de los pronósticos para el 2020, visiten la página oficial de la NOAA. El Servicio Meteorológico nacional también ha publicado una lista completa para prepararse en caso de huracán. Otra buena fuente para rastrear el tiempo es Wind Guru.com.
An ex-Connecticut Yankee who has called Cozumel home for over 18 years, Laura ran away to the Caribbean years ago, bumped around the islands teaching SCUBA diving, lost some time in Jamaica, and finally stopped in Cozumel for a 2 week vacation that hasn't ended yet. With a degree in Journalism from a fancy private college she convinced her parents to pay for, Laura writes, edits, and creates the weeklyCozumel 4 You news,social media, and promotional articles about the island, as well as moderates the Cozumel 4 You Facebook group, which currently has over 25,000 members. Her long suffering husband, Fabian, has long since resigned himself to having zero private life, as he's been involved in her various schemes and plots since his arrival. Proud parents to a variety of rescue dogs and cats, Laura continues to be the bane of her traditional Mexican mother-in-law's existence, as she muses her way through life in the Mexican Caribbean.
______________________________
Una ex yanqui de Connecticut quien llama hogar a Cozumel desde hace más de 15 años. Laura escapó al Caribe hace años, desplazándose de una isla a otra dando clases de BUCEO. Se dedicó a perder el tiempo en Jamaica y finalmente se detuvo en Cozumel para pasar unas vacaciones de 2 semanas que aún no terminan. Convenciendo a sus padres que pagaran una elegante universidad privada, obtuvo su título en Periodismo y Laura crea semanalmente Cozumel 4You, medios sociales y artículos promocionales sobre la Isla y también es moderadora en el grupo Cozumel 4 You en Facebook que actualmente cuenta con 25,000 miembros. Fabián, s umuy tolerante marido, desde hace mucho tiempo se resignó a no tener vida privada, pues se ha visto implicado en los diversos proyectos y planes que urde Laura. Son orgullosos padres de diversos perros y gatos rescatados. Mientras contempla su paso a través de la vida en el Caribe mexicano,Laura continúa siendo la pesadilla en la existencia de su muy tradicional suegra mexicana.
Latest posts by Laura Wilkinson (see all)