2018 Turtle Season Update
Cozumel Turtle Trivia
Update by Biol. C. Ricardo Peralta M. ….
Editors Note:   Biol.C. Ricardo Peralta is back!!  After a few years of hiatus – Ricardo has promised to keep Cozumel 4 You readers abreast of all the happenings of the 2018 Turtle Season!
Did you Know?
There used to be an species of prehistoric sea turtle with the face of a trumpetfish?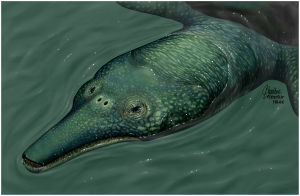 The Ocepechelon bouyai is an extict species of sea turtle closely related to the modern leatherback sea turtle. The Ocepechelon swam in the oceans of the late Cretaceous, by the end of the dinosaurs age. It was described from a complete skull that measures 70 cm (28 in) long that have a unique feeding apparatus made of bone. The pippet-like snout is similar to the ones present in syngnathid fishes (sea horses and pipefishes) and the beaked whale (Ziphius cavirostris) Because the only remain found is the skull the size is just speculation, with some scientists guessing the turtle was probably larger than leatherback (which are he largest sea tutle alive, with 7.2 feet long) The name Ocepechelon comes from the acronym OCP standing for Groupe Office Chérifien des Phosphate a mining company in Morocco (the discovery site) and chelon meaning turtle, the specific epithet bouyai comes from Baadi Bouya, an enginner geologist who is the head of OCP Geological survey in Khouribga, who helped in the fieldwork on the discovery of this new species. It was formally described in 2013. The curious design is thought to be used as a suction device to capture fishes and jellyfish,
sources:
http://www.sci-news.com/paleontology/science-ocepechelon-giant-sea-turtle-morocco-01246.html
http://journals.plos.org/plosone/article?id=10.1371/journal.pone.0063586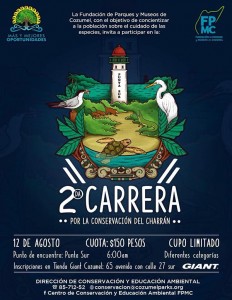 Cozumel's "Centro de Conservacion y Educacion Ambiental", which is headed by Biol. Rafael  Chacon, and overseen by the FPMC (Foundation of Parks & Museums in Cozumel) has an  amazing eco-park on Av. 65   Biol. Cristina Mota is in charge of the Turtle Camp. If you wish to get info about the turtle activities, donate or purchase an official T-Shirt, Rafael, Cristina, Ricardo and the rest of the staff will  be there to serve you!!!To find out more about the program, or to get involved,  please contact Ricardo, at  charlesrichard527@hotmail.com  visit their Facebook page Centro de Conservacion y Educacion Ambiental
Trivia de tortugas de Cozumel
Actualización de parte del biólogo C. Ricardo Peralta M. …
Nota de la Editora: ¡El biólogo C. Ricardo Peralta está de regreso! Después de varios años de receso, Ricardo ha prometido mantener a los lectores de Cozumel 4 You al día de lo que ocurre en la temporada de tortugas 2018!
¿Sabían que. . .
¿Existía una especie de tortuga prehistórica con la cara de pez trompeta (o corneta)?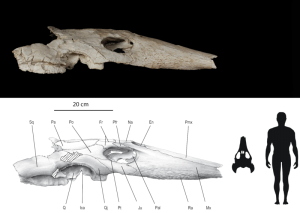 La Ocepechelon bouyai es una especie extinta de tortuga de mar estrechamente relacionada con la moderna tortuga laúd. La Ocepechelon nadaba a través de los océanos del cretáceo tardío, a finales de la era de los dinosaurios. Con base en un cráneo completo que mide 70 cms. (28 pulgadas) de largo, se explica que tenía un aparato de alimentación único, hecho de hueso. El hocico parecido a una pipeta era similar al que presentan los peces signátidos (caballitos de mar y peces aguja) y zifios  (Ziphius cavirostris). Ya que los únicos restos hallados es el cráneo, el tamaño es pura especulación, por lo que algunos científicos suponen que la tortuga era de mayor tamaño que la laúd (la más grande que existe con 7.2 pies de largo). El nombre Ocepechelon proviene del acrónimo OCP que significa Group Office Chérfiflen des Phosphate, una empresa minera de Marruecos (el sitio del hallazgo); en tanto que chelon significa tortuga. El apelativo bouyai proviene de Baadi Bouya, un ingeniero geólogo que encabeza la investigación Geológica de OCP en Khouribga y quien ayudo en el trabajo de campo y descubrimiento de esta nueva especie. La descripción formal se realizó en el año 2013. Se cree que el curioso diseño fue utilizado como un medio de succión para capturar peces y medusas.
Fuentes:
http://www.sci-news.com/paleontology/science-ocepechelon-giant-sea-turtle-morocco-01246.html
http://journals.plos.org/plosone/article?id=10.1371/journal.pone.0063586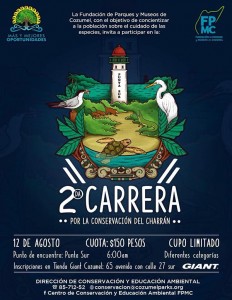 El Centro de Conservación y Educación Ambiental de Cozumel, encabezado por el biólogo Rafael Chacón y supervisado por la Fundación de Parques y Museos de Cozumel, cuenta con un magnífico eco-parque en la Avenida 65. La bióloga Cristina Mota está a cargo del Campamento Tortuguero. Si desean información sobre las actividades con las tortugas, donar o comprar una camiseta oficial, Rafael, Cristina, Ricardo y el resto del equipo están ahí para servirle. Para averiguar más acerca del programa o de cómo participar, por favor pónganse en contacto con Ricardo a través de charlesrichard527@hotmail.com; visiten la página del Centro de Conservacion y Educacion Ambiental.
Laura Wilkinson is the Editor for Cozumel 4 You. An ex-Connecticut Yankee who has called Cozumel home for over 15 years, Laura ran away to the Caribbean years ago, bumped around the islands teaching SCUBA diving, lost some time in Jamaica, and finally stopped in Cozumel for a 2 week vacation that hasn't ended yet. With a degree in Journalism from a fancy private college she convinced her parents to pay for, Laura writes, edits, and creates the weekly Cozumel 4 You news, promotional articles about the island, and her very own blog, which she finds hilarious. Her long suffering husband, the Fabster, has long since resigned himself to having zero private life, as he's been involved in her various schemes and plots since his arrival. Proud parents to a variety of rescue dogs and cats, Laura continues to be the bane of her traditional Mexican mother-in-law's existence, as she muses her way through life in the Mexican Caribbean.
Latest posts by Laura Wilkinson (see all)