"Historia verdadera de Cozumel" Author to Host Book signing on Friday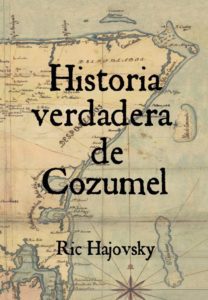 Ric Hajovsky will be hosting a book signing and book sale on Friday June 3rd from 6 – 8 pm, in front of the "Comercial Joaquin" – located on  the north-east corner of the downtown park.  Ric will have a  limited amount of the new Spanish-language version of the book "Historia verdadera de Cozumel"  which will be  available for purchase for $450 pesos each.  You can find Ric seated at one of the tables at the entrance.  In addition to meeting the author, and getting your copy signed, you can also avoid shipping costs.
The book "Historia verdadera de Cozumel"  is also available on Amazon.com,  English, Spanish and electronic formats.
El viernes, el autor de "Historia Verdadera de Cozumel" firmará libros
En la tienda "Comercial Joaquín" en la esquina noreste del parque del centro, este viernes 3 de junio de 6 a 8 p.m., Ric Hajovsky estará firmando y vendiendo sus libros. Ric tiene una cantidad limitada de libros en español de la "Historia Verdadera de Cozumel", disponible por $450 pesos cada uno. Pueden encontrar a Ric sentado en una de las mesas a la entrada. Además de conocer al autor, tendrá la oportunidad de que le firme su libro y se ahorre el costo de envío.
El libro "Historia Verdadera de Cozumel" también está disponible en Amazon.com, tanto en inglés como en español y en formatos electrónicos.
An ex-Connecticut Yankee who has called Cozumel home for over 18 years, Laura ran away to the Caribbean years ago, bumped around the islands teaching SCUBA diving, lost some time in Jamaica, and finally stopped in Cozumel for a 2 week vacation that hasn't ended yet. With a degree in Journalism from a fancy private college she convinced her parents to pay for, Laura writes, edits, and creates the weeklyCozumel 4 You news,social media, and promotional articles about the island, as well as moderates the Cozumel 4 You Facebook group, which currently has over 25,000 members. Her long suffering husband, Fabian, has long since resigned himself to having zero private life, as he's been involved in her various schemes and plots since his arrival. Proud parents to a variety of rescue dogs and cats, Laura continues to be the bane of her traditional Mexican mother-in-law's existence, as she muses her way through life in the Mexican Caribbean.
______________________________
Una ex yanqui de Connecticut quien llama hogar a Cozumel desde hace más de 15 años. Laura escapó al Caribe hace años, desplazándose de una isla a otra dando clases de BUCEO. Se dedicó a perder el tiempo en Jamaica y finalmente se detuvo en Cozumel para pasar unas vacaciones de 2 semanas que aún no terminan. Convenciendo a sus padres que pagaran una elegante universidad privada, obtuvo su título en Periodismo y Laura crea semanalmente Cozumel 4You, medios sociales y artículos promocionales sobre la Isla y también es moderadora en el grupo Cozumel 4 You en Facebook que actualmente cuenta con 25,000 miembros. Fabián, s umuy tolerante marido, desde hace mucho tiempo se resignó a no tener vida privada, pues se ha visto implicado en los diversos proyectos y planes que urde Laura. Son orgullosos padres de diversos perros y gatos rescatados. Mientras contempla su paso a través de la vida en el Caribe mexicano,Laura continúa siendo la pesadilla en la existencia de su muy tradicional suegra mexicana.
Latest posts by Laura Wilkinson (see all)