Living in Cozumel
How I came to call Cozumel Home:  Valli
"For part of the year:" an interesting perspective…
My parents spent time in Cozumel every winter during the 1980's up to the early 2000's and fell in love with the island. They would return back to Canada always happy and full of entertaining stories. I went to Cozumel the first time in 1991 with a friend and stayed 1 week at the former Plaza las Glorias ( now Cozumel Palace).  I had never seen the Caribbean and I was enthralled. I also was touched by the friendliness of the people, the sights and sounds. Packed a lot into one week and hoped to return one day.
Fast forward to 1995.  Feeling overworked, and growing tired of an endless winter with bone chilling temperatures and windchills. My parents insisted I come down to Cozumel and visit for a few days. I didn't need a great deal of persuading. There is something about that first blast of heat and the feeling you get as you deplane.
My father and I would go on long walks together early every morning. He loved walking on Melgar on the ocean side- these were the days of the original naval base, no cruise ship mall and less building/obstructions.  One day we decided to go find a car to rent so we could explore the other side the next day. We went to a couple of car rental places- they had nothing available. We tried another place, and there was a car available for the day/time we wanted. We dealt with a very nice fellow. The next day when it was time to return the car-my father wanted me to come with him just to have another person with him for the transaction.  And I remember him saying to me, " that guy at the car rental had his eye on you." I thought , "Huh? What is he talking about? " Well, I guess a father always knows! We went to take the car back, did the paperwork and left- my father went back in, he left his sunglasses at the counter.  I waited outside, this nice fellow came out and asked if I would go out with him that night. My jaw kind of dropped, but I thought well- I am here with my Dad, this should be ok.  He borrowed a friend's car ( a very beat up junk heap) and picked me up in front of the hotel where we were staying. Within 2 minutes of me getting into that car-  it hit me like a ton of bricks. Crazy I know- but the connection was instant! We went for a drive along the ocean and stopped for a drink. Chatted like we had known each other forever. His English was very good. Only 1 problem- I was leaving in 2 days! We spent what time we could together, he gave me his number at work – these were the days before cell phones, very few people had land lines. No email or internet. I sadly said goodbye and returned home thinking oh well- just another holiday fling you always hear about. Maybe the ocean, palm trees, and warm tropical nights got to me.
My parents came back from Cozumel the following week, my father took something out of his carry on- my friend wrote me the most beautiful letter and sent it back with my father to give to me. I thought – ok, maybe there is something to this after all. (I still have and treasure that letter).
I decided I was not going to wait until the next winter. I started researching flights- not easy
pre-internet and off-season. Basically had to go to a travel agent. Then I had to figure out where I could stay. For obvious reasons- not at a resort. And I knew no one/nothing! I then recalled my parents were friendly with a person living in Cozumel who had a casita she rented out. This person turned out to be a treasure and a wealth of valuable info information – and to this day she continues to be a very special and close friend. So back to Cozumel I went in July, 1995! I decided if things didn't work out, I would get more familiar with the island and be somewhere beautiful for a vacation. I was not prepared for the summer heat and humidity! Wow! And I was understandably nervous- this was a bold move for me. I had already heard the stories and been given the warnings – don't get involved, you will get your heart broken, you will get used, he will take every penny you have, he's probably got a wife and kids- I heard it all!
I was cautious and a bit on guard- but as I got to know him, spend time with him, meet some family- I knew it was ok. Better than ok.
Some of my fondest memories are those early days of us on a borrowed motorcycle zooming around and having a blast. A long and memorable fresh fish lunch with cold Cervezas at Alberto's Beach Bar. I remember thinking it was quite the adventure and very daring to go on 65! Our first dinner out together was at El Morro. Ray and his family made us feel so welcome- we have eaten there countless times since. One of our favourite places and still very special to both of us.
So what to do- I had a very good position/career in Canada with an eventual good pension and benefits- and owned a nice condo. Even though I knew where my heart was- my head told me it was too soon to make a hasty decision and sell everything and make the move. I still didn't know enough about the island, the way of life there, the culture, and my network in Cozumel was extremely limited.
I started visiting the island more- I had a fair amount of vacation time so was able to head down 3-4 times a year. If you are both committed- you find ways to make compromises, have some flexibility and make it work. I was able to get a phone plan with Sprint- but it was still very expensive to call. I started meeting more people and making some friends. Expanding my social circle. But along the way there were some disappointments – malicious gossip, judgements, some real nastiness. A couple of bad experiences and trust issues with so called friends. But on the other side of the coin- some wonderful and genuine friends and support. I am blessed to know a good mix of expats and locals and part timers!  I continue to be amazed and gratified by the generosity and kindness of many.
Have there been challenges- you bet! Frustration? Absolutely! Tests of my patience – Big time! Cultural differences- Yes! Especially about time (no surprise there). As an aside, I just read in Mexico News Daily that the Federal Government is paying out bonuses to bureaucrats for getting to work punctually. That gave me a chuckle!
But we have grown together, learned from one another and there is mutual respect.  And lots of fun and laughter. He has taught me so much about the island, attitudes, and the Mayan culture. Tells me what's really going on. He knows the best places for local food. He is now more open to trying different restaurants with me and doing more social activities/outings with my friends so there is an improved balance. After much searching and diligence – he found me a good car, negotiated the price and arranges for any mechanical work required which for me is a huge advantage.
At times, Cozumel can be a tough and challenging place. It isn't for everyone. I know many that were defeated and returned back  to Canada or the US for a number of reasons. As for me- I was not entirely certain that I could live there year around. Partly because of the heat in the summer and my parents were getting older and there were associated medical challenges.
Alternatively, I admire and respect those who chose to live on the island permanently and have done so successfully. I have witnessed strong and independent singles and couples both young and older  that have made Cozumel their permanent home. I have heard about their experiences in buying or building a home. Some say if they had to do it again- they wouldn't!  Others have a very different take. For me- more often than not- Cozumel heals me and makes me smile.
The decision was made that once I finished work I would stay longer term to see how that arrangement  would suit. Different scenario then 2-3 week vacations. I currently have a good accommodation situation and now stay approx 4.5-5 months during the winter. And sometimes another visit at a different point during the year.
And thank goodness for what's app and TelCel plans with free calls to Canada! Big help and such an improvement from when we started.  Somewhat eases the pain of being separated for periods of time and allows for better communication.
Those that know me understand and respect that I don't always pick the most conventional option, but it's what works for me/for us. They said it wouldn't last, that it couldn't last- there were a few naysayers. Well- going on almost 23 years and the initial spark and love has only grown.  I grew to love and respect the island and continue to learn. There may be more changes and plans ahead- but what an adventure and journey this has been!
Valli was born and raised  Winnipeg, Manitoba, Canada and continues to live there for part of the year.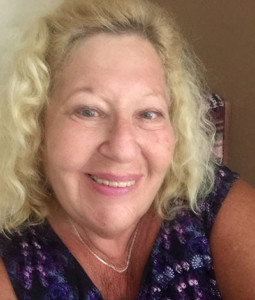 Her career was as a Human Resources Consultant with a specialty in Labour Relations with the Canadian Federal Government- 26 years with Indigenous and Northern Affairs and concluding at Justice Canada. Her interests/hobbies include gardening, art, cooking, politics/current events, and of course- travel to Cozumel! She began coming to Cozumel in 1995 on a triannual basis and have been coming to Cozumel for longer term since 2012. The beauty of the island continues to inspire and rejuvenate.
Cómo se convirtió Cozumel en mi hogar: Valli
"Parte del año"; una perspectiva interesante…
Durante la década de los 80 hasta comienzos de los 2000, mis padres solían pasar tiempo en Cozumel todas las temporadas invernales y se enamoraron de la Isla. Siempre regresaban a Canadá contentos y con muchas historias entretenidas. Por primera ocasión fui a Cozumel en el año 1991 con un amigo y me hospedé durante 1 semana en el que fuera el hotel Plaza las Glorias (hoy día el Cozumel Palace". Nunca antes había visto el Caribe y me cautivó.  También me conmovió la amabilidad de la gente, las imágenes y los sonidos.  Almacené mucho en una semana y  tuve la esperanza de regresar algún día.
Vamos a adelantarnos a 1995. Estaba agobiada por el trabajo y cansada del interminable inverno con  temperaturas intensamente  frías y vientos helados. Mis padres insistieron que viniera a Cozumel unos días. No fue necesario que hicieran mucha labor de convencimiento. Algo tiene esa primera ráfaga de calor y la sensación que se tiene al bajar del avión.
Por las mañanas, mi padre y yo solíamos realizar largas caminatas. Le encantaba caminar por la Melgar junto al mar; en ese entonces estaba la base naval original, sin el centro comercial de los buques turísticos y menos construcciones/obstáculos. Un día decidimos rentar un auto para ir a explorar la Isla al día siguiente. Visitamos un par de empresas dedicadas a la renta de vehículos y no tenían nada disponible. Luego fuimos a otro sitio donde el auto estaba disponible durante el día/tiempo que quisiéramos.  Tratamos con un tipo muy agradable. Al siguiente día, cuando ya era hora de devolver el auto, mi padre me pidió que fuera con él para así tener a otra persona con él durante la operación. Recuerdo que me dijo: "ese tipo de la rentadora de autos ya te echó el ojo". Yo pensé: "¿Eh? ¿De qué está hablando?" Bueno, ¡creo que un padre siempre sabe!  Llevamos el auto de regreso, hicimos el papeleo y nos fuimos; pero mi padre regreso pues había dejado sus gafas sobre el mostrador. Esperé afuera. Se me acercó este tipo agradable y preguntó si me gustaría salir con él esa noche.  Quedé boquiabierta; y pensé que estaba bien pues yo estaba ahí con Papá. Tomó prestado el auto de un amigo (un desgastado montón de chatarra) y pasó por mi al hotel donde nos hospedábamos. A los 2 minutos de subir al vehículo, de golpe me di cuenta de algo. Se que es una locura, ¡pero la conexión fue inmediata! Fuimos a pasear a lo largo del mar y nos detuvimos por una bebida. Platicamos tal y como si nos hubiéramos conocido desde siempre. Su inglés era bastante bueno. Sólo que había 1 problema: ¡yo me iba en un par de días! Pasamos juntos todo el tiempo que nos fue posible. Él me proporcionó su número en el trabajo; en aquel entonces no habían teléfonos celulares y muy poca gente contaba con líneas fijas. Nada de internet ni correo electrónico. Con tristeza me despedí y regresé a casa pensando "bueno, tan solo otro amorío de vacaciones de los que uno siempre escucha. Probablemente me dejé llevar por el mar, las palmeras y las cálidas noches tropicales.
Mis padres regresaron de Cozumel la siguiente semana y mi padre sacó algo de su equipaje de mano. Mi amigo había escrito la carta más bella y la había enviado con mi papá. Pensé: "bueno, posiblemente y después de todo, aquí hay algo" (Aún tengo esa carta y la atesoro).
Decidí que no esperaría hasta el siguiente invierno. Comencé a investigar vuelos, aunque no era sencillo hacerlo antes de internet y fuera de temporada. En sí, debía acudir a un agente de viajes. Luego tenía que determinar dónde me podría hospedar. Por razones obvias, no podía ser en un hotel, ¡y no conocía a nadie/nada! Luego recordé que mis padres eran amigos de una persona que vivía en Cozumel y que rentaba una casita. Ella resultó ser un tesoro y tener una gran cantidad de información valiosa. Hasta la fecha continua siendo una amiga muy especial y cercana.
¡Así que regresé a Cozumel en Julio de 1995! Tomé la decisión que si las cosas no funcionaban, entonces conocería más la Isla y que ésta sería un sitio muy bello para vacacionar. ¡No estaba preparada para un verano con tal cantidad de calor y humedad!¡Caray! Y, además, estaba muy nerviosa ya que para mí era dar un paso muy atrevido.  Ya había escuchado las historias y las advertencias: no te enganches, te van a romper el corazón, te vas a acostumbrar, él te va a quitar hasta el ultimo quinto que tienes, ¿probablemente tenga esposa e hijos! ¡Ya había escuchado de todo! Fui prudente y algo en guardia; pero conforme más sabía de él, pasaba más tiempo con él, conocía a parte de su familia, supe que estuvo bien. Mejor que bien.
Algunos de mis recuerdos más preciados son esos primeros días de nosotros en una motocicleta prestada, paseando por doquier y pasándola genial. Un largo y preciado recuerdo fue la comida con pescado fresco y cervezas frías en bar de playa Alberto's. ¡Recuerdo haber pensado que fue toda una aventura y muy atrevido ir a  la 65! Nuestra primera cena juntos fue en El Morro. Ray y su familia nos hicieron sentir realmente bienvenidos. Desde entonces hemos ido a comer ahí un sin fin de veces. Es uno de nuestros lugares favoritos y es un sitio muy especial para ambos.
Entonces, qué era lo que debía hacer. Tenía un buen puesto/carrera en Canadá y a la larga con una buena pensión y prestaciones; además, era propietaria de una bonito departamento en condominio. A pesar de saber en qué sitio estaba mi corazón, mi cerebro me decía que era demasiado pronto tomar una decisión apresurada, vender todo y mudarme. Aún seguía sin saber lo suficiente acerca de la Isla, el estilo de vida de aquí, la cultura y mi red en Cozumel era extremadamente limitada.
Comencé a visitar la Isla de manera más frecuente. Había reunido bastante tiempo de vacaciones por lo que podía venir 3 a 4 veces al año. Si ambos hacen el cometido, se encuentra la manera para hacer compromisos, ser flexibles y hacer que funcione. Empecé a conocer más gente y hacer algunos amigos. Amplié mi circulo social.  Sin embargo en el camino se presentaron algunos desencantos como chismes mal intencionados, juicios, verdadera maldad. Un par de malas experiencias y problemas con los que se dicen amigos. Pero el otro lado de la moneda estaban amigos maravillosos y verdaderos, además del apoyo. Tengo la fortuna de conocer una buena combinación de expatriados, habitantes locales y aquellos que vienen por temporadas. Continuo sorprendiéndome y sintiéndome agradecida por la  generosidad y amabilidad de muchos.
¿Qué ha habido retos?¡Claro! ¿Frustración? ¡Por su puesto! Pruebas a mi paciencia, ¡a lo grande! Diferencias culturales, ¡sí! Especialmente en lo que respecta al tiempo (no es de sorprender). Independientemente de ello, recién leo en Mexico News Daily que el gobierno federal está pagando bonificaciones a quienes lleguen a trabajar puntualmente. ¡Eso me hizo reír!
Pero hemos crecido a la par, aprendiendo el uno del otro y existe el respeto mutuo; y mucha diversión y carcajadas. Él me ha enseñado mucho acerca de la Isla, las actitudes y la cultura maya. Me dice lo que realmente está pasando. Conoce los mejores sitios de comida local. Ahora ya está abierto a probar conmigo otros restaurantes y salir socialmente con mis amistades, así que hay un mejor equilibrio. Después de mucho buscar y perseverancia, me encontró un buen auto, negoció el precio e hizo los arreglos para el trabajo mecánico que se necesitaba, para mi es una gran ventaja.
Por momentos Cozumel puede ser un sitio difícil y desafiante. No es para todos. Se que muchos han sido vencidos y regresado a Canadá o a los EEUU por diversos motivos. En cuanto a mí, no estaba totalmente segura que podría vivir ahí durante todo el año. En parte debido al calor del verano, que mis padres se hacían más ancianos y los existentes desafíos médicos.
En cambio, admiro y respeto a quienes eligen vivir en forma permanente en la Isla y han tenido éxito al hacerlo. He conocido a solteros fuertes e independientes y parejas tanto jóvenes como maduras que han hecho de Cozumel su hogar permanente. He escuchado sus historias cuando adquieren o construyen una casa. Algunos dicen que si fuera necesario hacerlo de nuevo, ¡no lo harían! Otros tienen conceptos diferentes. Para mí, las más de las veces Cozumel me sana y me hace sonreír.
Se tomó la decisión que una vez que terminara de trabajar me quedaría por un periodo más largo para ver  si el plan convenía. Un plan distinto, vacaciones de 2 a 3 semanas. En la actualidad mi situación de alojamiento es bastante buena y me quedo alrededor de 4 ½ a 5 meses durante el invierno. Y, en otras ocasiones, otra visita en algún punto diferente durante el año.
Y gracias a los planes de WhatsApp y de Telcel ¡llamadas gratuitas a Canadá! Es de gran ayuda y una gran mejoría desde el momento que comenzamos. De alguna manera facilita el dolor de estar separados por un tiempo y permite una mejor comunicación.
Quienes me conocen comprendes y respetan que no siempre elijo la opción más convencional, pero eso es lo que funciona mejor para mí/para nosotros.  Dijeron que la relación no duraría, que no podía durar; hubo algunos detractores. Bueno, pues ya casi son 23 años y la chispa inicial y el amor sólo han crecido. Aprendí a amar y a respetar la Isla, y continúo aprendiendo. Es posible que el futuro depare más cambios y planes, ¡pero esta ha sido una gran aventura y travesía!
Laura Wilkinson is the Editor for Cozumel 4 You. An ex-Connecticut Yankee who has called Cozumel home for over 15 years, Laura ran away to the Caribbean years ago, bumped around the islands teaching SCUBA diving, lost some time in Jamaica, and finally stopped in Cozumel for a 2 week vacation that hasn't ended yet. With a degree in Journalism from a fancy private college she convinced her parents to pay for, Laura writes, edits, and creates the weekly Cozumel 4 You news, promotional articles about the island, and her very own blog, which she finds hilarious. Her long suffering husband, the Fabster, has long since resigned himself to having zero private life, as he's been involved in her various schemes and plots since his arrival. Proud parents to a variety of rescue dogs and cats, Laura continues to be the bane of her traditional Mexican mother-in-law's existence, as she muses her way through life in the Mexican Caribbean.
Latest posts by Laura Wilkinson (see all)