Cozumel Celebrates Fall  with the Annual Cultural Program
Fall Cultural Program Celebrated Downtown……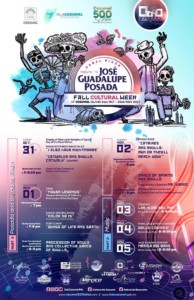 The Cozumel Municipal authorities have started this year's Festival OTOÑO CULTURAL ISLA COZUMEL 2017, or Fall Cultural Program, on  Tuesday October 31st
This year's festivities are dedicated to the artist credited with creating the iconic "Catarina" engravings: José Guadalupe Posada.
You will enjoy altars, catrinas and calaveras contest, sample of typical dishes of the celebrations related to the  "Day of the Dead" and more.
Cozumel celebra el otoño con el Programa Cultural anual
El Programa Cultural de Otoño se celebra en el centro. . .
Las autoridades municipales de Cozumel han dado inicio al Festival de OTOÑO CULTURAL ISLA COZUMEL 2017 o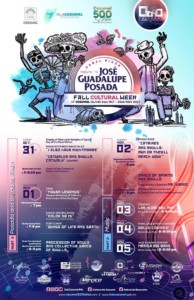 Programa Cultural de Otoño el martes 31 de octubre.
Las festividades de este año están dedicadas al artista que se le atribuye la emblemática "Catrina": José Guadalupe Posada.
Podrán disfrutar los altares, el concurso de catrinas y calaveras, de una muestra de platillos típicos de las celebraciones relacionadas con el "Día de Muertos", y más.
El Programa Cultural de Otoño estará presente hasta el domingo 5 de noviembre.
Laura Wilkinson is the Editor for Cozumel 4 You. An ex-Connecticut Yankee who has called Cozumel home for over 15 years, Laura ran away to the Caribbean years ago, bumped around the islands teaching SCUBA diving, lost some time in Jamaica, and finally stopped in Cozumel for a 2 week vacation that hasn't ended yet. With a degree in Journalism from a fancy private college she convinced her parents to pay for, Laura writes, edits, and creates the weekly Cozumel 4 You news, promotional articles about the island, and her very own blog, which she finds hilarious. Her long suffering husband, the Fabster, has long since resigned himself to having zero private life, as he's been involved in her various schemes and plots since his arrival. Proud parents to a variety of rescue dogs and cats, Laura continues to be the bane of her traditional Mexican mother-in-law's existence, as she muses her way through life in the Mexican Caribbean.
Latest posts by Laura Wilkinson (see all)