Cozumel Public Transportation
Cozumel Public Transportation Augments Additional Route
Puerta Maya –Transversal route added …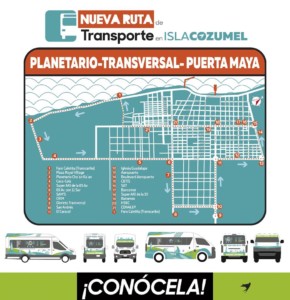 The Cozumel municipal government in a joint effort with UNIPER Cozumel
has recently augmented their public transport to include a new route encompassing the Planetarium – Puerta Maya and the Transversal.
You can find a map of the new route, as well as the rest of the other available public routes on the UNIPER Facebook page.
La ruta del transporte público de Cozumel aumenta una ruta
La ruta que se aumenta es Puerta Maya – Carretera Transversal
En un esfuerzo conjunto del gobierno municipal de Cozumel y UNIPER Cozumel en fechas recientes aumentaron una ruta al transporte público la cual abarca el Planetario, Puerta Maya y la Carretera Transversal.
En la página Facebook de UNIPER pueden encontrar un mapa para la nueva ruta así como otras más.
Laura Wilkinson is the Editor for Cozumel 4 You. An ex-Connecticut Yankee who has called Cozumel home for over 15 years, Laura ran away to the Caribbean years ago, bumped around the islands teaching SCUBA diving, lost some time in Jamaica, and finally stopped in Cozumel for a 2 week vacation that hasn't ended yet. With a degree in Journalism from a fancy private college she convinced her parents to pay for, Laura writes, edits, and creates the weekly Cozumel 4 You news, promotional articles about the island, and her very own blog, which she finds hilarious. Her long suffering husband, the Fabster, has long since resigned himself to having zero private life, as he's been involved in her various schemes and plots since his arrival. Proud parents to a variety of rescue dogs and cats, Laura continues to be the bane of her traditional Mexican mother-in-law's existence, as she muses her way through life in the Mexican Caribbean.
Latest posts by Laura Wilkinson (see all)