Christmas Traditions:  La Rama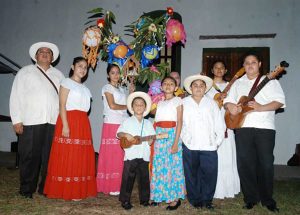 According to several historians, the tradition of "La Rama" resulted from merger of pre-Columbian and Spanish elements, which gradually incorporated influences from various part of Veracruz.  Over the years, this charming tradition  has spread to other regions of southeastern Mexico and the states of Campeche, Tabasco, Chiapas, Yucatan and Quintana Roo, including Cozumel.
Originally the Indians celebrated  a festival which coincided with the holidays, in which they carried a branch called versúchil, representing the renewal of nature.  The festival and procession also tambourines, rattles and guitars from the Spanish influence and  Afro-Cuban songs called keys and bonuses.
The traditional singing of "La Rama" starts around  December 16 with the Singers carry a  branch  decorated with crepe paper in different colors, with cotton (or angel hair), bright stars, flowers, fruits, palms, balloons, paper lanterns or orange peel, colored paper chains, small toys or Christmas decorations.
In the evening it is  common to see children (sometimes too young or old) dancing and singing to earn "bonus" in cash or in presents (fruits like guavas, oranges, coins, or toys). In procession, they go from house to house singing "La Rama", and depending on the response received (if people open the door to give the bonus or not) sing some verses of the song (or Carol), this is done along the way prior to arrive at the house where the party was held and where they will be greeted with sweets and piñatas.
If you're home in Cozumel during the holiday period and a group of carolers please open the door, listen to the song, and gift your merrymakers for a happy holiday season!!
Tradiciones navideñas: La Rama
De acuerdo con diversos historiadores, la tradición de La Rama resultó de la fusión de varios elementos colombianos y españoles, que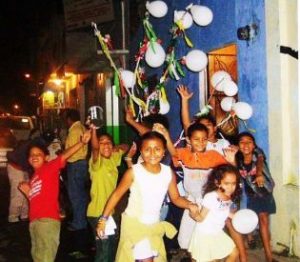 gradualmente incorporaron influencias de diferentes partes de Veracruz. A lo largo de los años esta encantadora tradición se ha extendido a otras regiones del sureste de México y los estados de Campeche, Tabasco, Chiapas, Yucatán y Quintana Roo, comprendiendo a Cozumel.
En un principio los indígenas celebraban un festival que coincidía con las fiestas navideñas, portando una rama llamada versúchil que representaba la renovación de la naturaleza. El festival y la procesión incluía panderetas, cascabeles y guitarras de influencia española y se interpretaban cantos afrocubanos llamados claves y aguinaldos.
Los tradicionales cantos de La Rama comienzan alrededor del 16 de diciembre y los cantantes llevan una rama decorada con papel crepé de diferentes colores, con algodón (pelo de ángel), brillantes estrellas, flores, frutas, palmas, globos, farolitos de papel o cascaras de naranja, cadenas de papel de colores, pequeños juguetes o decoraciones navideñas.
Por la noche, es común ver a los niños (en ocasiones demasiado pequeños o mayores) bailando y cantando para ganarse su "aguinaldo" en efectivo o en regalos (frutas como guayabas, naranjas, monedas o juguetes). Van de casa en casa, en procesión, cantando La Rama; y, dependiendo de la respuesta que reciban (si acaso las personas abren las puertas para darles su aguinaldo o no) cantan los versos de la canción (o villancico). Esto lo realizan a lo largo del camino antes de llegar a la casa donde la fiesta se celebro y donde serán recibidos con dulces y piñatas.
Si se encuentra en casa en Cozumel durante el periodo de celebraciones navideñas y se presenta un grupo de chicos cantando el villancico, abran su puerta, escuchen la canción, ¡y den algún regalo navideño a estos alegres chicos!
An ex-Connecticut Yankee who has called Cozumel home for over 18 years, Laura ran away to the Caribbean years ago, bumped around the islands teaching SCUBA diving, lost some time in Jamaica, and finally stopped in Cozumel for a 2 week vacation that hasn't ended yet. With a degree in Journalism from a fancy private college she convinced her parents to pay for, Laura writes, edits, and creates the weeklyCozumel 4 You news,social media, and promotional articles about the island, as well as moderates the Cozumel 4 You Facebook group, which currently has over 25,000 members. Her long suffering husband, Fabian, has long since resigned himself to having zero private life, as he's been involved in her various schemes and plots since his arrival. Proud parents to a variety of rescue dogs and cats, Laura continues to be the bane of her traditional Mexican mother-in-law's existence, as she muses her way through life in the Mexican Caribbean.
______________________________
Una ex yanqui de Connecticut quien llama hogar a Cozumel desde hace más de 15 años. Laura escapó al Caribe hace años, desplazándose de una isla a otra dando clases de BUCEO. Se dedicó a perder el tiempo en Jamaica y finalmente se detuvo en Cozumel para pasar unas vacaciones de 2 semanas que aún no terminan. Convenciendo a sus padres que pagaran una elegante universidad privada, obtuvo su título en Periodismo y Laura crea semanalmente Cozumel 4You, medios sociales y artículos promocionales sobre la Isla y también es moderadora en el grupo Cozumel 4 You en Facebook que actualmente cuenta con 25,000 miembros. Fabián, s umuy tolerante marido, desde hace mucho tiempo se resignó a no tener vida privada, pues se ha visto implicado en los diversos proyectos y planes que urde Laura. Son orgullosos padres de diversos perros y gatos rescatados. Mientras contempla su paso a través de la vida en el Caribe mexicano,Laura continúa siendo la pesadilla en la existencia de su muy tradicional suegra mexicana.
Latest posts by Laura Wilkinson (see all)