Cozumel Public Safety COVID
Cozumel Public Safety Campaign #PonteTruchaConEsteLucha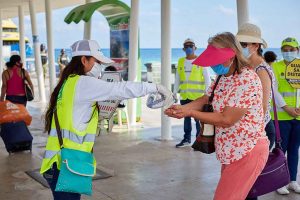 Cozumel has recently implemented a public safety campaign called #PonteTruchaConEsteLucha (loosely translated as "Keep Up the Good Fight" in English)  Over 20 volunteers  have handed out over three thousand face masks to both island residents and visitors to encourage everyone to maintain social distancing, and other forms of public safety, during the "new normal."
Volunteers are easily visible in their neon yellow reflective vests, and often carry signs with slogans or bits of safety advice.  The program is carried out jointly by the  Cozumel municipality, the Government of Quintana Roo and the Foundation of Parks and Museums of Cozumel  (FPMC).
Actions that seek to reduce the number of infections by # Covid-19, through different basic guidelines such as: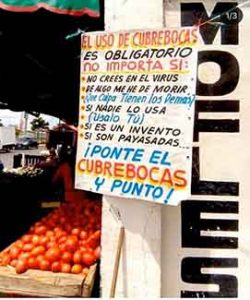 – Frequent hand washing (for at least 20 seconds).
– Use of masks at all times.
– Frequent use of antibacterial gel
– Apply and maintain healthy. distance between people (at least 1.5 meters).
– Disinfection of surfaces in the home and work spaces, as well as personal items.
The job of this public safety campaign  is to help #Cozumel down the path of #NewNormality and reactivating it economically.  #CozumelStrong
Campaña de seguridad pública en Cozumel #Ponte TruchaConEstaLucha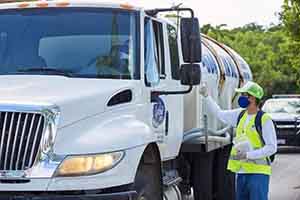 En fechas recientes se implementó en Cozumel la campaña pública llamada #PonteTeuchaConEstaLucha. Más de 20 voluntarios han colaborado repartiendo más de tres mil cubrebocas tanto a habitantes de la Isla como a los visitantes para así promover que todos mantengan la distancia así como otras formas de seguridad pública en la "nueva normalidad".
Puede verse a los voluntarios claramente ya que portan chalecos color amarillo brillante, y llevan consigo señalizaciones con lemas o pequeños consejos de seguridad. El programa lo realizan el municipio de Cozumel, el Gobierno de Quintana Roo y la Fundación de Parques y Museos de Cozumel (FPMC).
Por medio de dichas acciones se busca reducir la cantidad de infecciones provocadas por el Covid-19 aplicando distintos lineamientos básicos tales como:
– Lavado frecuente de las manos (durante por lo menos 20 segundos).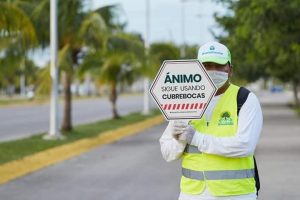 – Uso de cubrebocas en todo momento.
– Uso frecuente de gel antibacterial.
– Aplicar y mantener una sana distancia entre la gente (por lo menos 1.5 metros de distancia)
– Desinfectar las superficies en casa y en los lugares de trabajo, así como en los objetos personales.
La labor de esta campaña de seguridad pública es ayudar a # Cozumel en la ruta hacia la #NuevaNormalidad y lograr su reactivación económica. #CozumeStrong
An ex-Connecticut Yankee who has called Cozumel home for over 18 years, Laura ran away to the Caribbean years ago, bumped around the islands teaching SCUBA diving, lost some time in Jamaica, and finally stopped in Cozumel for a 2 week vacation that hasn't ended yet. With a degree in Journalism from a fancy private college she convinced her parents to pay for, Laura writes, edits, and creates the weeklyCozumel 4 You news,social media, and promotional articles about the island, as well as moderates the Cozumel 4 You Facebook group, which currently has over 25,000 members. Her long suffering husband, Fabian, has long since resigned himself to having zero private life, as he's been involved in her various schemes and plots since his arrival. Proud parents to a variety of rescue dogs and cats, Laura continues to be the bane of her traditional Mexican mother-in-law's existence, as she muses her way through life in the Mexican Caribbean.
______________________________
Una ex yanqui de Connecticut quien llama hogar a Cozumel desde hace más de 15 años. Laura escapó al Caribe hace años, desplazándose de una isla a otra dando clases de BUCEO. Se dedicó a perder el tiempo en Jamaica y finalmente se detuvo en Cozumel para pasar unas vacaciones de 2 semanas que aún no terminan. Convenciendo a sus padres que pagaran una elegante universidad privada, obtuvo su título en Periodismo y Laura crea semanalmente Cozumel 4You, medios sociales y artículos promocionales sobre la Isla y también es moderadora en el grupo Cozumel 4 You en Facebook que actualmente cuenta con 25,000 miembros. Fabián, s umuy tolerante marido, desde hace mucho tiempo se resignó a no tener vida privada, pues se ha visto implicado en los diversos proyectos y planes que urde Laura. Son orgullosos padres de diversos perros y gatos rescatados. Mientras contempla su paso a través de la vida en el Caribe mexicano,Laura continúa siendo la pesadilla en la existencia de su muy tradicional suegra mexicana.
Latest posts by Laura Wilkinson (see all)