Cozumel Weather Predictions
National Weather Authorities Predict Long Wet Summer for Cozumel
According to a recent article in the Mexico News Daily, authorities from the SMN (National Meteorology Service) are predicting a long, wet summer for the entire country.
Attributed to this prediction?  Climate change.  Apparently the last 6 years have been the hottest summers on record, with 2019 being the hottest since 1953, with an average national temperature of 22.4C/72.3F.
Here in Cozumel, temperatures will be even hotter, last summer's hottest temperature was 40C/104F.
SMN representatives are also predicting increased rainfall in 2020.  This will be a boon to our area since last year, on the mainland, the Yucatan Peninsula  suffered large-scale wild fires.
Las autoridades encargadas de la meteorología nacional Pronostican un verano largo y húmedo para Cozumel
De acuerdo con un artículo recientemente publicado en Mexico News Daily, las autoridades del Servicio Meteorológico Nacional (SMN) pronostican un verano largo y húmedo para todo el país.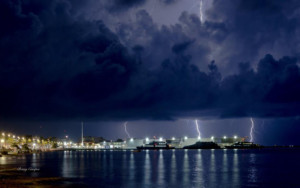 ¿A qué se atribuye este pronóstico? Al cambio climático. Al parecer en los últimos 6 años se han registrado los veranos más calurosos; siendo que el de el año 2019 fue el más caluroso desde 1953, siendo que la media nacional fue de 22.C/72.3F.
En Cozumel las temperaturas serán aún más cálidas. El año pasado fue de 40C/104F.
Representantes del SMN también pronostican para el 2020, un aumento en las precipitaciones. Esto será una bendición para nuestra región ya que el año pasado la parte continental de la Península de Yucatán sufrió incendios a gran escala.
Latest posts by Laura Wilkinson
(see all)