Cozumel Recipe Share:  Easy Grilled Chicken alla Diavola, Roman style
Madeleine Mason shares a simple & elegant chicken dish…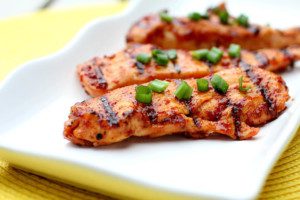 A whimsical anecdote from The Science of Cooking and the Art of Eating Well author Pellegrino Artusi's particular take on alla diavola: 'It is called this because it is supposed to be seasoned with strong cayenne pepper and served with a very spicy sauce, so that whoever eats it feels his mouth on fire and is tempted to send both the chicken and whoever cooked it to the devil.' Other recipes, such as the one used here, borrowed from Marcella Hazan's Essentials of Classic Italian Cooking call for copious amounts of crushed black peppercorns instead, referred to as "Roman Style".
INGREDIENTS
1 3-4 LB. CHICKEN – SPATCHCOCKED (SPLIT OPEN AND FLATTENED – ask the butcher)
1 TEASPOON SEA SALT OR KOSHER SALT
2 TABLESPOONS PEPPERCORNS (PLACE IN SMALL ZIPLOCK AND CRACK WITH MALLET OR HAMMER)
EXTRA VIRGEN OLIVE OIL
JUICE OF ½ LEMON (PREFERRED BUT LIME WILL WORK)
INSTRUCTIONS
Put chicken in a large zip-top plastic bag.
Pour in lemon juice and add crushed pepper and olive oil.
Close bag securely and massage chicken a little, distributing marinade well.
Marinate in the refrigerator for at least 2 hours and up to 8 hours, turning bag over from time to time
Prepare a fire and position grill about 5 inches above the charcoal
When the fire is ready (coat of white ash, if using charcoal), sprinkle chicken generously with salt and place skin-side down on the grill and broil until skin is brown and blistered.
Turn chicken and baste with marinade.  Salt generously.
Turn after about 10 minutes and continue to cook again on each side, or until thigh meat is tender when pierced with a fork, basting with marinade from time to time.  If you run out of marinade, use olive oil.
Season with additional crushed pepper and salt before serving.  Serves 4.
As mentioned above, there are other variations that make this dish truly live up to its name. For instance, you can add 1 tsp garlic powder, 1 tsp cayenne pepper,
1 tsp paprika (smoked or spicy) and/or crushed red pepper to the marinade to give this dish a real kick!
Compartiendo recetas en Cozumel: Pollo a la parrilla fácil alla diavola, estilo romano
Madeleine Mason comparte un platillo con pollo sencillo y elegante . . .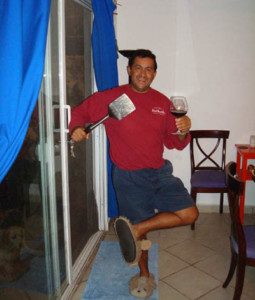 Una curiosa anécdota tomada de La Ciencia de la Cocina y el Arte Comer Bien del autor Pellegrino Artusi respecto a alla diavola: " Se le llama sí pues se supone que está sazonado con pimienta de cayena y se sirve con una salsa picante de manera que aquel que lo come, siente que su boca está en llamas y está tentado a mandar al diablo tanto al pollo como a quien lo preparó". En cambio otras recetas, como la que aquí se usa, que se toman prestadas de Essentials of Classic Italian Cooking de Marcella Hazan requieren cantidades abundantes granos de pimienta negra machacados, y a los que se les hace referencia como "estilo romano".
INGREDIENTES
1 3-4 LBS. DE POLLO – ABIERTO (ABIERTO Y APLANADO, pregunte al carnicero)
1 CUCHARADITA DE SAL DE MAR O SAL KOSHER
2 CUCHARADAS DE GRANOS DE PIMIENTA (COLOQUE EN UNA PEQUEÑA BOLSA ZIPLOCK Y MACHAQUE CON UN MAZO O MARTILLO)
ACEITE DE OLIVA EXTRA VIRGEN
JUGO DE ½ LIMA (DE PREFERENCIA, PERO EL LIMÓN TAMBIÉN SIRVE)
INSTRUCCIONES:
1 . Coloque el pollo en una bolsa grande de plástico con cierre.
Vierta el jugo de limón y agregue la pimienta machacada y el aceite de oliva.
Asegúrese de cerrar bien la bolsa y masajee el pollo un poco, macere de manera uniforme.
Marine en el refrigerador al menos 2 horas y hasta 8 horas, volteando la bolsa de vez en cuando.
Prepare el fuego y coloque la parilla aproximadamente 5 pulgadas por encima del carbón.
Cuando el fuego esté listo (capa de ceniza blanca, si es que usa carbón) espolvoree el pollo generosamente con sal; coloque con la piel hacia abajo sobre la parrilla y ase hasta que la piel esté color café y abultada.
Voltee el pollo y adobe con la mezcla de marinar y sal. Espolvoree sal generosamente.
Voltee después de casi 10 minutos y continúe cocinando de cada lado o hasta que la carne del muslo este suave al picar con un tenedor; marinando ocasionalmente. Si se le acaba la mezcla de marinar, use aceite de oliva.
Sazone con pimienta machacada adicional y sal antes de servir. Sirve a 4.
Como se indicó, hay otras variaciones que hacen que este platillo haga honor a su nombre. Por ejemplo, pueden agregar 1 cucharadita de polvo de ajo, 1 cucharadita de pimienta cayena, 1 cucharadita de paprika (ahumada o condimentada) y/o pimienta roja machacada al marinado, ¡para que este platillo realmente pegue!

Latest posts by Madeleine Mason
(see all)