Cozumel Youth Sports
Cozumel Youth Ready for National Olympics
 Weightlifting Program A Statewide Winner…..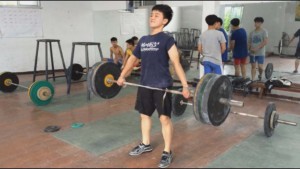 A group of young Cozumel athletes have been polishing their weightlifting skills. In fact, many young weightlifters have gone on to compete at the State level and won medals in their division.
Under the direction of Coaches  Oscar Bellos and Mónica Ochoa Rodriguez, the island has gained a reputation throughout the State as a home for many of the top youth competitors.
The State-level team has been selected and will soon head off to compete in the National Olympics.   Top Cozumel competitors who will represent their State include:  Maury Tuyub, Margely Castillo and Aylín Várguez.
La juventud de Cozumel lista para participar en las Olimpiadas Nacionales
El programa de halterofilia es el ganador estatal . . .
Un grupo de jóvenes atletas cozumeleños han estado puliendo sus habilidades en el levantamiento de pesas. De hecho, muchos levantadores de pesas han ido a competir a nivel estatal y obtenido medallas dentro de sus categorías.
Bajo la instrucción de los entrenadores Oscar Bellos y Mónica Ochoa Rodríguez, la Isla se ha ganado la reputación a través del Estado de ser el hogar de muchos competidores juveniles de primera.
El equipo de nivel estatal ha sido seleccionado y en breve partirá a las Olimpiadas Nacionales. Los competidores de primera de Cozumel que representarán a Cozumel incluyen a: Maury Tuyub, Margely Castillo y Aylín Várguez.
Laura Wilkinson is the Editor for Cozumel 4 You. An ex-Connecticut Yankee who has called Cozumel home for over 15 years, Laura ran away to the Caribbean years ago, bumped around the islands teaching SCUBA diving, lost some time in Jamaica, and finally stopped in Cozumel for a 2 week vacation that hasn't ended yet. With a degree in Journalism from a fancy private college she convinced her parents to pay for, Laura writes, edits, and creates the weekly Cozumel 4 You news, promotional articles about the island, and her very own blog, which she finds hilarious. Her long suffering husband, the Fabster, has long since resigned himself to having zero private life, as he's been involved in her various schemes and plots since his arrival. Proud parents to a variety of rescue dogs and cats, Laura continues to be the bane of her traditional Mexican mother-in-law's existence, as she muses her way through life in the Mexican Caribbean.
Latest posts by Laura Wilkinson (see all)