Cozumel Ecology Students
Island Youth Participate in Ecology Programs
Early Education Key for a Sound EcoSystem. ….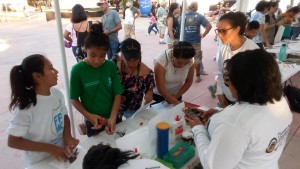 The new Deputy Director of Ecology for Cozumel Sandra Dutton Ruiz, has recently started a environmental education program designed for island school children.   The program, entitled, "Educación Ambiental para Todos," will be held on the last Friday of each month, and is geared toward teaching Cozumel's next generation the importance of taking care of the island's natural resources.
The first workshop, was held in the salon "Espacio de la Cultura de Agua"  in the public park "Las Mariposas, and together with representatives from CAPA, taught the importance and care of clean water.
Additionally, members of the Ecology program created a interactive display – using recycled materials – explaining what happens to items thrown away that reach the sea, or a fresh water cenote – and the damage that can cause to Cozumel's delicate ecosystem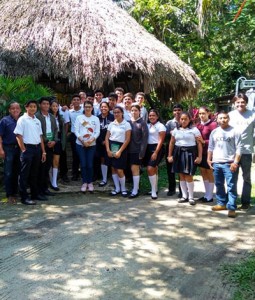 Parents are urged to get involved, attend the monthly program, volunteer and help educate their children and their children's peers regarding these and other environmental issues facing the island.
La juventud de la Isla participa en programas ecológicos
La juventud de la Isla participa en programas de ecología
Para lograr un ecosistema sólido, la clave es la educación temprana . . .
La nueva subdirectora de la Dirección de Ecología de Cozumel, Sandra Dutton Ruiz, hace poco instauró un programa de educación en ecología diseñado para los chicos en edad escolar en la Isla. El programa llamado "Educación Ambiental para Todos" se realizará el último viernes de cada mes y está orientado hacia la enseñanza de la siguiente generación de Cozumel en cuanto ala importancia de brindar los cuidados necesarios a los recursos naturales de la Isla.
Además, los miembros del programa de ecología crearon una muestra interactiva, utilizando materiales reciclados,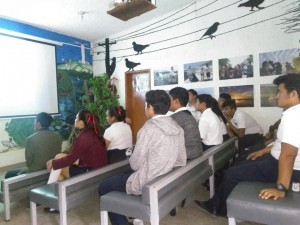 explicando qué sucede a los artículos que se descartan y que llegan al mar o a un cenote de agua dulce, y el daño que pueden causar al delicado ecosistema de Cozumel.
Se exhorta a los padres a participar, a asistir al programa mensual, a servir como voluntarios y apoyar en la educación de sus hijos y de otros jóvenes respecto a éstos y otros temas medioambientales a los que se enfrenta la Isla.
, además de caminar, jugar y posar para las fotografías.
Cuasi merece un hogar donde reciba amor y los cuidados adecuados, ya que Cuasi fue abandonado. Hay muchos perros que desean encontrar un hogar.
An ex-Connecticut Yankee who has called Cozumel home for over 18 years, Laura ran away to the Caribbean years ago, bumped around the islands teaching SCUBA diving, lost some time in Jamaica, and finally stopped in Cozumel for a 2 week vacation that hasn't ended yet. With a degree in Journalism from a fancy private college she convinced her parents to pay for, Laura writes, edits, and creates the weeklyCozumel 4 You news,social media, and promotional articles about the island, as well as moderates the Cozumel 4 You Facebook group, which currently has over 25,000 members. Her long suffering husband, Fabian, has long since resigned himself to having zero private life, as he's been involved in her various schemes and plots since his arrival. Proud parents to a variety of rescue dogs and cats, Laura continues to be the bane of her traditional Mexican mother-in-law's existence, as she muses her way through life in the Mexican Caribbean.
______________________________
Una ex yanqui de Connecticut quien llama hogar a Cozumel desde hace más de 15 años. Laura escapó al Caribe hace años, desplazándose de una isla a otra dando clases de BUCEO. Se dedicó a perder el tiempo en Jamaica y finalmente se detuvo en Cozumel para pasar unas vacaciones de 2 semanas que aún no terminan. Convenciendo a sus padres que pagaran una elegante universidad privada, obtuvo su título en Periodismo y Laura crea semanalmente Cozumel 4You, medios sociales y artículos promocionales sobre la Isla y también es moderadora en el grupo Cozumel 4 You en Facebook que actualmente cuenta con 25,000 miembros. Fabián, s umuy tolerante marido, desde hace mucho tiempo se resignó a no tener vida privada, pues se ha visto implicado en los diversos proyectos y planes que urde Laura. Son orgullosos padres de diversos perros y gatos rescatados. Mientras contempla su paso a través de la vida en el Caribe mexicano,Laura continúa siendo la pesadilla en la existencia de su muy tradicional suegra mexicana.
Latest posts by Laura Wilkinson (see all)