Cozumel Dancing "Una Cana al Aire"
Una "Cana al Aire" Reinstated is a Big Success
Free Public Dance Program Returns & Continues it's 25 Year History…….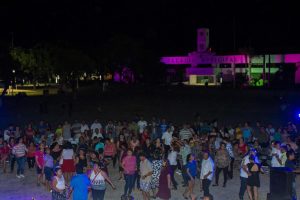 The Fundación de Parques y Museos de Cozumel (FPMC) recently reinstated the hugely popular "Cana al Aire" free public dance program.  Members of the public of all ages were invited to the Quintana Roo Park, which is in front of the Palacio Municipal, where they danced to live music preformed by "Los Tuchos."
The general director of the FPMC, Emilio Villanueva Sosa, resumed the program – which was an island tradition for twenty-five years.   " Cana al Aire was originally started in order to offer a space for leisure and coexistence through dance, in public spaces, such as the Parks of the Island.
The first event was a big success with residents, island visitors, old and young alike dancing to the rhythm of salsa, cumbia, danzón, chachachá and mambo. Many of the older island residents remarked how much they had missed this fun, social interaction and were glad to see that it had returned.
The next "Cana al Aire"  will take place on the last Saturday of November – Saturday November 24th.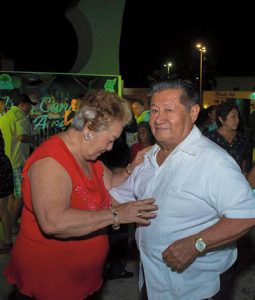 Regresa con gran éxito "Una Cana al Aire"
Regresa el programa público y gratuito de baile, y continúa con sus 25 años de historia. . .
Hace poco, la Fundación de Parques y Museos de Cozumel (FPMC) restableció el programa de baile muy popular y gratuito llamado  "Una Cana al Aire". Se invitó al público de todas edades al parque Quintana Roo, frente al Palacio Municipal, donde bailaron al ritmo de la música en vivo interpretada por "Los Tuchos".
El director general de la FPMC, Emilio Villanueva Sosa, retomó el programa que fuera una tradición isleña desde hace veinticinco años. Originalmente, "Una Cana al Aire" inicio para ofrecer un espacio de entretenimiento y convivencia a través del baile, en espacios públicos, tales como lo son los parques de la Isla.
El primer evento tuvo gran éxito entre los habitantes, visitantes de la Isla, jóvenes y personas mayores quienes bailaron al ritmo de salsa, danzón, cha cha chá y mambo. Muchos de los habitantes mayores comentaron que extrañaban mucho esta divertida interacción social y les dio gusto ver que la actividad está de regreso.
El siguiente evento de "Una Cana al Aire" tendrá lugar el último sábado 24 de noviembre.
Latest posts by Laura Wilkinson
(see all)