Adrian Cozumel
Adrian in Cozumel: Pride of Ownership
Lifetime Island resident Adrian Chimes in About the Importance of Good Service…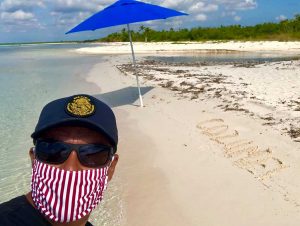 When I mention these words: "Pride of Ownership, " I'm really implying that I believe that everyone that visits Cozumel deserves top quality service.  My personal experiences –  living in a Tourist destination –  has made of me an avid spectator in the always evolving "Tour Machine."
Traveler's expectations vs. what they receive are always out on a limb depending which Tour Operator they end up with as well as the Price for the service they choose. Often I see people asking questions on different forums and websites about different excursions, activities and even restaurants to try – and they're really focused on Price – which is important, but there's so much more than that.
Visitors – and tour operators –  need to consider important factors such as price, activity length, number of participants, what's included, and what type & condition of vehicles are used. To me, the most important factor of all is this: How professional the tour guides are. often makes the final Price OF the experience.
I was invited to write a column for Cozumel 4 You and felt very thankful and proud for this invitation.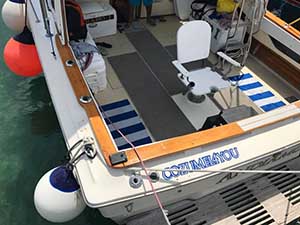 The first thing that came to my mind was to write something about how we can help everyone visiting Cozumel to get the best experience for their buck.
Remember, while the hospitality industry needs to generate some profit, when you break it down to basics –  we trade money for experiences –  while that might sound a little RAW; its the reality of a tourist destination, we make our living by making dreams come true.
Some companies are totally committed to this ideal and some are just looking for the money, and care less for the visitor, and the quality of their experience.   These companies achieve this goal by creating large group excursions, and deep discounts on price, or even skimping on service.
The main reason of this column is to make visitors aware of the importance –  and right –   to question any tour operator about what they can expect for the price they will pay for whatever service they will hire.  This will avoid the type of last minute surprises that can make a bad experience.
Again, I often hear people – who use only COST as a determining factor in selecting their activity – complaining about the lack of professionalism from a tour operator citing factors such as: long waiting lines, inappropriate services, old and dirty vehicles, poor food during the tours, skill less guides, disregard of safety, and, importantly, lack of personal attention.
Sadly, when these visitors go back home they write a bad review about their Cozumel experience but they do not mention that they were looking for, and selected,  the cheapest excursion or service they could find.
Remember "Pride of ownership" has a price and you will get the best experience out of your vacation if you do your homework and choose the perfect HOST for this beautiful island. You  have rights to ask any questions before you book with any company.
My recommendations:
Look for reviews on line.
Approach the companies with as many questions you may have.
Request photos of the equipment used on their tours
Ask how many participants are on each excursion.
How personalized the service will be.
Enquire if  there are any safety procedures during the activity.
Supply your medical and physical conditions before hand.
Ask for length of tours.
Type of food you will get during the activities.
Etc etc.
My Grandfather always said:  "To be good at serving a table always be able to have a conversation with each of them without missing or leaving anyone behind, be always a personal host" Denis Angulo (Casa Denis)
I hope this article was of good help and I welcome every single one of you to share any information that helps others to have a Fantastic time in our Wonderful island COZUMEL.
Truly Sincerely
Adrian
Adrian was born and raised in Cozumel. He's part of one of the oldest families on the island who are partially responsible for the growth of the tourism industry as they started one of the first restaurants on Cozumel located in the town's center square. 
 At an early age, Adrian would guide visitors to the island upon the request of his grandfather. By age 17 he already owned his own boat and had a love and passion for showing off the island in its most natural way. 
 Life gave him the opportunity to leave the island, pursuing his educational dreams. Merida, Yucatan was home base for college where he had the opportunity to travel and visit the surrounding area of the Yucatán peninsula. Through college he had the opportunity to spend time in the US in Atlanta and Chicago where he was welcomed through exchange college programs. 
 With a business degree he came back home to "Cozumel" where Adrian still continues his family's work to serve other families and visitors who continue to enjoy his stunning island paradise.
 With goals to please, Adrian will tailor any of your likes and desires into an experience in Cozumel or the Yucatán Peninsula.
 There are no limits! Adventure, relaxation, and exploration are all part of the main reasons why people look for him. Tours are always under a private basis! There is no minimum number of participants to tour with him. Larger groups are accepted but only if they are part of on family or one group of friends.
Adrián en Cozumel: el orgullo de pertenencia
Adrián, quien ha vividio en Cozumel toda su vida, haba sobre la importancia del buen servicio. . .
Cuando menciono estas palabras "orgullo de pertenencia", en realidad estoy implicando que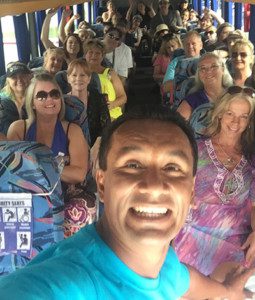 considero que todos aquellos que visitan Cozumel merecen un servicio de excelente calidad. En mi experiencia personal, viviendo en un destino turístico me ha convertido en un ávido espectador de la "maquina de excursiones" que siempre está evolucionando.
Las expectativas del viajero frente a lo que recibe siempre van más allá, dependiendo con qué operador de excursiones acaban así como del precio por el servicio que eligen. Con frecuencia veo personas que hacen preguntas en distintos foros y sitios en la red respecto a las excursiones, actividades e incluso qué restaurantes deben probar, cuando en realidad están concentrados en el precio; cierto es que es un punto importante, pero hay mucho más que sólo eso.
Los visitantes y operadores de excursiones deben considerar factores importantes tales como el precio, duración de la actividad, participantes totales, qué incluye, y qué tipo y en qué condiciones se encuentran los vehículos que usan. Para mi, el factor más importante de todo esto, es: El profesionalismo de los guías de la excursión con frecuencia determina el precio final de la experiencia.
Fui invitado a escribir una columna para Cozumel 4 You y me sentí muy agradecido y orgulloso por esta invitación.
Lo primero que me vino a la mente fue escribir acerca de la forma en que podemos ayudar a que todo aquel que visite Cozumel obtenga la mejor experiencia por lo que paga.
Recuerden, en tanto que la industria de la hospitalidad necesita generar ingresos cuando se hace el desglose, es un intercambio de dinero por experiencias. A pesar de que ello pueda sonar un poco fuerte, es la realidad existente en un destino turístico: nos ganamos la vida haciendo que los sueños se vuelvan realidad.
Algunas empresas están plenamente dedicadas a cumplir este ideal, en tanto que otras sólo buscan hacer dinero preocupándose menos por el visitante y por la calidad de la experiencia. Esas empresas consiguen ese objetivo creando excursiones con grandes grupos y grandes descuentos en el precio o incluso escatiman el servicio.
A razón principal de esta Columba es sensibilizar a los visitantes sobre la importancia y el derecho de cuestionar a todo operador de excursiones respecto a lo que se debe esperar por el precio que pagaran, cualesquiera el servicio que contraten. Ello evitará las sorpresas de último minuto que pudieran crear una mala experiencia.
Con frecuencia, escucho personas que solo usan el COSTO como factor para determinar la elección de su actividad, quejándose sobre la falta de profesionalismo de un operador de excursiones, citando factores tales como: largas líneas de espera, servicios inadecuados, vehículos viejos y sucios, mala comida durante la excursión, guías menos capacitados, negligencia en cuanto a la seguridad y, notablemente, falta de atención personal.
Es lamentable que cuando estos visitantes regresan a casa escriben una reseña negativa acerca de su experiencia en Cozumel, pero no indican que buscaron y eligieron la excursión o servicio más económico.
Recuerden el "orgullo de pertenencia" tiene un precio y usted tendrá la mejor experiencia de sus vacaciones sólo si hace su tarea y elije al ANFITRIÓN perfecto para vacacionar en esta bella Isla. Usted tiene el derecho de hacer todas las preguntas antes de reservar con cualquier empresa.
Mis recomendaciones:
Lea las reseñas que aparecen en línea.
Diríjase a las empresas con todas las preguntas que tenga.
Solicite fotografías del equipo que utilizan en las excursiones.
Pregunte cuántas personas participan en cada excursión.
Qué tan personalizado es el servicio.
Pregunte si existen procedimientos de seguridad mientras se lleva a cavo la actividad.
Proporcione con antelación sus condiciones médicas y físicas.
Pregunte cuánto duran las excursiones.
Qué tipo de alimentos darán durante las actividades.
Etc., etc.
Mi abuelo solía decir: "Para ser bueno al servir una mesa, siempre se debe poder sostener la conversación con cada uno de los comensales sin que falte persona alguna o sin excluir a nadie, siempre debes ser un anfitrión que ofrece trato personal" – Denis Angulo (Casa Denis.)
Es mi deseo que este artículo sea de buena ayuda y aplaudo a cada uno de ustedes que comparten información que ayuda a que otros para que su estancia en nuestra espectacular Isla, COZUMEL, sea estupenda.
Con toda sinceridad,
Adrián
Adrián nació y creció en Cozumel. Es miembro de una de las familias más antiguas de la Isla, parcialmente responsables por el desarrollo de la industria turística en virtud de que iniciaron con uno de los primeros restaurantes en Cozumel, ubicado en la plaza del centro.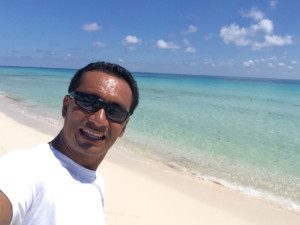 A solicitud de su abuelo y desde temprana edad, Adrián era guía de quienes visitaban la Isla. A los 17 años ya era propietario de su propia embarcación y, con amor y pasión, mostraba la Isla de la manera más natural. 
La vida le dio la oportunidad de salir de la Isla para lograr sus sueños en cuanto a la educación. Mérida, Yucatán fue la base para los estudios superiores, desde donde pudo visitar los alrededores de la península de Yucatán. A través programas de intercambio del colegio de estudios superiores le fue posible pasar tiempo en Atlanta y en Chicago, en E.U.A.
Regresó a casa, a Cozumel, con su título en comercio donde aún continua la labor familiar de servir a otras familias  visitantes que continúan disfrutando esta asombrosa isla paradisiaca.
Con el objetivo de complacer, Adrián personalizará su experiencia en Cozumel o en la península de Yucatán de acuerdo a lo que a usted le guste y desee.
¡No hay límites! La aventura, la relajación y la exploración son parte de las razones principales por las cuales la gente busca a Adrián. ¡Las excursiones siempre son privadas! En sus excursiones no hay un límite mínimo de participantes. Se aceptan grupos grandes pero sólo si son parte de una familia o de un grupo de amigos
Latest posts by Laura Wilkinson
(see all)