Art  in Cozumel:  Paul Mila Cozumel-Inspired Author
Island of the Swallows is also the Island of Inspiration, at least for this writer……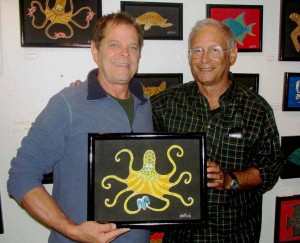 This month I would like to introduce you to another artist, but in this case, an author. I have known Paul Mila for many years. He has always visited my gallery when he visits the island, and has been a fan of my art work.  He gifted me a copy of his first book, Dangerous Waters. I enjoyed the connections to Cozumel in the book. He has now written many more, and it is always fun to read them, especially knowing some of the characters. A couple years ago he mentioned that he was cooking up a new book idea that involved artists and galleries. He asked if he could make me one of the characters, to which I was honored and said yes. Then a few months later, he writes and asks…"Do you mind if you die in the book?" I had to laugh at that, my first reaction was "no problem"…then as it sank in, I had second thoughts. I decided to let him decide. So…the book is now in print. The title is "Killer in Paradise". You will need to read the book to find out my fate. It's a good book, and it seems that every time there are more local characters. I do have copies of this book, and his others, for sale in the gallery.
PS: After reading the book, I was so happy to be part of it that I got inspired to make him a painting based on the book.
I asked him to write about his book writing for this article.
Here is Paul's story in his own words…
Cozumel – Island of the Swallows is also the Island of Inspiration, at least for this writer.
When I visited Cozumel for the first time in 1999, I was already thinking about leaving corporate life to follow my
passion for creative writing. After a second visit to Cozumel in 2000, I had developed another passion – scuba diving. Prior to diving I had no idea what I would write about. But after experiencing the beauty of Cozumel's undersea world and visiting the creatures inhabiting that world, the idea to share my adventures with readers in an entertaining fashion began to take form.
By 2001 I had made the giant leap and was free from the constraints of the corporate life. Visiting Cozumel again, I learned that the local scuba instructor who had taught me how to dive, a young lady originally from California, had an interesting background.  She had also struck out on her own, leaving the hotel dive operator where she was working to start her own scuba operation. I coupled the idea of writing about fictional scuba diving adventures in a tropical paradise with a strong female character and in 2003 published my first novel, DANGEROUS WATERS, A young woman's perilous journey of adventure and romance.  DANGEROUS WATERS was followed by WHALES' ANGELS, an anti-whaling novel, and FIREWORKS, which deals with international terrorism.
I was now spending more time in Cozumel and had purchased a condo at the Residencias Reef, which allowed additional opportunities to learn more about the island and make numerous friends. Spending so much time in tropical latitudes, I have been fortunate to meet an array of colorful characters who also have intriguing backgrounds – fertile ground for a novelist. So, in my two most recent Cozumel-based novels, NEAR MISS and KILLER IN PARADISE, many new friends and local amigos have found their way into the stories. Recognizable Cozumel residents include Fulvio Cuccurullo, Jaime Ramirez, Greg Dietrich, Kelly Matthews (AKA Cozumel Kelly), Mike Handy, and Kathy Klein, owner of La Cocay restaurant. Even our own Laura Wilkinson and Cozumel 4 You get a mention in the latest story.
Of course, the characters in my stories must eat. So, they choose local restaurants featuring great food: Pancho's Backyard, Guidos, and La Cocay.
And finally, if the fictional dive operation in my stories, Dive With Terry, seems eerily similar to Scuba With Alison, well, she started it all!
Branching out from novels, I recently published a Cozumel-based children's book, HARRY HAWKSBLL HELPS HIS FRIENDS, and BUBBLES UP, a nonfiction book of worldwide dive adventures, including many exciting Cozumel dives.
My books can be found in Cozumel at Galleria Azul, Funky Bazaar, and also online at Amazon and my own website, www.milabooks.com
If you decide to order my books be sure to visit Greg Dietrich's fabulous art gallery, Galleria Azul, the Funky Bazaar boutique on the ground floor of MEGA, and take a walking tour of the restaurants mentioned in the stories – you won't be disappointed.
Arte en Cozumel: Paul Mila, escritor que se inspira en Cozumel
La Isla de las Golondrinas también lo es de la Inspiración, al menos para este escritor. . .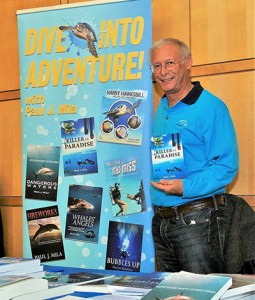 Cozumel, la Isla de las Golondrinas, también es la Isla de la Inspiración, al menos para este escritor. Cuando visité Cozumel por primera ocasión en el año 1999, ya tenía planeado dejar atrás la vida empresarial para dedicarme a escribir creativamente, ya que es mi pasión. Después de una segunda visita a Cozumel en el año 2000, desarrolle otra pasión: el buceo.  Antes de practicar el buceo, no tenía idea acerca de lo que escribiría. Sin embargo, después de vivir la experiencia de la belleza del mundo submarino de Cozumel y visitar a las criaturas que habitan en ese mundo, comenzó a tomar forma a idea de compartir mis aventuras con los lectores de una manera entretenida.
En el 2001 di un paso gigantesco liberándome de las restricciones de la vida empresarial.  Al visitar Cozumel de nuevo, me enteré que la instructora de buceo local quien me enseño a bucear, una joven originaria de California, tenía un pasado interesante. También decidió independizarse, dejando al operador de buceo del hotel donde laboraba para abrir su propia operación de buceo.  Junte la idea de escribir sobre aventuras ficticias de buceo en un paraíso tropical con un fuerte personaje femenino, y en 2003 publiqué mi primera novela Dangerous Waters. Es la peligrosa travesía de aventura y romance de una joven. A Dangerous Waters le siguió Whales' Angels, una novela contra la cacería de ballenas, y luego Fireworks, sobre terrorismo internacional.
Ahora pasaba más tiempo en Cozumel y adquirí una unidad en condominio en Residencias Reef, lo que me permitía tener mayor oportunidad para aprender sobre la Isla y hacer muchos amigos. Al pasar tanto tiempo en latitudes tropicales he tenido la fortuna de conocer una colorida gama de personajes que también tienen historias intrigantes; un suelo fértil para un escritor de novelas. De este modo, en mis dos novelas más recientes, Near Miss y Killer in Paradise, cuyas historias tienen Cozumel como base, muchos amigos nuevos y locales han encontrado cómo ser parte de las historias. Hay personajes reconocibles como Fulvio Cuccurullo, Jaime Ramirez, Greg Dietrich, Kelly Matthews (también conocido como Cozumel Kelly), Mike Handy y Kathy Klein, propietaria del restaurante La Cocay. Incluso se menciona a Laura Wilkinson y Cozumel 4 You en la historia más reciente.
Por supuesto que los personajes de mis historias deben comer; por lo tanto, figuran restaurantes que se caracterizan por su gran comida: Pancho's Backyard, Guidos y La Cocay.
Y, finalmente, si la historia ficticia de buceo en mis historias, Dive With Terry parece inquietantemente parecida a Scuba con Alison, bueno, ¡ella es quien comenzó todo!
Con el fin de diversificar las novelas, en fechas recientes publiqué un libro para niños cuya base es Cozumel: Harry
Hawskbill Helps His Friends and Bubbles Up un libro con base en hechos reales de aventuras de buceo alrededor del mundo, incluyendo muchos buceos emocionantes en Cozumel.
Pueden encontrar mis libros en Galería Azul, Funky Bazaar, también en línea a través de Amazon y en mi propia página www.milabooks.com
En caso que decida pedir mis libros, asegúrese de visitar la fabulosa galería de arte de Greg Dietrich, Galería Azul y la boutique Funky Bazaar en la planta baja de la Mega [Comercial Mexicana] y hagan un recorrido a pie de los restaurantes mencionados en las historias; no se decepcionarán.

Greg first came to Cozumel in 1988 to scuba dive and enjoy the beaches of the east side of the island. He immediately fell in love with the island and its people. His dive master convinced him he should look into buying a house here… turns out his other job was as a real estate agent. Long story short, he bought a house here on that very first visit. Greg came back to Cozumel at least twice a year for the next 10 years.

In the spring of 1998, Greg had a successful glassblowing related business in Seattle Washington, the city that is known as the glass art center in the United States. In March, on the first night of his much needed vacation, he met Liliana Macotela. This encounter changed everything.

By the end of that year, he had sold his business, packed up his engraving machine, and moved here to the island. He opened his working studio/gallery, called Galeria Azul, in the downstairs of his home. He is still there to this day and just celebrated 17 happy years of living here on the island with his wife, Liliana.

Latest posts by Greg Dietrich (see all)