Rally Maya Classic Cars Cozumel
Rally Maya Mexico Visits Cozumel
Classic Car & Culture Rally Starts on the Island……
For the 5th consecutive year, the Rally Maya Mexico is taking place, and Cozumel has the honor to host the start of this amazing 9-day event.  This year, they're expecting up to 100 classic and unique cars to compete in this 12,000 KM (500 mile) rally that will take place throughout the Yucatan Peninsula and Cozumel.   The rally is broken up into several stages, starting in Cozumel and covers other areas throughout the region including:  Valladolid, Chichen Itza, Merida, and Cancun.  Along the way the cars will pass through the ruins of Tulum, Chichen Itza, and Yaxauah, and even travel through the scenic route of the centoes, ending with an awards ceremony in Cancun.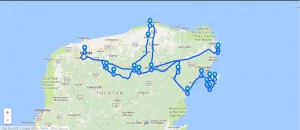 The autos are currently on display in the Andres Quintana Roo Park, which is located directly in front of the Palacio Municipal.  Here's a video of just some of the impressive vehicles on display.  The actual Cozumel rally will take place on Friday May 25th, where the cars will travel from Andres Quintana Roo Park to the San Gervasio Archaeological Zone, past the Punta Sur Lighthouse, with visits to both El Cedral, and Chankanaab National Park.
For more information, including the rest of the rally please visit the Rally Maya Mexico official website.
Rally Maya México visita Cozumel
El rally y cultura sobre automóviles clásicos comienza en la Isla  . .
Por 5º año consecutivo tiene lugar el Rally Maya México y Cozumel tiene el honor de presentar el inicio de este evento que tiene una duración de 9 días. Se espera que este año en la competencia de 12,000 kilómetros (500 millas) a través de la península de Yucatán y de Cozumel, participen 100 automóviles clásicos y únicos. El rally se divide en diversas etapas comenzando en Cozumel, y cubre otras áreas a través de la región que incluyen a Valladolid, Chichén Itzá, Mérida y Cancún. En el trayecto los autos pasarán por las ruinas de Tulum, Chichén Itzá y Yaxauah, e incluso recorrerán la ruta escénica de los cenotes concluyendo con la ceremonia de premiación en Cancún.
La exhibición de los automóviles está en el parque Andrés Quintana Roo, justo frente al Palacio Municipal. Aquí tienen un video de algunos de los vehículos impresionantes que se exhiben. En sí el rally de Cozumel tendrá lugar el viernes 25 de mayo; el recorrido de los autos será desde el parque Andrés Quintana Roo hacia la zona arqueológica de San Gervasio, pasando por el Faro de Punta Sur, visitando tanto El Cedral como el Parque Nacional de Chankanaab.
Para obtener mayor información incluyendo el resto del rally, visiten la página oficial del Rally Maya México.
Laura Wilkinson is the Editor for Cozumel 4 You. An ex-Connecticut Yankee who has called Cozumel home for over 15 years, Laura ran away to the Caribbean years ago, bumped around the islands teaching SCUBA diving, lost some time in Jamaica, and finally stopped in Cozumel for a 2 week vacation that hasn't ended yet. With a degree in Journalism from a fancy private college she convinced her parents to pay for, Laura writes, edits, and creates the weekly Cozumel 4 You news, promotional articles about the island, and her very own blog, which she finds hilarious. Her long suffering husband, the Fabster, has long since resigned himself to having zero private life, as he's been involved in her various schemes and plots since his arrival. Proud parents to a variety of rescue dogs and cats, Laura continues to be the bane of her traditional Mexican mother-in-law's existence, as she muses her way through life in the Mexican Caribbean.
Latest posts by Laura Wilkinson (see all)