September Discover Mexico Cozumel
September Events in Discover Mexico Park
Celebrate Independence Month with these Fun Activities….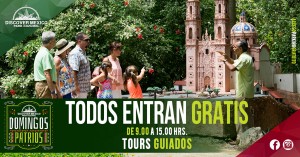 Discover Mexico Park Cozumel is hosting an array of amazing events during all of September: First of, the Mercado del Artesano (Artisans' market) on September 1st from 6:00 p.m. until 10:00 p.m., showcasing over 35 Quintana Roo state artisans and their products, such as: edibles, clothing, jewelry, hygiene products, etc.  This is a great chance to support local trade and make a unique purchase.
Then, Discover Mexico will have their traditional Domingos Patrios (Patriotic Sundays) during the 2nd, 9th, 16th and 23th of September, free entrance to the park for everyone from 9.00 a.m. and until 3.00 p.m.!  So if you're yet to visit Discover Mexico's iconic dioramas, the tropical garden, the Mexican Museum of Traditional Arts or see the Papantla flyers perform, this is your chance to do so, and at no charge! Additionally, there will be a taco buffet at only $140 pesos per person ($70 pesos for children under 12 y.o.) and the month's special, Chile en Nogada for only $85 pesos.  Plus other yummy dishes to feast on, everything at local prices.
Finally, Discover Mexico is taking part of the Viernes con Sabor a Cozumel for the second year in a row.  This pairing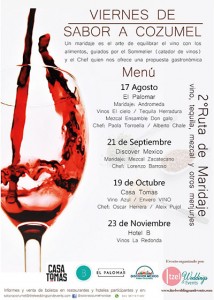 route features some of Cozumel's most raved about restaurants and this year, Discover Mexico is hosting a pairing inspired in Zacatecas state.  Delight yourself with Zacatecan cuisine and its amazing mezcal on Friday the 21st of September at 7:30 p.m. and join the route at the three other venues as well, you won't regret it."
Follow Discover Mexico Park Cozumel on its social media feeds for further details or send a message at info@discovermexico.org  https://discovermexicopark.com/
Eventos de Septiembre en el parque Discover Mexico
Celebre el mes de la Independencia con estas divertidas actividades. .
Durante todo el mes de Septiembre el parque Discover Mexico de Cozumel tendrá una gran variedad de increíbles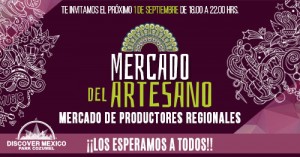 eventos. Comenzando con el Mercado del Artesano el 1º de septiembre de las 6:00 p.m. a las 10:00 p.m., presentando a más de 35 artesanos del Estado de Quintana roo y sus productos tales como: comestibles, joyería, productos para la higiene, etc. Esta es una gran oportunidad para apoyar al comercio local y hacer una compra excepcional.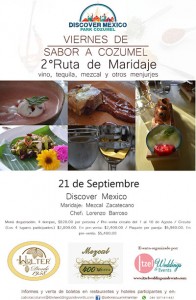 Después, los días 2, 9, 16 y 23 de Septiembre Discover Mexico  tendrá los Domingos Patrios, con entrada libre para todos desde las 9:00 a.m. a las 3:00 p.m. Así que si aún no ha visitado los simbólicos dioramas históricos de Discover Mexico así como el jardín tropical, el Museo Mexicano de Arte Tradicional o no ha visto la presentación de los Voladores de Papantla, esta es su oportunidad para hacerlo, ¡y sin costo alguno! Además habrá un bufet sólo de tacos por tan solo $ 140 pesos por persona ($70 pesos para los niños menores a 12 años de edad) y el especial del mes: Chiles en nogada por tan solo $ 85 pesos; y muchos otros platillos deliciosos para disfrutar. Todo a precios locales.
Para finalizar, por segundo año consecutivo Discover Mexico participa en el "Viernes con Sabor a Cozumel". La ruta de maridaje incluye algunos de los restaurantes más elogiados de Cozumel; y este año Discover Mexico presenta un maridaje inspirado en el Estado de Zacatecas. El  21 de septiembre a las 7:30 pm, deléitese con la cocina zacatecana y su sorprendente mezcal, y únase a la ruta hacia otros tres restaurantes. No se arrepentirá-
Para obtener mayores detalles, sigan al parque Discover Mexico de Cozumel en los medios sociales  o envíen un mensaje a info@discovermexico.org – https://discovermexicopark.com
Laura Wilkinson is the Editor for Cozumel 4 You. An ex-Connecticut Yankee who has called Cozumel home for over 15 years, Laura ran away to the Caribbean years ago, bumped around the islands teaching SCUBA diving, lost some time in Jamaica, and finally stopped in Cozumel for a 2 week vacation that hasn't ended yet. With a degree in Journalism from a fancy private college she convinced her parents to pay for, Laura writes, edits, and creates the weekly Cozumel 4 You news, promotional articles about the island, and her very own blog, which she finds hilarious. Her long suffering husband, the Fabster, has long since resigned himself to having zero private life, as he's been involved in her various schemes and plots since his arrival. Proud parents to a variety of rescue dogs and cats, Laura continues to be the bane of her traditional Mexican mother-in-law's existence, as she muses her way through life in the Mexican Caribbean.
Latest posts by Laura Wilkinson (see all)