Cozumel 4 You News | Aug 30, 2018

Cozumel's Number One Source of Positive Information for Our Island
Mexico Unveils a New $500 peso bill



 Additional security measures & new graphics...
México lanza un nuevo billete de $ 500 pesos



Medidas de seguridad adicionales y nuevas imágenes.. .
September Events in Discover Mexico Park

Celebrate Independence Month with these Fun Activities ...
Eventos de Septiembre en el parque Discover Mexico



Celebre el mes de la Independencia con estas divertidas actividades....
>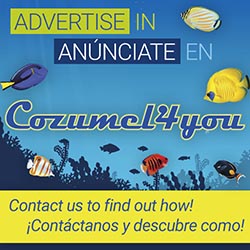 The Wreck of the San Francisco de Sales on Cozumel, April 5, 1761



Ric Hajovsky Shares a Great Cozumel story….
El naufragio del barco San Francisco de Sales en Cozumel en Abril 5, 1761



Ric Hajovsky comparte una gran historia de Cozumel . . .
HUMANE SOCIETY | STORY OF THE WEEK

Cozumel Turtle Trivia:  Sargassum



Update by Biol. C. Ricardo Peralta M. ..
Trivia-tortuga de Cozumel: El sargazo  



Actualizacion del biólogo C. Ricardo Peralta M....

Cozumel Events of the Week

Cozumel 4 You News is a weekly newsletter published about the island of Cozumel, concentrating on the positive aspects and activities here on the Island of Swallows. Translations provided by Monica Sauza, certified translator. If you have an idea for the newsletter, would like to advertise, please contact Laura at laura@czm4you.com.

All articles, in both English and Spanish are the exclusive property of Cozumel 4 You and cannot be used, displayed or reproduced without express written permission from the publisher. If you would like to quote, use or link to our newsletter, please contact laura@czm4you.com for details.

Todos los artículos, tanto en inglés como en español son propiedad exclusiva de Cozumel 4 You y no pueden ser utilizados, o reproducidos sin permiso expreso por escrito de la editorial. Si gustas citar, utilizar o vincular a nuestro newsletter, póngase en contacto con laura@czm4you.com para obtener más detalles.

Cozumel 4 You | Cozumel4you.com | Av. 25C entre C. 21 y C. 23 | Cozumel, Q.R. 77600, Mexico | info@czm4you.com | © 2016 Cozumel 4 You


6