Cozumel Weekly News in Photos
by Karina Carrion
THE PRIVATE SECTOR SEEKS TO PROMOTE THE LAW ON ISLANDS FOR COZUMEL
COZUMEL, February 2021 – Given the crisis generated by the Covid-19 pandemic, the private sector frantically raised its voice petitioning federal government's help hoping the "Law on Islands" can be enacted in Cozumel for the best interests of its economy and thus provide basic services to the close to 90 thousand people that live in it.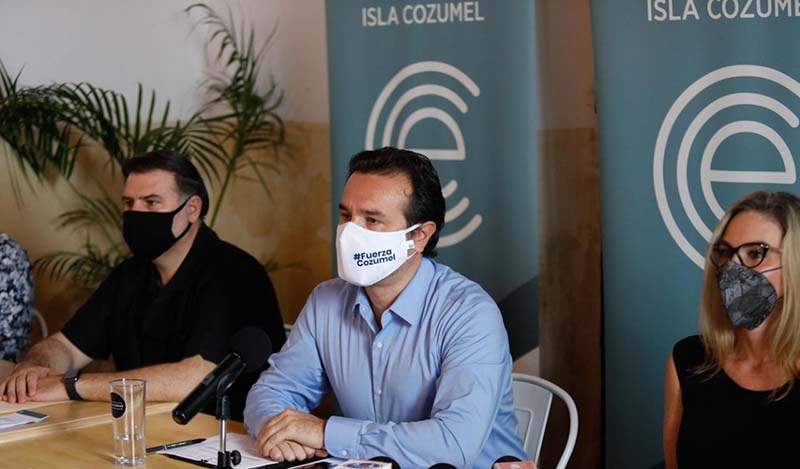 The petition was made by the Business Coordination Council (CCE), by the Employers Confederation of the Mexican Republic (COPARMEX) as well as other by other business groups, all coming together seeking the same rights and services that the rest of the Mexicans who live in the mainland have.
In the request made by the 17 organizations forming the Business Coordination Council (CCE) it was made known that this petition is not exclusive for the municipality of Cozumel, but they raise their voice also for the benefit of other islands in Quintana Roo – Isla Mujeres and Holbox-, as that said law would bring benefits and tax incentives in transportation, business and energy (fuel and electric power), which would enable competitiveness as a destination.
The petition prepared by the business sector was addressed to the President of the Republic, Andrés Manuel López Obrador, and contains the following items:
To endorse a federal Islands' Decree which includes mechanisms to compensate the additional cost of living in an Island and improve its competitiveness as a destination comprising the following focal matters: Connectivity, Energy, Sustainability, Social Welfare and Foster Investment.
As soon as possible set up worktables with the developing banking and private banking in order to solve flow and debt issues and encourage diversified investment in the Island.
Add Cozumel to the fiscal incentives Decree in the same context as a Southern Border Zone, of which we are part of as border with the Caribbean, in order to promote direct investment as soon as possible in the Island and thereby reduce depending on a single economic sector.
Set up a government planning body along the private sector and social organizations in order to implement and follow up sustainable projects for the Island in a short, medium and large terms.
Have a single filing window for federal services and processing that will allow expediting and accessibility without additional costs (time and travel expense to the mainland) o, otherwise, digitization thereof or subsidize transportation to effect the services.
Have the minimum third-level hospitality infrastructure as a basic welfare element for Island's inhabitants and visitors, which may be comprehensively without having to leave Cozumel.
Immediate improvements to the infrastructure of drains, potable water, electric power, communications, internet, etc. as these have not been renewed for a long time and are already insufficient.
Promptly develop and implement a Transportation Plan that includes an efficient and accessible public transportation in an out of the Island, and as well encourage non-polluting means of transportation.
Revitalizing downtown, the waterfront and the Benito Juárez park by investing in the city image, promptly starting by refurbishing and the mandatory improvement of facades in the first blocks, pursuant to the urban image plan.
Allocate a budget for a Permanent Promotion Plan, exclusively for specific needs and attractions in Cozumel, that may allow us to have the same extent and scope, and thus be able to compete with other domestic and international destinations.
Representatives of different Chambers are expected permanently keep a social media campaign adding others into the petition, thus creating an echo and that the Federal Government authorities promptly take the necessary steps on the matter given the adversity faced by the pandemic which the business community has described as a "humanitarian crisis."
FLIGHTS
On the one hand, government authorities celebrated that after six years of absence, on Saturday February 13th, Frontier Airlines returned to Cozumel with a direct flight from Denver, while American Airlines began its flights from Philadelphia. However, throughout the week several flights from Dallas were cancelled due to the prevailing winter storm in that county.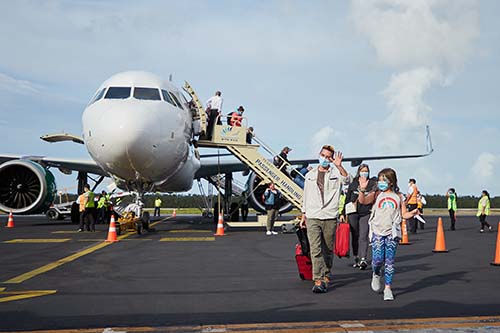 To the effect, both the tourism and the Cozumel international Airport Authorities informed that the Philadelphia-Cozumel flights will be offered on Saturdays, a weekly basis, by American Airlines. The aircraft will gave a 100 to 120 passenger capacity, so it is expected that occupancy will be over 70% for these flights.
As well, Jorge Campos Romero, head of the airport administration mentioned that after six year of absence resuming Frontier flights from Denver will be positive.
Furthermore, flights from Miami, Denver, Chicago, Minneapolis, Charlotte, Houston, Mexico and Dallas were also revealed, although the latter ones were cancelled this week due to bad weather in the US., but conditions are expected to improve during the rest of the week.
LEAVING BACKPACKS ASIDE TO HELP THEIR MOMS
Notwithstanding the existing community DIF programs to assist children, a couple of them have decided to go out wash cards and sell hand-woven flowers made with guano leaves in order to get a tip, so each of them may be able to help with food for their siblings and their school supplies.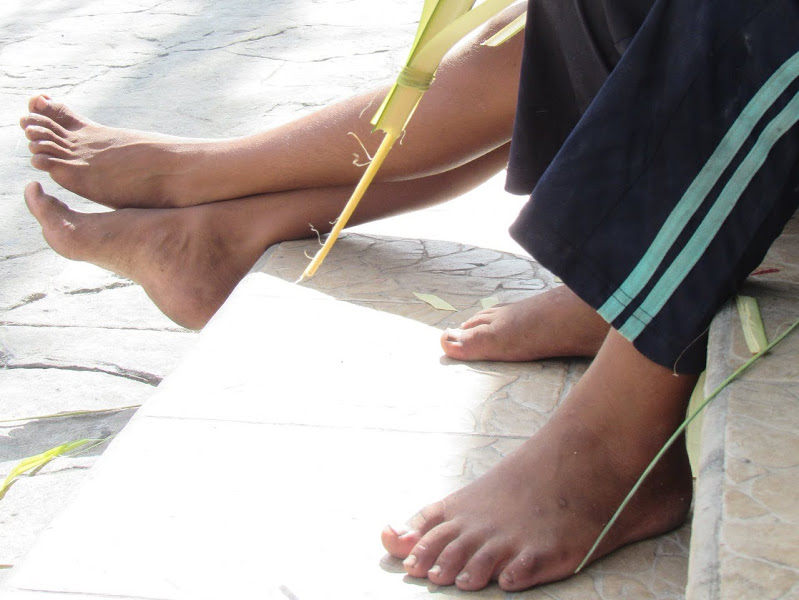 That is the case with Cristian "N" and Emmanuel "C", 12 and 15, who early in the morning go to supermarkets or convenience stores, among others, with the intention of earning a tip which they divide between them to take home at the end of the day.
Both teens agreed in selling flowers woven by their own hands with guano leaves and, in their opinion, is nothing bad as they have other friends of their age who have gone down wrong paths. So, they chose to put this flower crafting into practice and sell them to every client that leaves different businesses .
Though barefoot, Cristian and Emmanuel offer to take care of motorcycles while people go shopping, and suggest they can "wash" the vehicles, particularly motorcycles. Both teens keep their flannels in an area where they can be seen every day, and also have bottles with detergent and others with water to perform their job. They said: "We do it honestly because we know nothing is free in life; one has to work."
These two youngsters acknowledged that online classes have been complicated as they do not have mobile phones nor internet at home. But they try to catch up at night or throughout the week, mostly because they have to raise money to buy their school supplies; bearing in mind that in both cases their moms – heads of each household-, must go out to work in order to meet the needs of their other children. This has motivated them to take advantage of certain hours in the day selling flowers and washing motorcycles.
Authorities from the Municipal DIF office have approached the children's families and have given them guidance in order to prevent the children from being exploited. However, in both cases they have assured that regardless of the scolding, they will not stop selling to help their families, because they do not mind bringing home even 20 Pesos, as that money is enough for a kilo of tortillas and they can eat.
Noticias de Cozumel en la semana en fotografías
By Karina Carrión
INICIATIVA PRIVADA BUSCA IMPULSAR LEY DE ISLAS PARA COZUMEL
Cozumel, Quintana Roo, febrero de 2021.- De manera desesperante, iniciativa privada alzó la voz para pedir auxilio al gobierno federal en espera de que se decrete la "Ley de Islas" en Cozumel, con el fin de beneficiar a la economía y brindar servicios de primera necesidad a las cerca de 90 mil personas que habitan en el destino, ante la crisis generada por la pandemia de Covid-19.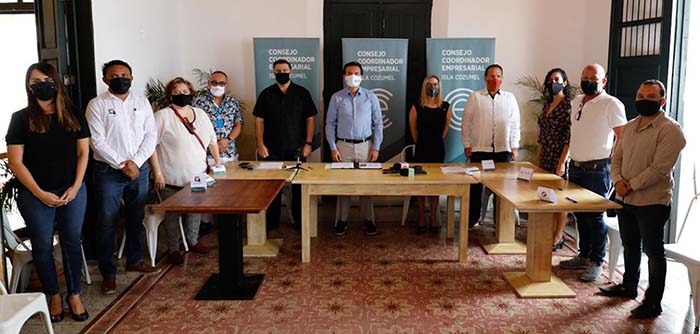 El exhorto impulsado por el Consejo Coordinador Empresarial (CCE), la Confederación Patronal de la República Mexicana (COPARMEX); así como por las demás agrupaciones empresariales, se sumaron a la petición en busca de poder tener los mismos derechos y servicios que el resto de los mexicanos que habitan en tierra firme.
Se concentró la petición entre los representantes de las 17 organizaciones que integran al Consejo Coordinador Empresarial (CCE), dejaron saber que su petición no es exclusiva para el municipio de Cozumel, sino que de la misma manera alzaron la voz en espera de concretar el beneficio para ínsulas de Quintana Roo como son Isla Mujeres y Holbox, considerándose que dicha ley traería beneficios e incentivos fiscales en el transporte, comercio y en materia de energía (combustibles y energía eléctrica), lo que permitirá mejorar la competitividad como destino.
El documento impulsado por el sector empresarial fue dirigido al Presidente de la República, Andrés Manuel López Obrador y se compone por los siguientes puntos:
1. Aprobar un Decreto de Ínsulas de carácter federal, que incluya mecanismos para compensar el sobrecosto que implica vivir en una isla y mejorar su competitividad como destino, teniendo como ejes: la Conectividad, Energéticos, Sustentabilidad, Bienestar Social y el Fomento a la Inversión.
2. Instalar a la brevedad mesas de trabajo con la Banca de Desarrollo y la Banca Privada para resolver los problemas de flujo, deuda y fomentar la inversión diversificada en la Isla.
3. Sumar a Cozumel al Decreto de incentivos fiscales, en el mismo contexto de la Zona Fronteriza Sur, de la cual formamos parte como Frontera con el Caribe, para promover a la brevedad la inversión directa en la isla y disminuir la dependencia hacia un solo sector económico.
4. Establecer un Organismo de Planeación Gubernamental, con Iniciativa privada y organismos sociales para identificar, implementar y dar seguimiento a proyectos sustentables de corto, mediano y largo plazo para la isla.
5. Tener una ventanilla única para servicios y trámites federales, que permitan la agilización y accesibilidad sin un costo extra (de tiempo y gastos de desplazamiento a tierra firme) o, en su defecto, la digitalización de los mismos, o que exista un subsidio de transporte para llevarlos a cabo.
6. Contar con una infraestructura hospitalaria mínima de tercer nivel, como elemento básico de bienestar para los habitantes y visitantes de la isla, de manera que puedan ser atendidos integralmente sin salir de Cozumel.
7. Mejoras inmediatas en la infraestructura de drenaje, agua potable, luz eléctrica, comunicaciones, internet, etc. que durante mucho tiempo no se han renovado y ya son insuficientes.
8. Desarrollar e implementar a la brevedad un Plan de Movilidad, que incluya un transporte público eficiente y accesible dentro y hacia afuera de la Isla, así como fomentar el uso de medios de transporte no contaminantes.
9.- Reactivación, mediante la inversión en la imagen urbana del Centro, Malecón y el Parque Benito Juárez, comenzando de inmediato por el acondicionamiento y mejoramiento forzoso de fachadas, ubicadas en el primer cuadro, conforme al plan de imagen urbana.
10.- Asignación de presupuesto para un Plan Permanente de Promoción, exclusivo para las necesidades y atractivos particulares de Cozumel que nos permita tener el mismo alcance y penetración para poder competir con otros destinos nacionales e internacionales.
Se espera que los representantes de las diversas cámaras puedan mantener de manera permanente una campaña a través de las redes sociales en espera de que se sigan sumando a la petición, a fin de crear eco y que las autoridades del Gobierno Federal tomen cartas en el asunto a la brevedad, ante la adversidad que se vive por la pandemia, a la que el empresariado catalogó como "crisis humanitaria".
CONEXIONES AÉREAS
Por un lado autoridades gubernamentales celebraron que después de seis años de ausentarse, el sábado 13 de febrero la aerolínea Frontier regreso a Cozumel con la conexión directa desde la ciudad de Denver, mientras que la firma American Airlines activó su conexión desde Filadelfia; sin embargo, durante la semana también se registró la cancelación de diversos vuelos provenientes de Dallas por la tormenta invernal que ha prevalecido en dicho condado.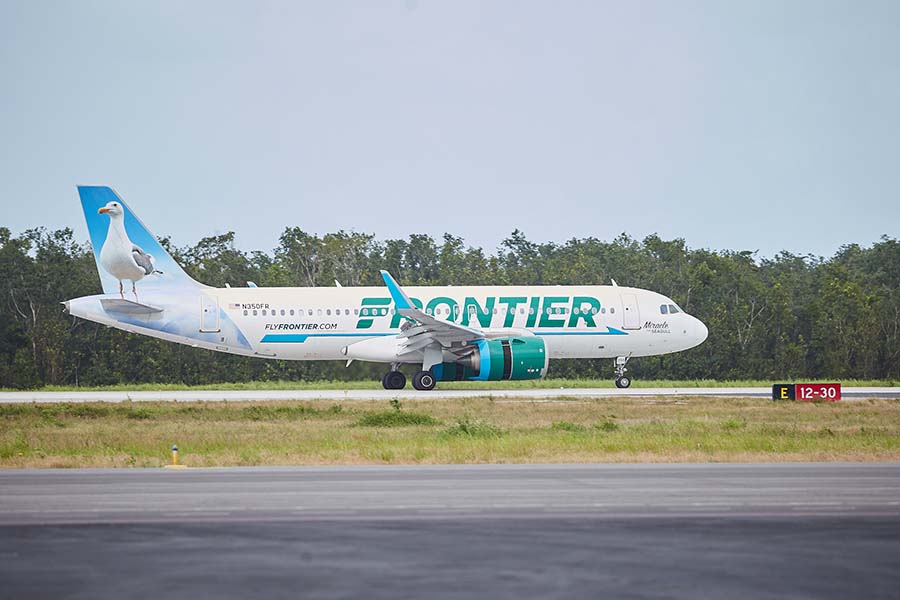 Al respecto, autoridades de turismo y del Aeropuerto Internacional de Cozumel dejaron saber que la ruta Filadelfia-Cozumel será ofrecida por parte de la aerolínea American Airlines de manera semanal durante los días sábados, destacándose que el tipo de avión tendrá capacidad para entre 100 a 120 asientos, por lo que se prevé que la ocupación sea superior al 70 por ciento para la permanencia de ésta conexión.
De igual forma, Jorge Campos Romero, titular de la administración aeroportuaria comentó que luego de seis años de ausencia, será algo positiva la reactivación del vuelo de la aerolínea Frontier procedente de Denver.
Asimismo, se dejó saber de la permanencia de las conexiones desde Miami, Denver, Chicago, Minneapolis, Charlotte, Houston, México y Dallas, aunque estas últimos fueron canceladas en la semana que transcurre por las afectaciones climatológicas en EE. UU, pero se espera que mejoren las condiciones en lo que resta de la semana.
DEJAN MOCHILAS PARA AYUDAR A SUS MAMÁS
A pesar de existir programas en apoyo a la niñez a través del DIF municipal, par de infantes deciden salir a lavar carros y a vender una que otra flor tejida a mano con hojas de guano, con el fin de poder obtener alguna propina y así ayudar cada uno para la comida de sus hermanitos y para sus útiles escolares.
Al menos así es el caso de los pequeños Cristian  "N" y Emmanuel "C", de 12 y 15 años de edad, quienes desde temprana hora buscan acudir a las afueras de supermercados, tiendas de conveniencia, entre otros, con la intención de ganarse una propina que es dividida al final del día para dos hogares diferentes.
Los adolescentes coincidieron en que lo que hacen al vender flores que son tejidas con sus propias manos con hojas de guano, no es nada malo a su parecer, sobre todo porque existen otros amigos de su edad, quienes se han involucrado en malos pasos, por lo que ellos optaron por practicar la elaboración de dichas flores y así poder venderlas a cada cliente que sale de los diversos negocios.
Con los pies descalzos, Cristian y Emmanuel, ofrecen cuidar las motos mientras las personas ingresan a las tiendas comerciales, al tiempo en que sugieren poder realizar el "lavado" de los vehículos, en especial de las motocicletas. Ambos adolescentes mantienen franelas en un área donde se les observa a diario, incluyéndose botellas con detergente y otras con agua para realizar dicha tarea que aseguraron "lo hacemos honradamente porque sabemos que nada es gratis en esta vida, pero para eso hay que trabajar".
Los jóvenes reconocieron que tomar clases virtuales ha resultado complicado al no tener celulares o internet en sus casas; sin embargo procuran ponerse al día en las noches o a la semana, sobre todo porque tienen que juntar dinero para comprar sus útiles escolares, considerando que en el caso de ambos niños, las jefas de familia salen a laborar para cumplir con las necesidades de sus demás hermanos, lo que los ha motivado a aprovechar ciertas horas del día para la práctica de la venta de flores y el lavado de motos.
Autoridades del DIF Municipal se ha acercado a la familia de los infantes y les ha brindado orientación para evitar que sean explotados los niños; sin embargo, en ambos casos aseguraron que sin importar los regaños, no dejarán de vender para ayudar cada uno a su familia, porque no les importa llevar aunque sea 20 pesos, ese dinero les alcanza para un kilo de tortilla y pueden comer.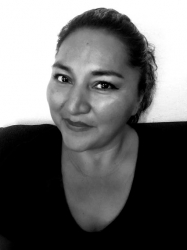 Latest posts by Kary Carrión
(see all)