Festival Colibri Esmeralda
1st "Festival Colibri Esmeralda" To Be Held This Weekend
Indigenous Cozumel Emerald Hummingbird Honored in Environmental Festival  …
The Foundation of Parks and Museums Cozumel Quintana Roo through the Directorate of the Center for Environmental Conservation and Education invites you to the 1st ever "Festival Colibri Esmeralda"  which will be held on  May 12 and 13th.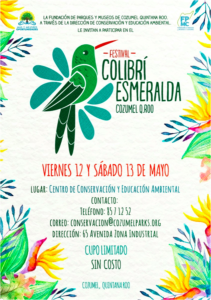 The event, which is organized in part under Biologist Rafael Chacon, features information and facts about one of Cozumel's most famous indigenous residents: The Emerald Hummingbird. The Cozumel Emerald is a rare hummingbird with brilliant emerald green feathers.  It is often spotted in scrubby tropic woodlands and can only be found in Cozumel.
A full schedule of events is provided in the accompanying photos, simply click on one to see the enlarged versions.
The event will take place at the Centro de Conservación y Educación Ambiental FPMC  located on Av. 65. In the Industrial zone.
Also – don't forget about the upcoming  Festival of the Sea turtle which will be held May 26 – 27th at the Museo de la Isla de Cozumel
Este fin de semana se lleva a cabo el 1er Festival Colibrí Esmeralda
Festival medioambiental en honor al colibrí esmeralda, especie endémica de Cozumel. . .
La Fundación de Parques y Museos de Cozumel, Quintana Roo, a través de la Dirección General del Centro de  Conservación y Educación Ambiental les invita a primer "Festival Colibrí Esmeralda" que tendrá lugar los días 12 y 13 de Mayo.
El evento, que por una parte está organizado por el biólogo Rafael Chacón,  ofrece información y hechos acerca de uno de los habitantes endémicos y más famosos de Cozumel de Cozumel: el colibrí esmeralda. El colibrí esmeralda es un raro colibrí con plumas de color verde esmeralda brillante. Por lo general se le ve en zonas arboladas y sólo se encuentra en Cozumel.
Hay una amplia gama de eventos que podrá ver en las fotografías; simplemente de clic en una para ver la versión aumentada.
El evento se llevará a cabo en el Centro de Conservación y Educación Ambiental FPMC sobre la Ave. 65 en la Zona Industrial.
No olvide que próximamente también se celebrará el Festival de la Tortuga Marina en Mayo 26 al 27 en el Museo de la Isla de Cozumel.
Latest posts by Laura Wilkinson
(see all)