Cozumel Charity
Adopt a Family Project: How You Can Help
Susan Bonnet's Legacy Continues in this 3 King's Day Project….
Ten years ago Susan Bonnet began her 3 Kings' Project. The children in her neighborhood wanted to help others who were less fortunate. They raised money to purchase gifts for the children of las Fincas in honor of Epiphany. After Susan was diagnosed with cancer and had to leave her island for treatment she asked friends to continue her project. Susan lost her hard fought battle over two years ago but her island friends continue to honor Susan.
Last year the format change by focusing on families that could use some extra help.
Padre Henry Flores Alvarez of the Sagardo Corazon de Jesus Church on 95th and his staff have given us a list of
families that would greatly benefit from the extra help.
Last year sponsors filled baskets  with food, clothes, toys, personal hygiene items and anything that will bring some comfort and joy to the families.
Twenty-five families received gift baskets. Included were four Abulitos that were invalids, with two receiving needed wheel chairs and a walker or Cane. Forty gift bags were passed out to catechism students at satellite churches in las Fincas.
If you are interested in sponsoring a family, donating items or cash, please contact me either through PM on Face Book or email: caribdivergena@gmail.com
The baskets will be distributed to the families between Christmas and 3 Kings' Day at their church.
Blessings to you,
Gena Meyer
Proyecto adopte a una familia. Cómo puede ayudar
El legado de Susan Bonnet continua en este proyecto del Día de Reyes. . .
Hace diez años Susan Bonnet comenzó su proyecto del Día de Reyes. Los chicos en su vecindario deseaban ayudar a otros que fueran menos afortunados. Recaudaron dinero para comprar juguetes para los chicos de a colonia Las Fincas en honor a la Epifanía. Después de que a Susan le fuera diagnosticado cáncer y tuviera que dejar la Isla para obtener tratamiento, le solicitó a sus amistades que continuaran con el proyecto. Susan perdió la batalla hace más de dos años, pero sus amigos de la Isla continúan la labor en su honor.
El año pasado cambio el formado centrándose en familias a quienes bien les vendría una ayuda adicional. El padre Henry Flores Álvarez de la iglesia del Sagrado Corazón de Jesús sobre la Avenida 95 y su personal, nos han proporcionado una lista de familias que se pueden beneficiar de la ayuda adicional. Los patrocinadores del año pasado llenaron canastas con alimentos, ropa, juguetes, artículos de limpieza personal y todo aquello que pudiera traer un poco de comodidad y alegría a las familias.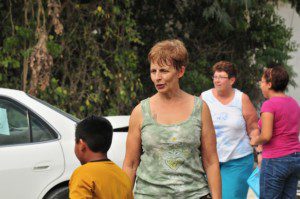 Veinticinco familias recibieron canastas de regalo; entre ellos cuatro abuelitos inválidos que recibieron sillas de ruedas, una caminadora o bastón. Cuarenta bolsas de regalos se repartieron entre los estudiantes de catecismo en las iglesias aledañas en Las Fincas.
En caso que le interese patrocinar a una familia, donar artículos o efectivo, por favor póngase en contacto conmigo a través de mensaje privado en Facebook o mensaje de correo electrónico a caribdivergena@gmail.com. Las canastas se repartirán a las familias entre Navidad y el Día de Reyes en su iglesia.
Bendiciones para ustedes,
Gena Meyer
Laura Wilkinson is the Editor for Cozumel 4 You. An ex-Connecticut Yankee who has called Cozumel home for over 15 years, Laura ran away to the Caribbean years ago, bumped around the islands teaching SCUBA diving, lost some time in Jamaica, and finally stopped in Cozumel for a 2 week vacation that hasn't ended yet. With a degree in Journalism from a fancy private college she convinced her parents to pay for, Laura writes, edits, and creates the weekly Cozumel 4 You news, promotional articles about the island, and her very own blog, which she finds hilarious. Her long suffering husband, the Fabster, has long since resigned himself to having zero private life, as he's been involved in her various schemes and plots since his arrival. Proud parents to a variety of rescue dogs and cats, Laura continues to be the bane of her traditional Mexican mother-in-law's existence, as she muses her way through life in the Mexican Caribbean.
Latest posts by Laura Wilkinson (see all)