Cozumel Sales
Cozumel Buen Fin Sales
Local Merchants Team Together for a weekend of Deep Discounts for Consumers….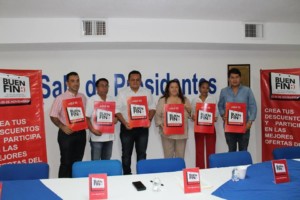 ¨El Buen Fin, ¨ which literally translates to "the good (week) end ¨ is a few days where local merchants, restaurants, and hotels offer great discounts.  Essentially the Mexican alternative to the USA´s ¨Black Friday,¨ it´s a way to revive the  local economy, by using group consumerism to score some of the best prices of the entire year.
This year's nationwide dates are scheduled for November 17 – 20th, with local events being organized locally by Canaco Servytur Cozumel, for the 7th consecutive year.
Last year nearly 60 companies united, displaying a distinctive black, white and red sign.  This year, even more businesses are expected, in fact, even Trans Caribe will be offering discounted ferry crossings.  For more information  check with local merchants and restaurants for their promotions.
Ventas del Buen Fin en Cozumel
Los comerciantes locales se unen para un fi de semana de grandes descuentos para los consumidores. . .
"El Buen Fin" son varios días donde los comerciantes locales, restaurantes y hoteles ofrecen grandes descuentos.
Esta es básicamente la alternativa mexicana al "Viernes Negro" de los EUA. Es una forma de revivir la economía local a través del consumismo masivo con el objeto de obtener los precios más económicos del año.
Este año las fechas del Buen Fin serán Noviembre 17 al 20; y por 7º año consecutivo, la Canaco Servytur de Cozumel ha organizado diversos eventos.
El año pasado se unieron cerca de 60 empresas mostrando un distintivo anuncio con los colores negro, blanco y rojo. Se espera que este año participen aún más empresas; de hecho, incluso Transcaribe ofrecerá descuentos en los cruces a bordo del transbordador. Para mayor información, echen un vistazo a las promociones de los comercios y restaurantes locales.
Latest posts by Laura Wilkinson
(see all)