Communitas Cozumel Church During a Pandemic:
A Church without Walls
After nearly a year of closed doors, churches: considered places of beauty and grace, are cautiously preparing to open their doors for Easter services. Religious leaders from all over the world have been asking: "Will the traditional Saturday or Sunday service ever recover from the bedside buffet of online preachers, electronic worship and cable TV convenience?"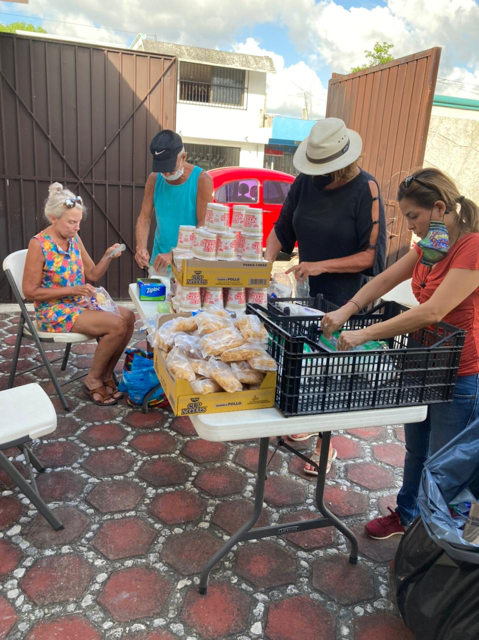 For most religious entities, some form of gathering for worship and prayer is central to the mission. To restate the tough question: is the service (the public worship service) the main thing or is the "service" (that which serves humanity) the greater good? That question was unintendedly placed before our small English language congregation in Cozumel, Communitas, when the government ordered lock down of all religious services.
As the doors were locked on 30th Av, we turned around to see our island's extraordinary struggle for life and death, suffering and safety – perhaps as Jesus saw it.
"No man is an island…every person's death diminishes me."

(John Donne)
Being a seasonal church with only a minority of participants living year around on the island, we had to ask ourselves, can we survive or is there a greater purpose for our existence than our friendly weekly service of worship.
Instead of the usual hymns, prayers and sermons, our congregation participated with an outpouring of time and gifts which brought to the island many times the financial offerings that we traditionally would expect on Sunday in our all-volunteer church.
While most of our members were isolating in the US and Canada, our pastor and a small group of extraordinary island volunteers were putting holy hands on the needs of people. During the Spring and the Summer of Covid we partnered with the visionary community kitchens who were voluntarily producing hundreds of meals each day, we helped provide groceries.
Covid displaced people with serious medical needs for medication, ambulance services, and funeral expenses. We found families without electricity or gas to cook. We were introduced to new neighborhoods of poverty on the island- families without cell phones to get their kid's weekly school assignments. We have always provided end of the month food distributions to 35 (Food Bank) families with special needs. That number increased and we started providing a regular distribution to the young families of workers who picked up our garbage on the island.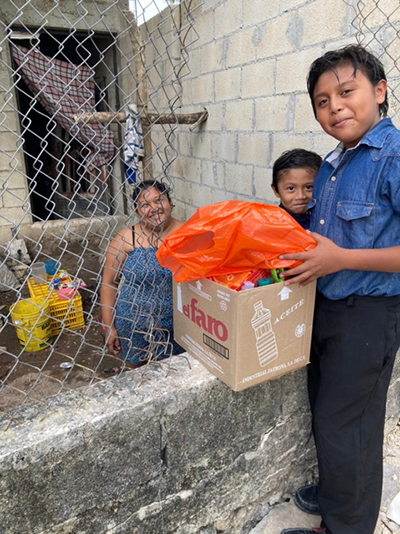 Recently we have partnered with a small Pentecostal congregation in the 5 Km neighborhood. They are generous with each other and we have discovered that "our surplus will supply what they need". (II Corinthians 8:14)
Twice weekly, they visit a small church of prisoners in our island jail, and we prepare packages of life's basics with them.
You might ask, "When will your church services begin again?" to which I would say, we will gather at Easter at 8:30 am at Buccanos to thank God for life, grace and eternity and remember those we have lost. But our "services" never ended… when our doors were closed. And for that we can only say, "Thanks be to God".
Iglesia Communitas Cozumel durante una pandemia:
Una iglesia sin muros
Después de casi un año de tener las puertas cerradas, las iglesias, consideradas lugares de belleza y gracia, se preparan con precaución para abrir sus puertas para los servicios de Semana Santa. Los líderes religiosos de todo el mundo se han preguntado: "¿Será que el servicio tradicional de los sábados o domingos se recuperará de ser un bufé desde la mesa junto a la cama predicado en línea, del culto electrónico y de la comodidad de la televisión por cable?"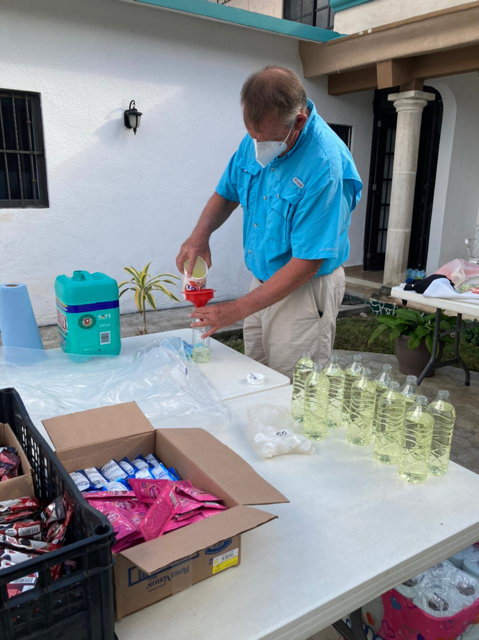 Para la mayoría de las entidades religiosas, alguna forma de reunión para el culto y la oración es esencial para su misión. Replanteando la difícil pregunta: ¿es el servicio (el culto público) lo principal o es el "servicio" (lo que sirve a la humanidad) para el mayor bien? Esta es una pregunta que fue planteada de manera involuntaria en nuestra pequeña congregación en idioma inglés en Cozumel, Communitas, cuando el gobierno ordenó el cierre de todos los servicios religiosos.
Cuando se cerraron las puertas en las instalaciones en la 30 Ave., volteamos a ver la extraordinaria lucha de nuestra isla entre la vida y la muerte, el sufrimiento y la seguridad – tal vez como lo vio Jesús.
"Ningún hombre es una isla… la muerte de cualquiera me disminuye…".

(John Donne)
Ya que somos una iglesia estacional con sólo una minoría de participantes que viven en la Isla durante todo el año nos vimos en la necesidad de preguntarnos si sobreviviríamos o si existía un propósito mayor para nuestra existencia que nuestro amistoso servicio de culto semanal.
En lugar de los himnos, oraciones y sermones habituales, nuestra congregación participó con una avalancha de su tiempo y regalos que en muchas ocasiones trajeron a la Isla los donativos económicos que por lo general esperaríamos recibir el domingo en nuestra iglesia de manera totalmente voluntaria.
En tanto que la mayoría de nuestros miembros estaban aislados en los Estados Unidos y Canadá, en la Isla, tanto nuestro pastor como un pequeño grupo de voluntarios extraordinarios ponían manos santas para las necesidades de la gente. Durante la primavera y el verano de Covid nos asociamos con las visionaras cocinas comunitarias que voluntariamente producían cientos de comidas cada día, y ayudamos a surtir víveres.
El Covid desplazó personas con graves necesidades de medicamentos, servicios de ambulancia y gastos funerarios.  Encontramos familias sin electricidad ni gas para cocinar.  Conocimos nuevas colonias con pobreza en la Isla: familias sin teléfono móvil para recibir las tareas escolares semanales de sus hijos. Siempre cada fin de mes hemos distribuido alimentos a 35 familias (del Banco de Alimentos) con necesidades especiales.  Esa cifra aumentó y de manera regular empezamos a distribuir alimentos a las familias jóvenes de trabajadores que recogían nuestra basura en la isla.
En fechas recientes nos asociamos con una pequeña congregación pentecostal en una colonia en el kilómetro 5. Son generosos entre ellos y descubrimos que "nuestro excedente proveerá sus necesidades". (II Corintios 8:14)
Dos veces por semana visitan una pequeña iglesia de presos que se encuentran en la cárcel de nuestra isla, y con ellos preparamos paquetes de productos básicos.
Tal vez pregunten: "¿cuándo volverán a empezar los servicios de su iglesia?". A esto responderé que nos vamos a reunir Pascua a las 8:30 de la mañana en Buccanos para dar gracias a Dios por la vida, la gracia y la eternidad, y para recordar a quienes hemos perdido. Pero nuestros "servicios" nunca terminaron… cuando nuestras puertas se encontraban cerradas. Y por ello sólo podemos decir: "Gracias a Dios".
Latest posts by Laura Wilkinson
(see all)