A "Foster-Fail" Love Story: Bongo & Duchess, It Takes a Village
By Lisa Ramirez
Fostering can be such a fulfilling experience. The term "foster failure" is what most of us in the animal rescue biz know all too well. But in some cases as much as you would like to adopt your foster you know it's just not possible. Bongo and Duchess had been with us since early lockdown and were promised to Taco Dog Rescue in Vancouver since we knew they could find a home for both dogs and they would never be separated.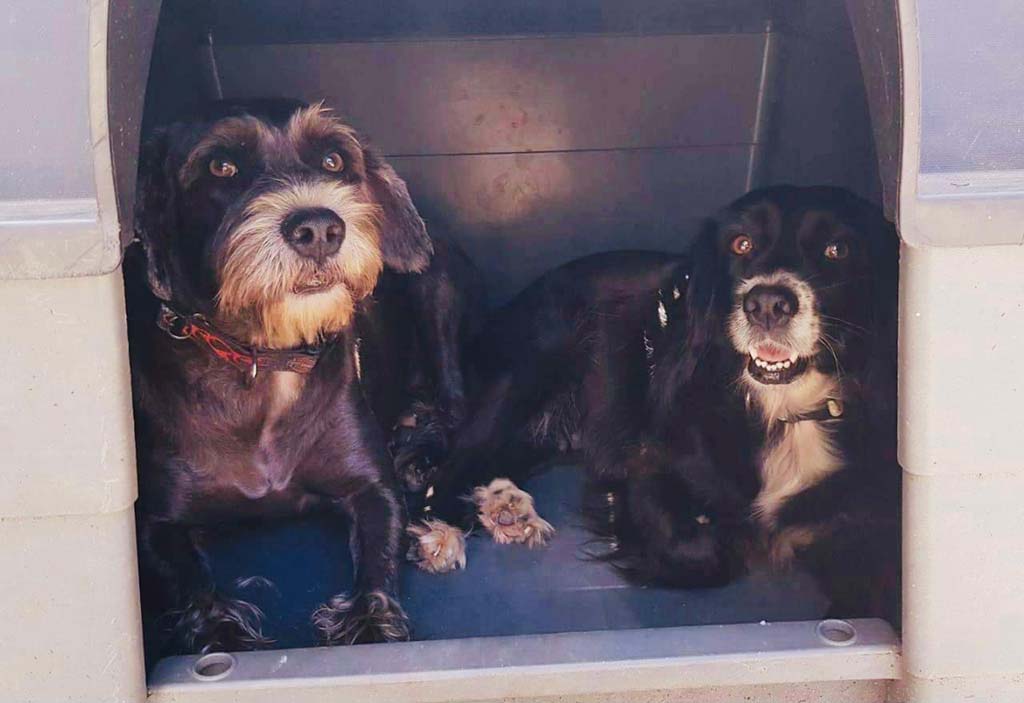 This was important because although we don't know of the life they had before they came to be residents at the Humane Society of Cozumel Island (HSCI), Bongo and Duchess were inseparable. After they arrived we knew quickly they had either lived together or bonded on their journey of homelessness.
After two weeks of searching for their owners with no success we attempted to foster out Duchess. She refused to eat the moment she arrived to her foster home. She laid in a corner with her head to the wall and did not respond to anything. As soon as Duchess left the HSCI, Bongo went in to a state of despair. He cried constantly and was irritable with the other dogs.
After a couple of days, it was decided they needed to be reunited and we knew they could never live apart. Watching them run to one another and their cries of happiness was something straight out of a Disney movie. Bongo and Duchess are true soul mates.
Enter Alicia Filippini and her two children. They thought it would be great to foster a dog for their month stay on the island at their lovely home Villa Chango. When they visited the HSCI they met Bongo and Duchess and decided that instead of one, they would foster both dogs. As the month came to a close we got a phone call from Alicia, she said "we are totally in love with Bongo and Duchess and we will do whatever it takes to get them in to a good home."
Within a couple of days arrangements were made to fly with Bongo, Duchess, Nati and two more dogs from a mainland rescue to Seattle to be picked up by Taco dog rescue from Vancouver. This amazing family got not only Bongo and Duchess to Vancouver but 3 more dogs. Alicia and her family loved this pair and went out of their way to make sure they stayed together forever.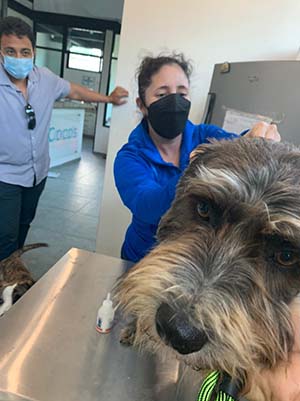 And still another animal rescue helps out!! There was even a little drama on the way to the airport. Erika Flores from IFAW came to the rescue. Bongo tore a nail off on the ferry and by the sight of the amount of blood he shed, we thought it was major.
A frantic volunteer, (ME) called Erika and she was so kind to meet us on a Sunday afternoon at Cocos Animal Welfare Clinic on the Mainland to assess the injury. A quick clean up and antibiotic shot later and we were back on our way to the Cancun airport. We are so grateful to all the friends and partners we have made on this incredible journey with the CozHS and would like to thank Erika for coming to Bongos aid.
At the HSCI we do not believe that sending dogs to other countries is a solution to the problem of overpopulation on the island. Our focus is primarily sterilization and education. But since the pandemic began and due to the restrictions of travel we have not been able to adopt dogs out internationally. Our shelter is full and the local dog pound is busting at the seams.
Please donate to the CozHS and help us to continue helping the community.
Donate to the CozHS and help fund our free spay/neuter clinic
Paypal
Tax deductible
Or mail a check to
Humane Society of Cozumel Island
2169 Winding Creek Dr S
Grapevine TX 76051
Historia de amor de una "adopción temporal fallida": Bongo y Duquesa. Es labor de todos
Por Lisa Ramírez
La adopción temporal puede ser una experiencia muy satisfactoria. El término "adopción temporal fallida" es algo que, quienes nos dedicamos al negocio de rescate de animales, conocemos muy bien. Sin embargo, en algunos casos por mucho que quiera adoptar a su adopción temporal, sabe que no es posible. Bongo y Duquesa habían estado con nosotros desde el principio del aislamiento y fueron prometidos a Taco Dog Rescue en Vancouver, puesto que sabíamos que podrían encontrar un hogar para ambos perros y que nunca se separarían.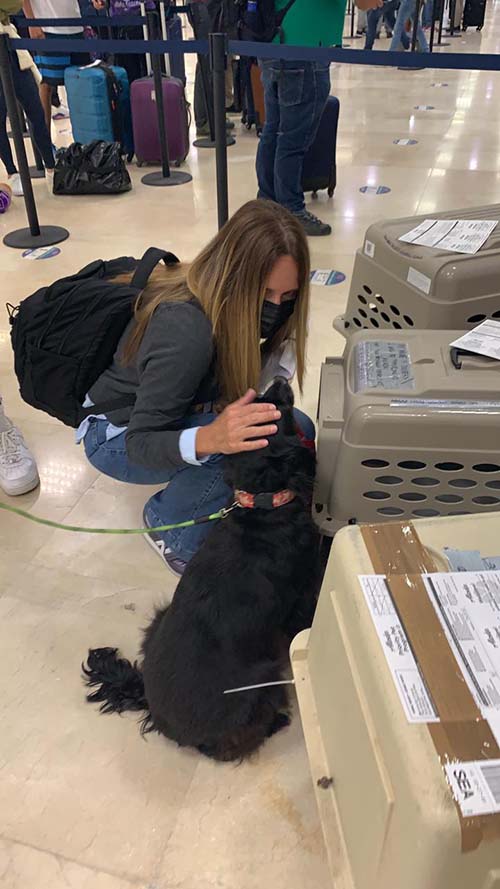 Esto fue importante porque, a pesar de que desconocemos la vida que tenían antes de llegar a la Sociedad Humanitaria de la Isla de Cozumel (HSCI) , Bongo y Duquesa eran inseparables. Después de que llegaron, rápidamente notamos que habían vivido juntos o que se habían unido en su viaje sin hogar.
Después de dos semanas infructuosas semanas buscando a sus dueños, intentamos dar a Duquesa en adopción. Tan pronto llegó al hogar que la adoptó, se negó a comer. Se tumbaba en un rincón con la cabeza pegada a la pared y no respondía a nada. En cuanto Duquesa salió de la HSCI, Bongo entró en un estado de desesperación. Lloraba constantemente y estaba irritable con los otros perros.
Después de un par de días, se tomó la decisión de reunirlos nuevamente y supimos que nunca podrían vivir separados. Verlos correr el uno hacia el otro y sus gritos de felicidad era algo sacado de una película de Disney. Bongo y Duquesa son verdaderas almas gemelas.
Alicia Filippini y sus dos hijos aparecen en escena. Creyeron que sería estupendo adoptar temporalmente a un perro durante su estancia de un mes en la Isla en su encantadora casa Villa Chango. Cuando visitaron el albergue de la HSCI conocieron a Bongo y a Duquesa y decidieron que, en lugar de uno, adoptarían temporalmente a ambos perros. Al final del mes recibimos una llamada de Alicia diciendo: "estamos totalmente enamorados de Bongo y Duquesa, y haremos lo que sea necesario para encontrarles un buen hogar".
En un par de días se hicieron los arreglos para tomar un vuelo junto con Bongo, Duquesa, Nati y dos perros más que llegaron de un rescate en el macizo continental, volando hacia Seattle para ser recogidos por Taco Dog Rescue de Vancouver. Esta increíble familia no sólo llevó a Bongo y a Duquesa a Vancouver, sino también a los otros tres perros. Alicia y su familia adoraban a esta pareja e hicieron hasta lo imposible para que estuvieran juntos para siempre.
¡Y un rescate más de animales ayuda! Incluso hubo un pequeño drama en el camino al aeropuerto. Erika Flores, de IFAW, acudió al rescate. Bongo se arrancó una uña en el ferry y al ver que la cantidad de sangre que derramó era copiosa, pensamos que era algo grave.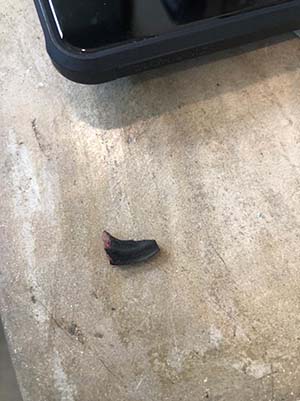 Una voluntaria frenética (yo) llamó a Erika y ella fue sumamente amable al recibirnos un domingo por la tarde en la Clínica Cocos Animal Welfare en tierra firme, para valorar la lesión. Después de una limpieza rápida y una inyección de antibióticos retomamos el camino hacia el aeropuerto de Cancún. Estamos muy agradecidos a todos los amigos y socios que hemos hecho en este increíble viaje con la Sociedad Humanitaria de Cozumel y queremos dar las gracias a Erika por ayudar a Bongo.
En el HSCI no creemos que el envío de perros a otros países sea una solución al problema de la sobrepoblación de perros en la Isla. Nos enfocamos principalmente en esterilizar y educar. Desde que comenzó la pandemia y debido a las restricciones de viaje no hemos podido lograr que se adopten perros a nivel internacional. Nuestro albergue está lleno y la perrera local está a rebosar.
Por favor, haga un donativo a la Sociedad Humanitaria de Cozumel y ayúdenos a seguir ayudando a la comunidad.
Aporte su donativo a la Sociedad Humanitaria de Cozumel o ayude a financiar nuestra clínica de esterilización/castración.
Paypal
Deducible de impuestos
O envíe un cheque por correo a
Sociedad Humanitaria de la Isla de Cozumel

2169 Winding Creek Dr

Gravepine, TX 76051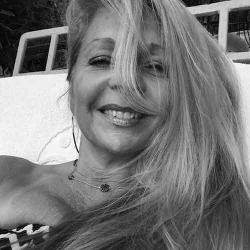 Latest posts by Lisa Ramirez
(see all)