Cozumel Gardening Course Offered: 2 Dates in August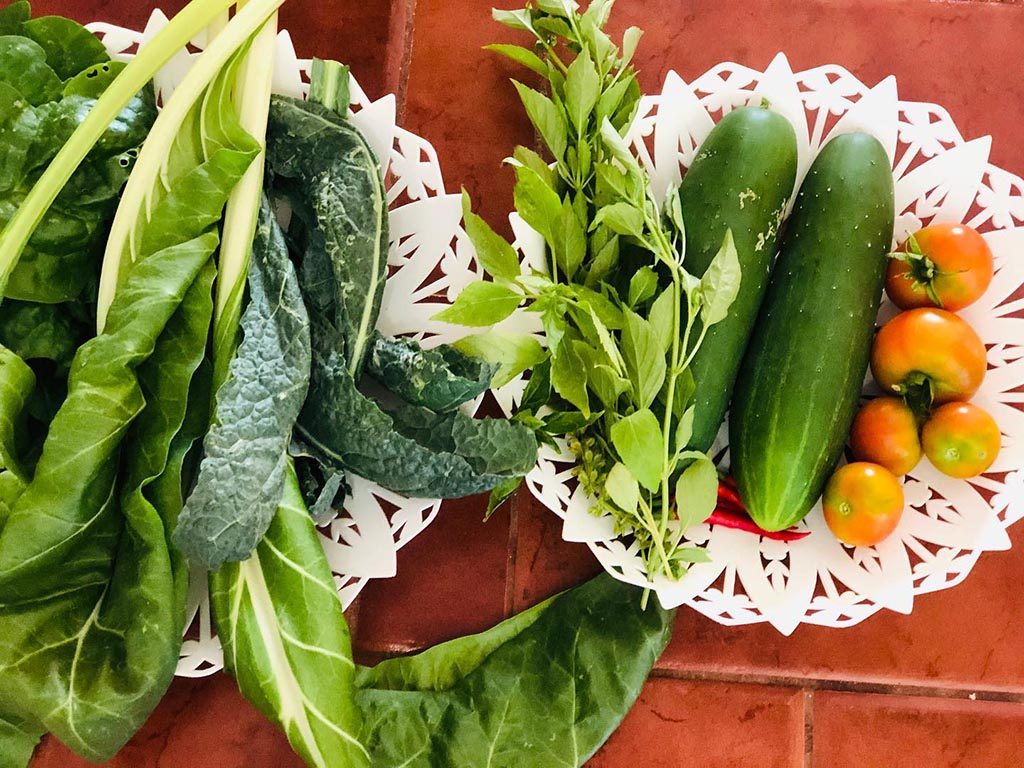 "Hortalizas Comunitarias" in conjunction with the Cozumel Rotary Club are offering a home gardening course on both Saturday August 3rd and August 11th. The course empathizes home gardens, small areas, and urban locations.
Taught by Amazing gardener Laura Salazar, the topics covered will include: soil and fertilizer, water and photosynthesis, seeds, planting, and harvesting.
Cost of the course is only $250 pesos and space is limited to 15 people. For more information, or to reserve your space, please contact Laura Salazar at 998 350 6109 or visit her at the nursery from 10 am – 12 Tuesdays, Thursdays & Saturdays. The "Hortaliza Cozumel" is located on Av. 40 between Juarez and 1a Sur.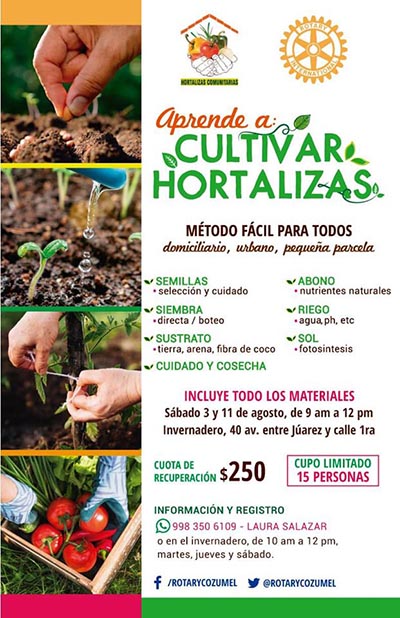 It's important to note that these classes will be conducted in Spanish. Laura can teach in English and she has graciously offered to hold a separate class for English-speaking participants if there is enough interest. Please contact her directly for details.
Curso de jardinería en Cozumel: 2 fechas en Agosto.
Tanto el sábado 3 de agosto como el 11 de agosto, "Hortalizas Comunitarias" y el Club Rotario de Cozumel ofrecerán un curso de jardinería en el hogar. El curso abarca jardines residenciales, áreas pequeñas y espacios urbanos.
El curso lo impartirá la sorprendente jardinera Laura Salazar. Los temas por tratar incluyen: tierra y fertilizante, agua y fotosíntesis, semillas, siembra y cosecha.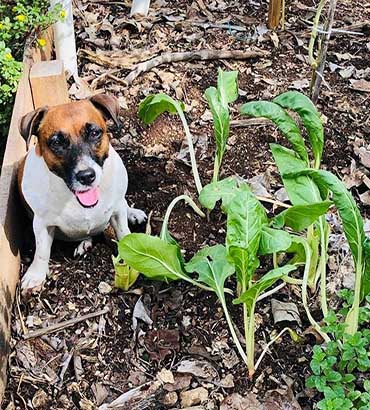 El costo es de tan solo $250 Pesos y el cupo está limitado a 15 personas. Para más información o para reservar su espacio, por favor póngase en contacto con Laura Salazar al 998 350 6109 o visiten su huerto de 10 am a 12 los días martes, jueves y sábados. " Hortaliza Cozumel " se ubica en la 40 avenida entre Juárez y 1ª. Sur .
Es importante recalcar que estas clases se realizan en español. Laura puede impartirlas en inglés, y, en caso de haber suficientes interesados, amablemente ofreció impartir una clase por separado para los participantes que hablen el idioma inglés. Por favor póngase directamente en contacto con ella para obtener detalles.
An ex-Connecticut Yankee who has called Cozumel home for over 18 years, Laura ran away to the Caribbean years ago, bumped around the islands teaching SCUBA diving, lost some time in Jamaica, and finally stopped in Cozumel for a 2 week vacation that hasn't ended yet. With a degree in Journalism from a fancy private college she convinced her parents to pay for, Laura writes, edits, and creates the weeklyCozumel 4 You news,social media, and promotional articles about the island, as well as moderates the Cozumel 4 You Facebook group, which currently has over 25,000 members. Her long suffering husband, Fabian, has long since resigned himself to having zero private life, as he's been involved in her various schemes and plots since his arrival. Proud parents to a variety of rescue dogs and cats, Laura continues to be the bane of her traditional Mexican mother-in-law's existence, as she muses her way through life in the Mexican Caribbean.
______________________________
Una ex yanqui de Connecticut quien llama hogar a Cozumel desde hace más de 15 años. Laura escapó al Caribe hace años, desplazándose de una isla a otra dando clases de BUCEO. Se dedicó a perder el tiempo en Jamaica y finalmente se detuvo en Cozumel para pasar unas vacaciones de 2 semanas que aún no terminan. Convenciendo a sus padres que pagaran una elegante universidad privada, obtuvo su título en Periodismo y Laura crea semanalmente Cozumel 4You, medios sociales y artículos promocionales sobre la Isla y también es moderadora en el grupo Cozumel 4 You en Facebook que actualmente cuenta con 25,000 miembros. Fabián, s umuy tolerante marido, desde hace mucho tiempo se resignó a no tener vida privada, pues se ha visto implicado en los diversos proyectos y planes que urde Laura. Son orgullosos padres de diversos perros y gatos rescatados. Mientras contempla su paso a través de la vida en el Caribe mexicano,Laura continúa siendo la pesadilla en la existencia de su muy tradicional suegra mexicana.
Latest posts by Laura Wilkinson (see all)