Margaritas Help Cozumel Chef Students
Purchase Future Margaritas to Help Future Cozumel Chefs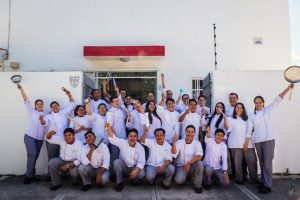 This pandemic is affecting local students who are fighting for a better future, help us to support the future Cozumel chefs so that they can continue to follow their dreams.
We will contribute MARGARITAS in exchange for your donation. All raised funds will go directly to support the Cozumel community, specifically the students of the Culinary Institute of the Caribbean.
Donate to https://donadora.org/campanas/future-chefs and you'll receive a personal thank you note, as well as a coupon valid for TWO margaritas!
Margaritas will be on us! GRUPO MAREA is a Cozumel Restaurant Group, and the owners of some of your Cozumel favorites:
– Kondesa Restaurant
– Lobster Shack
– Kinta
– Cuatro Tacos
– La Clásica
All donations will be used to support students with financial needs at the Caribbean Culinary Institute.
As soon as Cozumel reopens you will be able to drink your margaritas at Kondesa, Lobster Shack, Kinta, Cuatro Tacos or La Clásica. And don't worry, you have all of 2020 and 2021 to come and say "Cheers" with us. Thank you for your support!!!
How You Can Use Your Margaritas and Help Future Cozumel Chefs
Donations will be given to the Caribbean Culinary Institute, a gastronomic university that trains young Cozumeleños, seeking a professional career in the culinary world.
For its part, the Institute continues to teach classes remotely to all of its students, including those who have stated that they cannot continue their studies due to lack of income during this pandemic. In addition, the ICCA supports students with 50% of their tuition, the money raised will be to cover the rest, especially for those students who are having a worse time.
Thanks to the Caribbean Culinary Institute, local youth finally have access to fulfill their dreams of becoming a Chef without leaving their beautiful island home of Couzmel. Please continue to support this important community institution.
For more information contact:
Daniel Burgos
Director General – Grupo Marea
daniel@grupomarea.com
9878008809
Napoleón Calderon
Director General- Instituto Culinario del Caribe
napoleoncalderon@culinariodelcaribe.com.mx
9871143731
Compre margaritas del futuro para ayudar a los futuros chefs de Cozumel
Esta pandemia afecta a los estudiantes locales que luchan por lograr un mejor futuro. Ayúdenos a apoyar a los futuros chefs de Cozumel para que puedan seguir sus sueños.
Contribuiremos con MARGARITAS a cambio de su donación. Todos los fondos recaudados se destinarán de manera directa en apoyo de la comunidad de Cozumel; en especial, a los estudiantes del Instituto Culinario del Caribe.
Puede donar a través de https://donadora.org/campanas/future-chefs y recibirá una nota personal de agradecimiento, ¡y un cupón válido para DOS margaritas!
¡Las margaritas van por nuestra cuenta! El GRUPO MAREA pertenece al Grupo de Restaurantes de Cozumel, y son propietarios de algunos de los restaurantes favoritos en Cozumel:
– Restaurante Kondesa
– Lobster Shack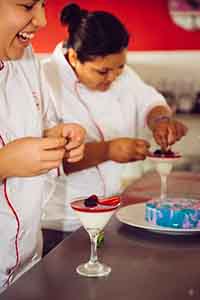 – Kinta
– Cuatro Tacos
– La Clásica
Todo donativo se destinará para apoyar a los estudiantes del Instituto Culinario del Caribe, que tengan necesidades económicas.
Tan pronto como Cozumel reabra, podrás beber sus margaritas en Kondesa, Lobster Shack, Kinta, Cuatro Tacos o La Clásica. Y no se preocupes, tiene todo el 2020 y 2021 para venir y decir "Salud" con nosotros. ¡¡Gracias por su apoyo!!
De qué manera puede usar sus margaritas y ayudar a los futuros chefs de Cozumel
Los donativos se entregarán al Instituto Culinario del Caribe, una universidad gastronómica donde jóvenes cozumeleños buscan lograr una carrera profesional en el mundo culinario.
Por su parte, el Instituto continúa impartiendo clases a distancia a todos sus estudiantes, incluyendo a quienes han manifestado que no les es posible continuar los estudios por falta de ingresos durante esta pandemia. Además, el ICCA apoya a los estudiantes con 50% de su colegiatura. El dinero que se recaude se aplicará a cubrir el resto, en especial para estudiantes que están pasando por los peores momentos.
Gracias al Instituto Culinario del Caribe, los jóvenes locales finalmente pueden cumplir sus sueños de convertirse en Chef sin salir de su hermosa Isla y hogar de Cozumel. Por favor, continúen apoyando a esta importante institución de la comunidad.
Para más información, póngase en contacto con:
Daniel Burgos
Director General – Grupo Marea
9878008809
Napoleón Calderón
Director General- Instituto Culinario del Caribe
napoleoncalderon@culinariodelcaribe.com.mx
9871143731
An ex-Connecticut Yankee who has called Cozumel home for over 18 years, Laura ran away to the Caribbean years ago, bumped around the islands teaching SCUBA diving, lost some time in Jamaica, and finally stopped in Cozumel for a 2 week vacation that hasn't ended yet. With a degree in Journalism from a fancy private college she convinced her parents to pay for, Laura writes, edits, and creates the weeklyCozumel 4 You news,social media, and promotional articles about the island, as well as moderates the Cozumel 4 You Facebook group, which currently has over 25,000 members. Her long suffering husband, Fabian, has long since resigned himself to having zero private life, as he's been involved in her various schemes and plots since his arrival. Proud parents to a variety of rescue dogs and cats, Laura continues to be the bane of her traditional Mexican mother-in-law's existence, as she muses her way through life in the Mexican Caribbean.
______________________________
Una ex yanqui de Connecticut quien llama hogar a Cozumel desde hace más de 15 años. Laura escapó al Caribe hace años, desplazándose de una isla a otra dando clases de BUCEO. Se dedicó a perder el tiempo en Jamaica y finalmente se detuvo en Cozumel para pasar unas vacaciones de 2 semanas que aún no terminan. Convenciendo a sus padres que pagaran una elegante universidad privada, obtuvo su título en Periodismo y Laura crea semanalmente Cozumel 4You, medios sociales y artículos promocionales sobre la Isla y también es moderadora en el grupo Cozumel 4 You en Facebook que actualmente cuenta con 25,000 miembros. Fabián, s umuy tolerante marido, desde hace mucho tiempo se resignó a no tener vida privada, pues se ha visto implicado en los diversos proyectos y planes que urde Laura. Son orgullosos padres de diversos perros y gatos rescatados. Mientras contempla su paso a través de la vida en el Caribe mexicano,Laura continúa siendo la pesadilla en la existencia de su muy tradicional suegra mexicana.
Latest posts by Laura Wilkinson (see all)