Cozumel Artists:  Carlos Tello
Cozumel Artists:  Carlos Tello by Greg Dietrich
In March of 2020, the world as we know it changed. As with many occupations, the results were economically devastating for artists. I am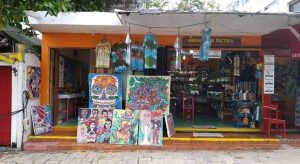 asking the artists of Cozumel to write a little something about how they have dealt with the crisis and to share some photos of their new work. Their stories will be shared with everyone, one at a time, over the next couple months. If you have been contemplating purchasing someone's art, now would be a great time to do so.
Hope you enjoy the stories,
Greg Dietrich, Owner, Galeria Azul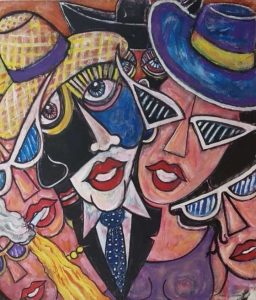 Carlos Tello
I am Carlos Tello. For 20 years I have been painting in the Island of Cozumel (both good as well as bad times), but the Island of Cozumel has always brought clients who buy our works, thus we are able to live with dignity.
With sacrifice, I was able to open my gallery MAYAN BATIK FACTORY. Suddenly and unexpectedly, "Covid19" arrived. At first, I thought it would last only one month, but it turned into a quarantine which is now close to 8 months long; the small savings were running out, and the debts were growing.
Using Facebook helped some sales on the internet (with my clients), announcing and promoting my
works and we have survived. We hope that tourism returns to Cozumel so we can pay our daily expenses.
My store is called MAYAN BATIK FACTORY and is located on Adolfo Rosado Salas Street between Rafael Melgar and 5th Avenue, next to La Misión restaurant. On Facebook,
I am Carlos Tello, artist
My phone number is: 987 105 1580.
Thank you and, greetings!
Artistas de Cozumel:  Carlos Tello por Greg Dietrich
En marzo de 2020, el mundo tal como lo conocemos cambió. Al igual que sucede con muchos trabajos, los resultados fueron económicamente devastadores para los artistas. He pedido a los artistas de Cozumel que escriban algo sobre cómo han enfrentado la crisis y que compartan algunas fotos de su nuevo trabajo. Sus historias serán compartidas con todos, uno a la vez, durante los próximos meses. Si han estado contemplando la posibilidad de comprar el arte, ahora sería un gran momento para hacerlo.
Espero que disfruten las historias,
Greg Dietrich, Dueno, Galeria Azul
Carlos Tello
Soy Carlos Tello. Tengo 20 años pintando en la Isla de Cozumel (tiempos buenos y tiempos malos)  pero la Isla de Cozumel siempre nos ha dado clientes que compran nuestras obras, para poder vivir dignamente.
Con sacrificio, pude lograr tener mi Tienda Galería, que se llama: MAYAN BATIK FACTORY . De repente, sin esperarlo, llego el "Covid19 ". Primero pensé que solo sería un mes, pero se convirtió  en cuarentena, que ahorita ya van casi 8 meses, y el poco dinero se fue agotando, y las deudas fueron creciendo.
Me ayudó  usar Facebook para lograr unas ventas en internet (con mis clientes), anunciando y promocionando mis obras y hemos sobrevivido. Esperamos que  el turismo vuelva  a Cozumel para poder paga
r los gastos cotidianos.
Mi tienda se llama MAYAN BATIK FACTORY  y se ubica en la calle Adolfo Rosado Salas entre Rafael Melgar y 5 Avenida, junto al restaurante La Misión. En Facebook,
soy el pintor Carlos Tello
mi teléfono es: 987 105 1580.
gracias y ¡¡saludos!!

Latest posts by Greg Dietrich
(see all)