Frida Kahlo Mexico
Frida Kahlo 10 Day Celebration Planned for her 113th Birthday
The Frida Kahlo Museum in Mexico City, known as Casa Azul,  was the residence of the artistic marriage between Frida Kahlo and Diego Rivera  and home to stories that have been mythologized over the years  –  will host 10 days of celebrations and tributes in honor of Kahlo's 113th birthday
One of Mexico's best known artists, Frida Kahlo, celebrated what would have been her 113th birthday, this past July 6th.  Various events; which will take place throughout the next 1o days, have been scheduled to commemorate the date.
Kahlo was born in Mexico City in 1907 and    is recognized not only for her artistic talent, but also for her ideas – which ring close to feminism   –  at a time when sexual liberation was rarely discussed.
She is also remembered for a physical suffering she endured since a bus accident she suffered while still a school girl lead to a life time of health problems, and operations with painful recoveries.
She also documented in her pictorial works and in writings the multiple emotional difficulties that marked her life, many of them related to her marriage to the  artist Diego Rivera, with whom she was married ; until her death, despite numerous and public disagreements.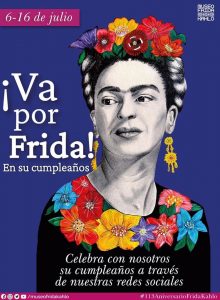 Her works are exhibited today at the Museum of Modern Art (MoMA) in New York, at the Dolores Olmedo Museum in the Mexican capital, the Museum of Fine Arts in San Francisco or the National Museum of Women Artists, among many others.
The Frida Kahlo Museum in Mexico City, whose enclosure is known as Casa Azul can be virtually toured from their website,  https://www.museofridakahlo.org.mx/en/the-blue-house/virtual-tour/
 (Source:  SinEmbargo.mx.com) 
Diez días de celebraciones para conmemorar el 113er. cumpleaños de Frida Kahlo
El Museo Frida Kahlo en la Ciudad de México, conocido como Casa Azul, fue la residencia del matrimonio artístico conformado por Frida Kahlo y Diego Rivera, y fue el hogar de historias que han sido mitificadas a lo largo de los años. Ahí se realizarán 10 días de celebraciones y homenajes en honor al 113er. cumpleaños de Frida Kahlo.
El pasado 6 de julio, Frida Kahlo, una de las artistas más conocidas de México, hubiera celebrado su cumpleaños 113. Para conmemorar la fecha se han organizado diversos eventos que tendrán lugar durante los siguientes 10 días.
Kahlo nació en la Ciudad de México en 1907 y es reconocida no sólo por su talento artístico, sino también por sus ideas, muy cercanas al feminismo, en una época en la que en raras ocasiones se hablaba de la liberación sexual.
También se le recuerda por el sufrimiento físico que soportó desde que sufrió un accidente en autobús cuando aún era niña en edad escolar y que la llevo a tener una vida llena de problemas de salud y de cirugías con recuperaciones dolorosas.
A través de sus obras pictóricas y escritos, documentó las múltiples dificultades emocionales que marcaron su vida, muchas de estas relacionadas con el artista Diego Rivera con quien estuvo casada, hasta que ella falleció, y a pesar de discusiones múltiples y en público.
Hoy en día sus obras se exhiben en el Museo de Arte Moderno (MoMa) en Nueva York, en el Museo Dolores Olmedo en la capital mexicana, el Museo de Bellas Artes en San Francisco o el Museo Nacional de Mujeres Artistas, entre otros.
El Museo Frida Kahlo de la Ciudad de México, cuyo recinto es conocido como la Casa Azul, puede visitarse virtualmente desde su sitio webhttps://www.museofridakahlo.org.mx/en/the-blue-house/virtual-tour/
 (Fuente:  SinEmbargo.mx.com) 
An ex-Connecticut Yankee who has called Cozumel home for over 18 years, Laura ran away to the Caribbean years ago, bumped around the islands teaching SCUBA diving, lost some time in Jamaica, and finally stopped in Cozumel for a 2 week vacation that hasn't ended yet. With a degree in Journalism from a fancy private college she convinced her parents to pay for, Laura writes, edits, and creates the weeklyCozumel 4 You news,social media, and promotional articles about the island, as well as moderates the Cozumel 4 You Facebook group, which currently has over 25,000 members. Her long suffering husband, Fabian, has long since resigned himself to having zero private life, as he's been involved in her various schemes and plots since his arrival. Proud parents to a variety of rescue dogs and cats, Laura continues to be the bane of her traditional Mexican mother-in-law's existence, as she muses her way through life in the Mexican Caribbean.
______________________________
Una ex yanqui de Connecticut quien llama hogar a Cozumel desde hace más de 15 años. Laura escapó al Caribe hace años, desplazándose de una isla a otra dando clases de BUCEO. Se dedicó a perder el tiempo en Jamaica y finalmente se detuvo en Cozumel para pasar unas vacaciones de 2 semanas que aún no terminan. Convenciendo a sus padres que pagaran una elegante universidad privada, obtuvo su título en Periodismo y Laura crea semanalmente Cozumel 4You, medios sociales y artículos promocionales sobre la Isla y también es moderadora en el grupo Cozumel 4 You en Facebook que actualmente cuenta con 25,000 miembros. Fabián, s umuy tolerante marido, desde hace mucho tiempo se resignó a no tener vida privada, pues se ha visto implicado en los diversos proyectos y planes que urde Laura. Son orgullosos padres de diversos perros y gatos rescatados. Mientras contempla su paso a través de la vida en el Caribe mexicano,Laura continúa siendo la pesadilla en la existencia de su muy tradicional suegra mexicana.
Latest posts by Laura Wilkinson (see all)