2020 Cozumel Hurricane Predictions
2020 Hurricane Predictions Revisited: July Updated Predictions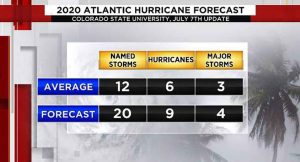 Although June 1st marks the official start of Hurricane Season in the Caribbean, now that we're into July, and we've already experienced 5 named storms, meteorologists are able to update their prediction, with a little more accuracy.
According to experts, the Atlantic ocean is quite warm this year, combined with an active west Africa monsoon season, and this will contribute to a more active season than originally predicted.
Meteorologists from the Colorado State University are now predicting there will be 20 named storms (as opposed to the average of 12) and 9 hurricanes (as opposed to the average of 6).
Hurricane season runs from June – October. For a quick summary of the 2020 predictions, check out the official NOAA page.  The National Weather Service has also published a comprehensive list to prepare for a hurricane. Another good resource for tracking weather is Wind Guru.com.
Un nuevo análisis a la temporada de huracanes 2020. Actualización de los pronósticos de julio.
Si bien el 1º de junio marca el inicio oficial de la temporada de huracanes en el Caribe ahora que estamos en julio y que ya se han presentado
5 tormentas con nombre, los meteorólogos han podido actualizar sus pronósticos con un poco de mayor precisión.
Según los expertos, este año el Océano Atlántico ha estado bastante cálido, combinado con una activa temporada de monzones en África occidental, y ello contribuirá a que la temporada de huracanes sea más activa de lo que se previó originalmente.
Meteorólogos de la Universidad de l Estado de Colorado ahora pronostican 20 tormentas con nombres (en lugar del promedio de 12) y 9 huracanes (contrario a la media de 6).
La temporada de huracanes es de junio a octubre. Para ver un resumen de los pronósticos para el 2020, visiten la página oficial de la NOAA. El Servicio Meteorológico nacional también ha publicado una lista completa para prepararse en caso de huracán. Otra buena fuente para rastrear el tiempo es Wind Guru.com.
Latest posts by Laura Wilkinson
(see all)