Cozumel Blood Donation Drive
Cozumel Blood Donation Drive at CostaMed June 16
June 16th at CMC starting at 7 am…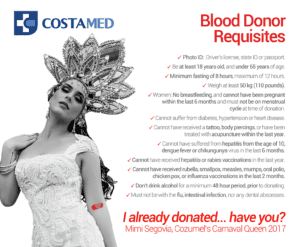 On June 16th, 2017  Costamed (CMC) will be hosting on-site the blood drive. The pre-screening and donation will occur the same day. We hope to have a good turn out to help replenish regional blood banks.
Due to the concern about the scarcity of blood components in the area, Costamed initiated a Volunteer Blood Donation Campaign in May to support SESA.  This will occur in Cozumel in which Mimi Segovia, Queen of Cozumel´s Carnival 2017 will be hosting.
The "Run for Life" Race will take place on Saturday, June 10th at 5:00 pm on Rafael Melgar Avenue, promoting the blood drive event.
The massive blood drive will occur at our CMC Costamed Facilities on June 16th, 2017 at 7:00 am. Dr. Lourdes Cabrera Maldonado, blood center director of Cozumel, along with Dr. América Sevilla, blood bank director at SESA in Playa del Carmen, and her medical team will be participating in this drive. Costamed's medical personnel will also be present to provide assistance.
The collected blood units on June 16th will be transferred to the blood bank in Playa del Carmen by Dr. Sevilla.
Thank you so much for your participation and your assistance in spreading this important message throughout Cozumel.
For more information please contact Andrea Sekula International Patient Liaison at intpatientliason@costamed.com.mx
BLOOD DONOR REQUISITES
Photo ID:  Driver's license, state ID or passport.
Be at least 18 years old, and under 65 years of age.
Minimum fasting of 8 hours, maximum of 12 hours.
Abstain from drinking alcohol for a minimum 48 hour period, prior to donating.
Weigh at least 50 kg (110 pounds).
Women: No breastfeeding, and cannot have been pregnant within the last 6 months.
Women: Must not be on menstrual cycle at time of donation.
Cannot suffer from diabetes, hypertension or heart disease.
Cannot have received a tattoo, body piercings, or have been treated with acupuncture within the last year.
Must not be with the flu, intestinal infection, nor any dental abscesses.
No dental extractions within the last 72 hours.
Cannot have suffered from hepatitis from the age of 10, dengue fever or chikungunya virus in the last 6 months.
Cannot have received hepatitis or rabies vaccinations in the last year.
Cannot have received rubella, smallpox, measles, mumps, oral polio, chicken pox, or influenza vaccinations in the last 2 months
Donación de sangre en CostaMed el 16 de junio
El 16 de junio en el CMC a partir de las 7 a.m. . . .
El próximo 16 de junio en Costamed (CMC) tendrá lugar la donación de sangre. Los análisis y la donación se efectuarán el mismo día. Esperamos contar con una buena participación para reabastecer los bancos de sangre de la región.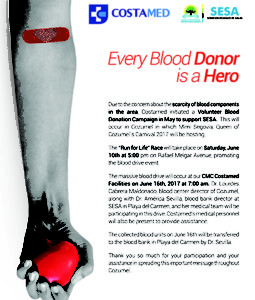 En virtud de la preocupación acerca de la falta de componentes sanguíneos en el área, en Mayo Costamed inició una Campaña Voluntaria de Donación de Sangre con el objeto de apoyar a SESA. Esto ocurrirá en Cozumel donde la reina del carnaval 2017, Mimi Segovia, será la anfitriona.
Con el objeto de promover el evento de donación de sangre, se llevará a cabo la carrera "Corre por la Vida" el sábado 10 de junio a las 5:pm sobre la Avenida Rafael E. Melgar.
La campaña masiva de donación de sangre será en nuestra clínica CMC Costamed el próximo 16 de junio a partir de las 7:00 a.m. Participarán la Dra. Lourdes Cabrera Maldonado, directora del centro de sangre de Cozumel, junto con la Dra. América Sevilla, directora del banco de sangre SESA en Playa del Carmen, y su equipo médico. También se contará con el apoyo del personal médico de Costamed.
La Dra. Sevilla transferirá al banco de sangre en Playa del Carmen, las unidades de sangre recabadas.
Agradecemos su participación y ayuda en divulgar en Cozumel este importante mensaje.
Para mayor información, por favor póngase en contacto con Andrea Sekula, Enlace de Pacientes Internacionales, a través de intpatientliason@costamed.mx
REQUISITOS PARA LOS DONADORES DE SANGRE
Identificación con fotografía: licencia de conducir, identificación del estado o pasaporte.
Contar con al menos 18 años de edad, y ser menor a 65.
Ayuno de 8 horas; 12 horas como máximo-
Abstenerse de ingerir bebidas alcohólicas durante un periodo mínimo de 48 horas antes de la donación.
Que su peso sea de, por lo menos, 50 kg (110 libras)
Mujeres: no estar en etapa de amamantamiento, y que no hayan estado embarazadas dentro de los últimos 6 meses.
Mujeres: no encontrarse dentro de su ciclo menstrual al momento de la donación.
No debe padecer diabetes, hipertensión o enfermedad cardiaca.
Durante el último año no haberse hecho tatuajes, perforaciones en el cuerpo o haber recibido tratamiento de acupuntura.
No debe tener gripe, infecciones intestinales ni abscesos dentales.
No haber tenido extracciones dentales durante las últimas 72 horas.
No haber padecido hepatitis a los 10 años de edad; así como tampoco dengue o virus chikunguya en los últimos 6 meses.
No haber recibido vacunas contra la hepatitis o rabias durante el último año.
En los últimos 2 meses, no haber recibido vacunas contra la rubeola, viruela, sarampión, paperas, polio oral, varicela o influenza.
Latest posts by Laura Wilkinson
(see all)