Cozumel Events
Upcoming, Continuing Events, Snippets & Cozumel Classifieds
Interesting tips, news, and sales in Cozumel…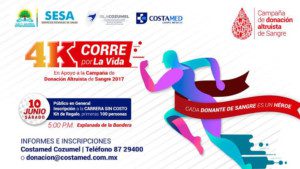 Run For Life – This Saturday, June 10th, there is a 4K run scheduled in support of the blood drive that Costamed (CMC) is organizing. The run starts at 5 pm and is free, however participants are urged pre-register and pay $100 pesos for a gift kit. For more information, check out the Facebook event page.
Cozumel:  Via  a Cruise Blogger Standpoint-  Information from the Empress of the Seas about Cozumel.
"The Little Prince" Experience in Dome – Every Saturday in June starting at 7 pm at the Cozumel Planetarium
Cozumel 4 You Newsletter and Facebook – If you haven't already signed up to get our weekly newsletter in your email inbox, consider doing so! On the very bottom of this newsletter you'll see a "Subscribe" button, or reply send us an email at info@czm4you.com.  Also, feel free to join our facebook group, where you can find up to the minute updates on events, items for sale, and interesting information about our island
Eventos próximos y permanentes, fragmentos y anuncios clasificados de Cozumel
Consejos interesantes, noticias y ventas en Cozumel. . .
Carrera por la Vida– El sábado 10 de junio tundra lugar una Carrera para apoyar la campaña de donación de sangre organizada por Costamed (CMC). La competencia comienza a las 5 pm y es gratuita, sin embargo se pide a los participantes que se registren con anticipación y cubran $100 pesos para un paquete de regalo. Para obtener mayor información, echen un vistazo a la página de eventos de
Facebook.
Cozumel desde el punto de vista de un bloguero de buque turístico– Información desde el buque Empress of the Seas respecto a Cozumel.
"El Principito" una experiencia en domo– Todos los días sábado en Junio a partir de las 7 pm en el Planetario de Cozumel.
Boletín Cozumel 4 You y Facebook –  Si aún no se ha inscrito para recibir nuestro boletín semanal en su correo electrónico ¡tómelo en cuenta! En la parte inferior de este Boletín aparece el botón "Suscríbete"; o envíennos un correo a info@czm4you.com. De igual forma, puede unirse a nuestro grupo de Facebook  donde encontrarán información actualizada sobre eventos, artículos en venta e información interesante acerca de nuestra Isla.
Latest posts by Laura Wilkinson
(see all)