Cozumel Ironman 70.3 September 27, 2020
10th Annual Cozumel Ironman 70.3  to Take Place This Sunday September 27, 2020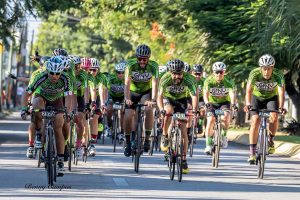 The  Cozumel Ironman 70.3  is scheduled to take place on September 27, 2020.  This is the 10th year of the event.  Cozumel's Ironman 70.3 – an international event  – is one of the first athletic events that informally marks what has now become known as "triathlon season" in Cozumel.  Previous years have been sold-out events, in fact, last year's event was attended by more than 1,500 athletes and their families cheering them on.
The 2020 IRONMAN 70.3 Cozumel will feature a rolling start. Athletes will enter the water in a continuous stream through a controlled access point, similar to how running road races are started.
An athlete's times will start when they cross timing mats at the start line. Athletes will be directed to self-seed on race morning based on their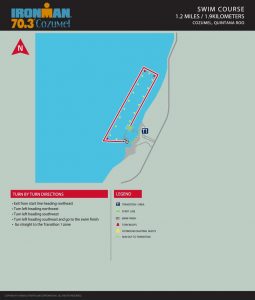 projected swim time.
Volunteers and staff will be in the staging area with signs and will assist with this process. Self-seeding will not be mandatory but will be encouraged.
The 2020 IRONMAN 70.3 Cozumel will offer qualifying slots to the 2021 IRONMAN 70.3 World Championship in St. George, Utah, USA.
La 10ª edición de Ironman tendrá lugar este domingo 27 de septiembre, 2020
El 27 de septiembre, 2020 es la fecha programada para Ironman 70.3 en Cozumel.  Este es el décimo
año del evento internacional Ironman 70.3 en Cozumel y es uno de los primeros eventos atléticos que de manera informal marca lo que ahora se conoce como "temporada de triatlones" en Cozumel. En años anteriores han sido eventos con todas las entradas vendidas; de hecho, el año pasado participaron más de 1.500 atletas y sus familias animándolos.
Ironman 70.3 Cozumel 2020 tendrá un comienzo arrollador. Los atletas entrarán en el agua a una corriente continua, en un punto de acceso controlado, similar a la forma en que se inician las carreras sobre la carretera.
Los tiempos de los atletas comenzarán cuando crucen las alfombras de cronometraje en la línea de salida. La mañana de la competencia, los atletas serán dirigidos a su punto de partida con base en su tiempo de natación proyectado.
Los voluntarios y el personal estarán en el área de preparación, con señales, y ayudarán al proceso. El punto de partida no será obligatorio, pero se exhortará.
Ironman 70.3 Cozumel 2020 ofrecerá plazas de clasificación para el Campeonato Mundial Ironman 70.3 del 2021 a realizarse en St. George, Utah, EE. UU.
Latest posts by Laura Wilkinson
(see all)