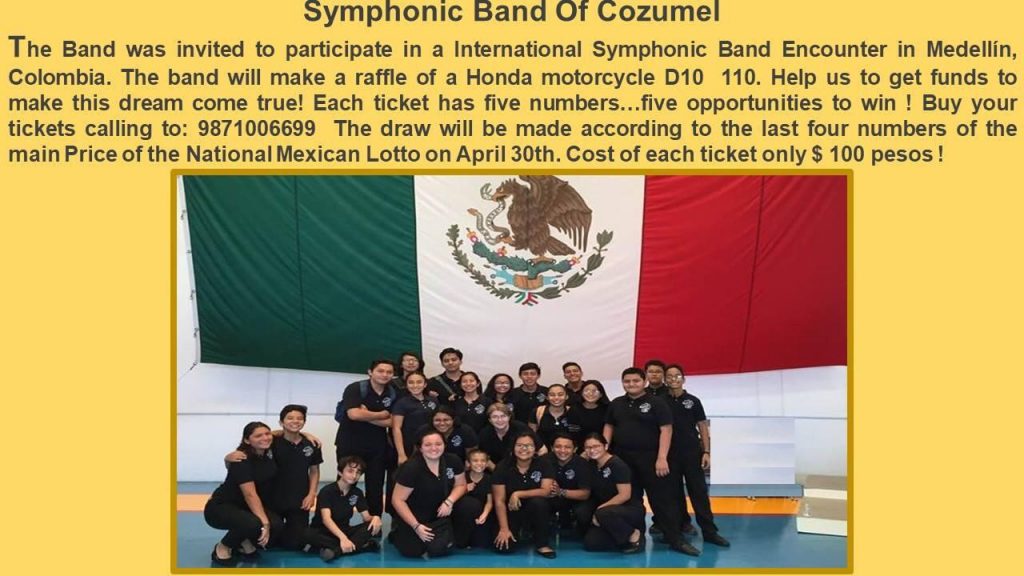 BSC Youth Orchesta Raffle Ticket Fundraiser
Help Fund a Trip to Columbian Conference ….
Cozumel Youth Orchestra – The Banda Sinfonica de Cozumel (BSC) is a youth orchestra whose mission focuses on creating the right environment to create better human beings and raise the quality of life of its members through music, by installing it as a way of life.
To continue to help change children's lives the BSC needs your help, this year the BSC has been invited to participate in a International Symphonic Band Encounter in Medelin, Columbia.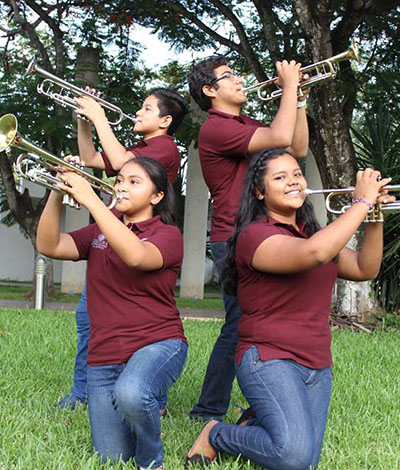 In order to fund this trip the BSC are selling raffle tickets – which are only $100 pesos each, with the grand prize being a brand new Honda D10 110 Motorcycle. Call 9871006699 to order your tickets. The drawing will be held on April 30th and is based on the last 4 numbers of the National Lotto Drawing for that day.
For the past 6 years the BSC has taught island children musical skills, and provided a structured environment for Cozumel children between the ages of 8 – 21. Children are taught to read music, which is an international language, play a musical instrument and work together as a team.
Under the direction of Joyce Olivera, over 40 children learn to play instruments including French horns, trumpets, tubas, clarinets, flutes and oboes.
Boletos para la rifa de recaudación a favor de la Banda Sinfónica de Cozumel
Colabore para dotarlos de fondos para un viaje a una conferencia en Colombia…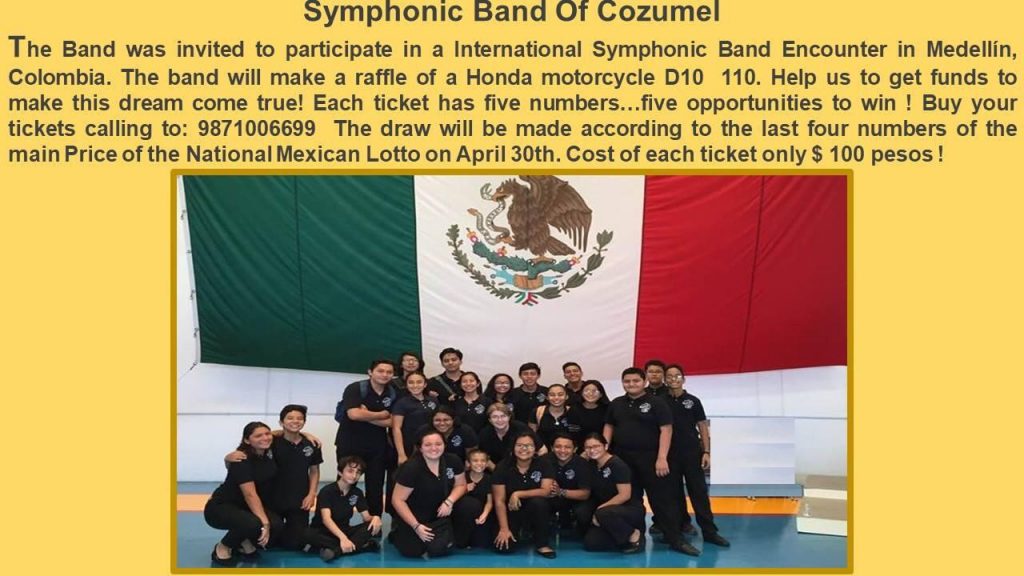 La Banda Sinfónica de Cozumel, es una orquesta de jóvenes cuya misión se centra en la creación del ambiente correcto para el desarrollo de mejores seres humanos y elevar la calidad de vida de sus miembros a través de la música.
Con el fin de continuar ayudando a cambiar las vidas de los chicos, la Banda Sinfónica requiere su ayuda. Este año la Sinfónica ha sido invitada a participar en el Encuentro Internacional de Bandas Sinfónicas que tendrá lugar en Medellín, Colombia.
Para dotar a la Banda Sinfónica de fondos para su viaje, están vendiendo boletos de rifa con un costo de tan solo $100 pesos cada uno, siendo el gran precio una motocicleta, nueva, Honda D10 110. Comuníquese al 9871006699 para pedir sus boletos. La rifa será el 30 de abril y tendrá como base los últimos 4 números de la Lotería Nacional para ese día.
Desde hace 6 años la Banda Sinfónica de Cozumel ha impartido enseñanza de habilidades musicales a los chicos de la Isla, y ha ofrecido un ámbito estructurado para chicos de Cozumel de 8 a 12 años. A los chicos se les enseña cómo leer música, que es un lenguaje internacional, tocar un instrumento musical y a trabajar juntos en equipo.
Bajo la dirección de Joyce Olivera, más de 40 chicos aprenden a tocar instrumentos como el corno francés, trompetas, tubas, clarinetes, flautas y oboes.
Latest posts by Laura Wilkinson
(see all)