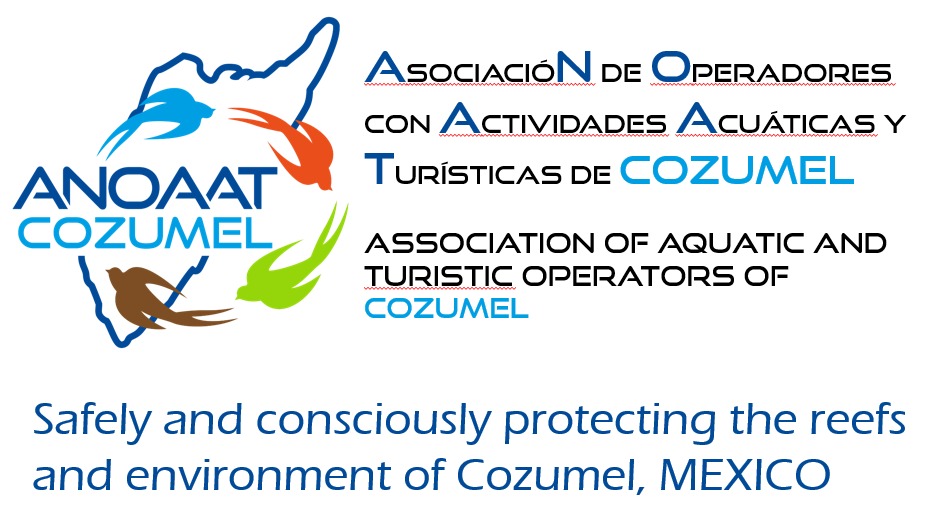 ANOAAT Cozumel
ANOAAT (Association de Operadores Actividades Acuaticas Turismo de Cozumel) is an association that represents a renovation phase of the old ANOAAT (which was originally founded back in 1996 but has been dormant for many years). Years have passed and new challenges and new players are now on the island, thus the necessity to join efforts in this new front. In June 2018, several seasoned island dive shop owners joined together to revive ANOAAT, and we now have 32 member operations including diving, fishing and other watersports operators. Membership to ANOAAT requires members to be a legally registered business and that all permits, licenses, insurance, and safety standards be current.
ANOAAT's mission and goals are to:
1. Promote the safety of both staff and guests that are involved in all aquatic activities in the waters of Cozumel all aquatic activity operations through training, education, improvement and a strict adherence to procedures and safety protocols which are essential to guarantee the safety of our guests and staff.


2. Promote compliance to the standards that currently regulate aquatic activities on the island, as well as interact with the proper authorities in order to update those standards when our community deems it necessary and pertinent.


3. Encourage and promote the conservation of our natural resources (reefs, mangroves, beaches, lagoons, fishes and bird populations, and in general all the biologic groups that inhabit those areas) through training, education, and community outreach programs.
4. Have a presence and voice in front of the Municipal, State and Federal authorities to express our opinions and have an active role in the decision making. Our goal is to achieve standards that will benefit the entire island as well as to have influence on those decisions that may negatively affect the areas where our activities take place and for the island in general.

5. Promote a positive image of Cozumel as a desired tourist destination worldwide raising the quality of our services with the support and collaboration of other associations and organizations of tourism promotion.


6. Integrate ANOAAT positively into the social and economic development of Cozumel. It is not only very important to seek support from other associations, but also to have solidarity with the members of our community.
The main interest of ANOAAT is to build a solid front that will empower us to face the current challenges and implement the procedures that are so desperately needed to preserve our islands legacy for future generations. Not only for island residents, but for all of our island guests who come to enjoy the natural wonders of Cozumel Island.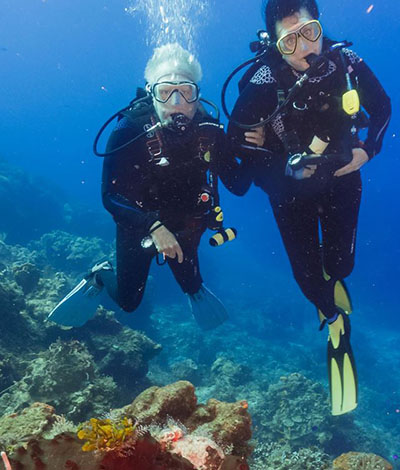 ANOAAT Members:
Caribbean Divers, Scuba Shack, Blue XT~Sea Diving , Blue Project, Pepe Scuba, Albatros Charters, Alex Scuba, Chili Charters, Deep Exposure, Deep Blue, Challenge Diving, Aldora Divers, Dive Paradise, Scuba Du, Sand Dollar Sports, Papa Hogs, Island Divers Cozumel, Fury Catamarans Cozumel, Dive with Cristina, Scuba XOC, Scuba Tony, Del Mar Aquatics, Salty Endeavors, Blue Magic Scuba, Tres Pelicanos, Cozumel Marine World, Dive with Martin, Bottom Time Divers, Cozumel H2O, Tres Hermanos Fishing, Sea Robin Divers, Caballitos del Caribe, Pelagic Ventures

You can contact ANOAAT at anoaatczm@gmail.com
ANOAAT Cozumel
ANOAAT (Asociación de Operadores Actividades Acuáticas Turismo de Cozumel) es una asociación que representa una fase de renovación del antiguo ANOAAT (que originalmente se fundó en 1996 pero que ha estado inactivo durante muchos años). Han pasado años y nuevos desafíos y nuevos protagonistas están ahora en la isla, por lo tanto, la necesidad de unir esfuerzos en este nuevo frente. En junio de 2018, varios propietarios de tiendas de buceo experimentados se unieron para reactivar ANOAAT, y ahora tenemos 32 operaciones miembros, que incluyen operadores de buceo, pesca y otros deportes acuáticos. La membresía a ANOAAT requiere que los miembros sean una empresa legalmente registrada y que todos los permisos, licencias, seguros y estándares de seguridad estén actualizados.
Los objetivos principales de la ANOOAT son.
1. Promover la seguridad tanto del personal como de los huéspedes que participan en todas las actividades acuáticas en las aguas de Cozumel, mejorar todas las operaciones de actividades acuáticas a través de la capacitación, educación, actualizacion y una estricta adherencia a los procedimientos y protocolos de seguridad que son esenciales para garantizar la seguridad de nuestros invitados y personal
2. Promover el cumplimiento de las normas que actualmente regulan las actividades acuáticas en la isla, así como interactuar con las autoridades apropiadas para actualizar esas normas cuando nuestra comunidad lo considere necesario y pertinente.
3. Fomentar y promover la conservación de nuestros recursos naturales (arrecifes, manglares, playas, lagunas, poblaciones de peces y aves, y en general todos los grupos biológicos que habitan esas áreas) a través de programas de capacitación, educación y alcance comunitario.
4. Tener presencia de nuestro sector (operadores de actividades acuáticas turísticas) ante las autoridades Municipales, Estatales y Federales en lo referente a consultas y toma de decisiones con el objetivo de lograr un beneficio que se refleje en toda la isla, así como en aquellas que afecten las zonas en las cuales realizamos nuestras actividades y en general las que causen un efecto negativo en contra de nuestra isla.
5. Promover la buena imagen de Cozumel como destino Turístico a nivel mundial elevando la calidad de nuestros servicios con el apoyo de otras asociaciones y organizaciones de promoción turística.
6. Integrar la ANOAAT de una forma dinámica y continua al desarrollo social de la isla de Cozumel. Es importante buscar el apoyo en la sociedad civil pero también lo es mostrar solidaridad con otros miembros de nuestra comunidad.
El interés principal de ANOAAT es construir un frente sólido que nos permita enfrentar los desafíos actuales e implementar los procedimientos que se necesitan tan desesperadamente para preservar el legado de nuestra isla para las generaciones futuras. No solo para los residentes de la isla, sino para todos nuestros huéspedes que vienen a disfrutar de las maravillas naturales de la isla de Cozumel.
ANOAAT Members:
Caribbean Divers, Scuba Shack, Blue XT~Sea Diving , Blue Project, Pepe Scuba, Albatros Charters, Alex Scuba, Chili Charters, Deep Exposure, Deep Blue, Challenge Diving, Aldora Divers, Dive Paradise, Scuba Du, Sand Dollar Sports, Papa Hogs, Island Divers Cozumel, Fury Catamarans Cozumel, Dive with Cristina, Scuba XOC, Scuba Tony, Del Mar Aquatics, Salty Endeavors, Blue Magic Scuba, Tres Pelicanos, Cozumel Marine World, Dive with Martin, Bottom Time Divers, Cozumel H2O, Tres Hermanos Fishing, Sea Robin Divers, Caballitos del Caribe, Pelagic Ventures
Ponganse en contactacto con ANOAAT a anoaatczm@gmail.com
(Translations by ANOAAT)
Latest posts by Laura Wilkinson
(see all)