Turquoise Beach Club:  A Review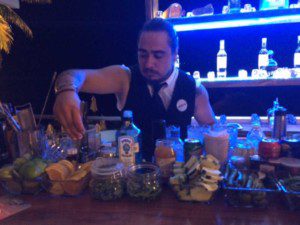 If you're looking to get out for the evening and check out something fresh and different, Turquoise Terrace and Beach Bar is Cozumel's newest ocean front spot to meet up, hang out, and try delicious drinks- created, mixed, and tested by its own drink mixology specialists! Located directly across Melgar from Blu Bistro, Blue Angel's own Eva Rasmussen envisioned a hip ocean front beach as an addition to Cozumel's night life. The location is great, further from the downtown area, but very close to Blue Angel, Palmar Condominiums, Villablanca, and Papa Hogs. With plenty of seating, it also offers a lovely option for swinging in bar swings and watching the sun set. Under the moon's glow, relax with friends, listen to the music and waves in the background, and check out the murals painted by local artists.
Last week, Turquoise Beach  hosted a sunset beach party to introduce some of their new drink specials which were as
colorful and delightful as the sea! Guests snacked on tapas, danced to a live DJ, and watched the bartenders mix their drinks with flair… and fire! Look forward to seeing more heat coming from this spot in the coming months.
If you haven't had a chance to check out this new hotspot, consider attending their Full Moon Party on Thursday August 18th, from 7 pm – 2 am.  There will be fire dancers, mixology, live music, mescal cocktails and craft beers not found anywhere else in Cozumel.
Autumn la Boheme has lived in Cozumel for 3 years with her husband and 3 children. She is a writer and a painter who uses stories and art to inspire conscious-living. Cozumel holds a special place in her heart, and she welcomes opportunities to experience the beautiful culture and share it with others. 
Turquoise Beach: Una reseña
Si buscan un sitio para salir por la noche y quieren algo fresco y diferente, Turquoise terraza y bar de playa es el sitio más nuevo frente al mar para reunirse, para convivir y probar deliciosas bebidas, ¡creadas, mixtas y probadas por sus propios mixólogos! Se ubica en la Melgar frente a Blu Bistro. Eva Rasmussen de Blue Angel concibió un sitio de moda frente al mar como complemento a la vida nocturna de Cozumel. La ubicación es excelente, más allá de la zona del centro, pero muy cerca de Blue Angel, de condominios Palmar, de Villablanca y Papa Hogs. Cuenta con gran espacio para sentarse y ofrece una buena opción para mecerse en los columpios en el bar viendo el atardecer. Relájese junto con los amigos, escuche música bajo el resplandor de la luna con el sonido ambiental de las olas, y eche un vistazo a los murales realizados por artistas locales.
La semana pasada, Turquoise Beach organizó una fiesta al atardecer para presentar algunas de sus bebidas especiales, ¡tan coloridas y deliciosas como el mar!. Los invitados disfrutaron las tapas, bailaron acompañados de un DJ en vivo y observaron como los cantineros mezclan las bebidas con estilo y, ¡fuego! Durante los siguientes meses esperen ver más calor emanando de este sitio.
Si aún no han tenido la oportunidad de echar un vistazo a este sitio de atracción, entonces consideren asistir a su Fiesta de Luna Llena el jueves 18 de agosto de 7 p.m. a 2 a.m. Tendrán bailarines con fuego, mixología, música en vivo, cocteles de mezcal y cervezas artesanales que no pueden encontrar en ningún otro sitio de Cozumel.
Autumn la Boheme vive en Cozumel desde hace 3 años junto con su esposo y sus 3 hijos. Es escritora y pintora, y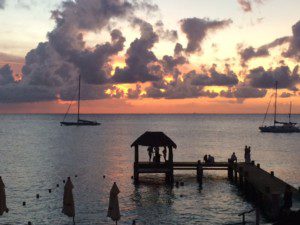 hace uso de historias y arte para inspirar un estilo de vida más consciente. Cozumel ocupa un sitio especial en su corazón y está abierta para vivir las oportunidades que brinda la bella cultura y poder compartirlas con otros.
Latest posts by Laura Wilkinson
(see all)