UQROO Students & Visiting Artists Create Murals
"Dancing Bird" Artist Team Shares Skills …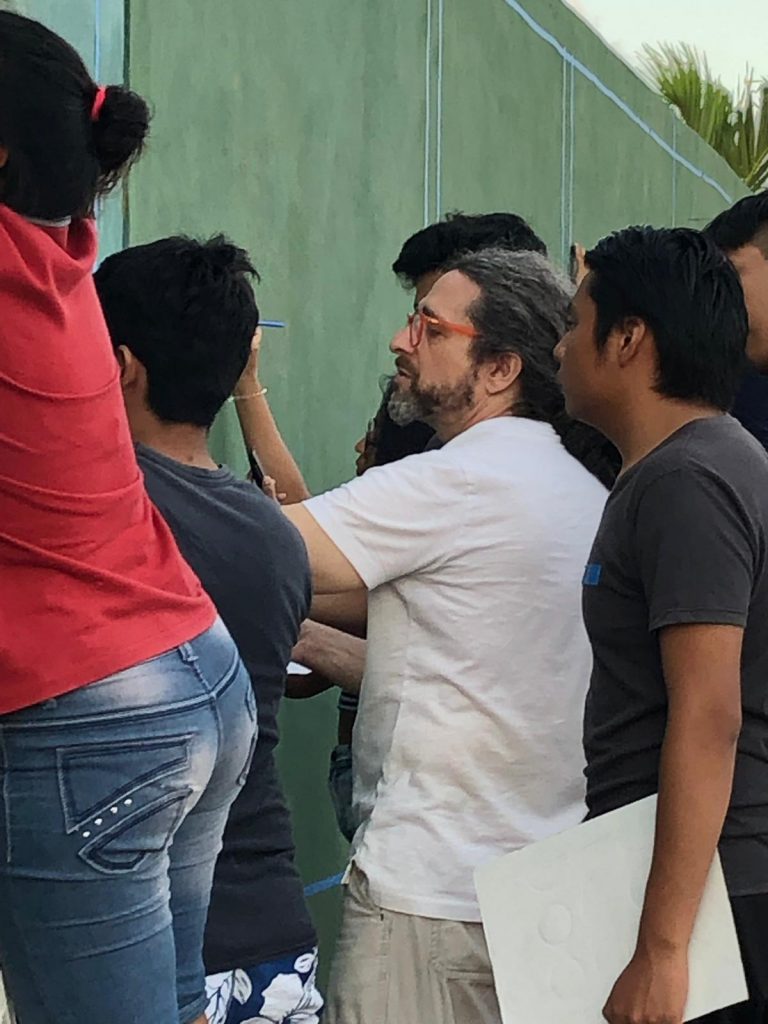 Chris Hopkins Hile and Jeff Hile's are now on their second year working on an exciting art project with UQROO students who are enrolled in the English Language Department: Alice in Wonderland Murals.
Two faculty members were instrumental in arranging this opportunity. Both Chris and Jeff have art degree: Chris is a retired art teacher and Jeff is a practicing artist. They also own the Dancing Bird Art Studio and Music Shop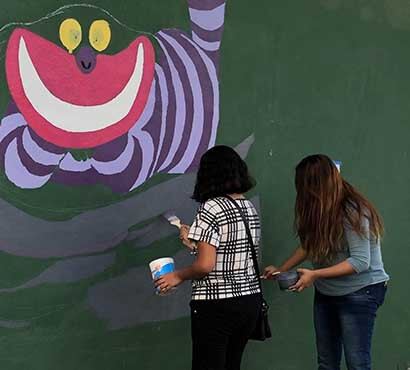 Last year Chris and Jeff taught watercolor painting, culminating in a show at the Sucre Sale coffee shop. This year they are teaching mural painting. The students selected Alice in Wonderland as their theme, and are painting five character scenes on the west outside wall that surrounds CRIM.
The project started last week and the team will be working there most evenings through at least next Friday.
Some of Chris and Jeff's work can be found at: http://www.jeffhile.com/
Murales creados por estudiantes de la UQROO y artistas visitantes
El equipo de artistas de "Dancing Bird" comparten sus técnicas…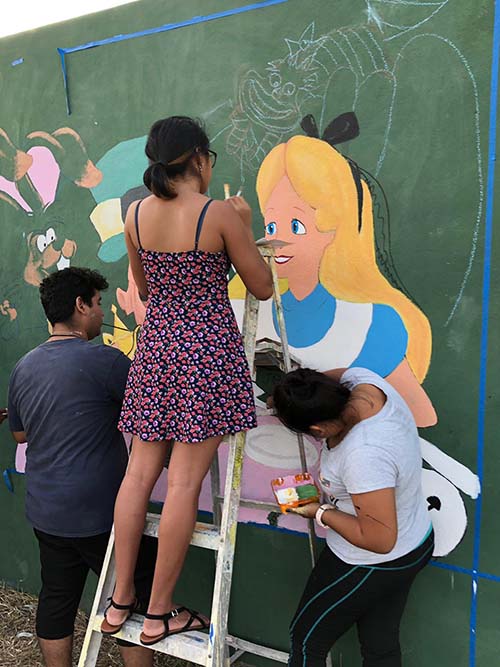 Este es el Segundo año que Chris Hopkins Hile y Jeff Hile trabajan en un emocionante proyecto de arte con estudiantes de la UQROO inscritos en lengua inglesa: murales de Alicia en el País de las Maravillas.
Dos profesores de la carrera fueron instrumentales para organizar esta oportunidad. Tanto Chris como Jeff cuentan con título en arte: Chris es un maestro de arte retirado, y Jeff es un artista activo. Ambos son propietarios del estudio de arte y tienda de música Dancing Bird.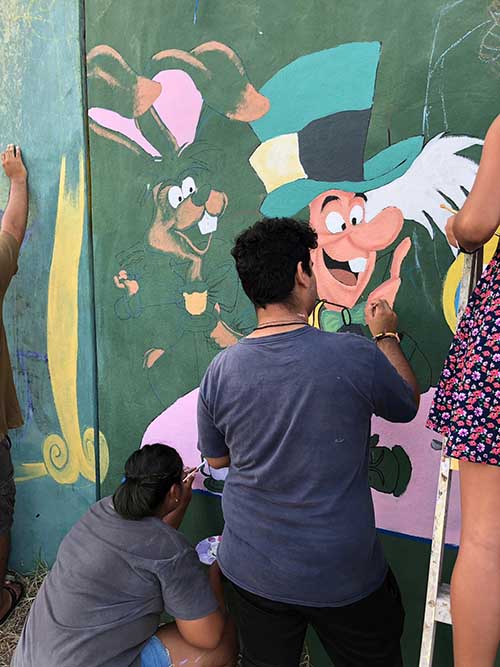 El año pasado Chris y Jeff impartieron clases en acuarela que culminaron en una exhibición en la cafetería Sucre Salé. Este año imparten clases de pintura mural. Los estudiantes eligieron el tema de Alicia en el País de las Maravillas, y están pintando escenas de cinco personajes en el muro occidental exterior del CRIM.
El proyecto comenzó la semana pasada y el equipo trabajará en este ahí todas las noche hasta al menos el próximo viernes.
Latest posts by Laura Wilkinson
(see all)