Cozumel Tourism Director
Cozumel Municipal Directors:  Pedro Hermosillo Director of Tourism
A New Series of Short Interviews with Municipal Officials….….
Editors Note:  On October 1, 2018,  a new administration lead by Pedro Joaquin Delbouis assumed responsibility for the municipality of San Miguel, Cozumel.  Many of the new Directors have a deeply imbedded history with the island, as well as a commitment not only to see Cozumel thrive but protect it's natural resources and rich culture as well.  We thought it would be interesting to share a quick interview with several of our island's newest public servants.  Who better to kick off the series with than our Municipal Director of Tourism?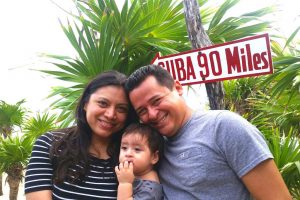 Background:  Pedro Hermosillo was born here in Cozumel.  In fact, his mother was also a born and raised Cozumelena, so he has deep ties in the island.  Pedro has an extensive background in sales, marketing and tourism. His very first job was in sales at the Atlantis Submarines.  He's worked extensively for the Foundation of Parks & Museums in Cozumel, both as the Director of Marketing, Sub- Director and even the Director of Operations.  He's also held positions with both CANACO, and Coparmex business associations, where he's been responsible for national conferences of tourism and national conventions.
Pedro is married, and the proud father of a daughter:  Victoria.
Cozumel's Tourism Team:  There are currently 20 members on staff.  50% of them man informational booths on the mainland, cruise ship piers, and downtown.  The additional employees compose the administration of the Department of Tourism, and several of them have been team members for at least 10 years.
The Municipal Department of Tourism is located on the second floor of the Plaza del Sol, which is in the back of the downtown plaza, just behind the iconic clocktower.  Their office hours are  8 am – 3 pm Monday  – Friday.  You can find them on Facebook
His Work as Director of Tourism:  Cozumel tourism has always focused on Cruise Ships and watersports.  This tourism administration will also focus on four additional areas:  Digital Tourism, Sporting Events, Cultural Tours & Tourism, and Conventions.
In fact, on November 12 – 13 the island will host the 3rd National Congress of Competitive Tourism (conactur.com)  One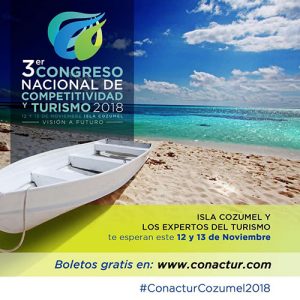 of the hot topics of this convention is Digital Tourism, and executives from all the Latin American  major social media outlets will be in attendance.
Another conference will feature municipal officials, including the Mayor from San Miguel de Allende (which has recently been voted as the #1 Best Small City in the World by Conde Nast Traveller Readers) and representatives from "Pueblos Magicos"  who have achieved a coveted status from the Federal Secretariat of Tourism because of their cultural history.  These events are open to the public, free of charge, with prior reservations.
Pedro's Tourism Philosophy:  "The most important thing we can do, as island residents, is to promote the positive aspects of the island.  We're all ambassadors, and it's our duty to show others Cozumel's beauty, history and culture.
Directores municipales de Cozumel: Pedro Hermosillo, director de Turismo
Una nueva serie de entrevistas breves a los funcionarios municipales. . .
Nota de la Editora: En Octubre 1º del 2018, una nueva administración encabezada por Pedro Joaquín Delbouis asumió la responsabilidad del municipio de San Miguel de Cozumel. Las historias de muchos de los nuevos directores se encuentran profundamente enraizadas con la Isla, además del compromiso que tienen de que Cozumel prospere aunado a la protección de los recursos naturales y rica cultura. Consideramos que sería interesante compartir una breve entrevista con varios de los más recientes servidores públicos de la Isla. Quién mejor para comenzar esta serie que nuestro director municipal de Turismo.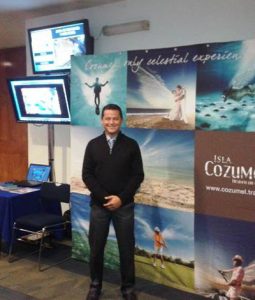 Semblanza: Pedro Hermosillo es oriundo de Cozumel. De hecho, su madre también es cozumeleña por lo los lazos que él tiene con la Isla son profundos. Pedro cuenta con una amplia experiencia en ventas, mercadotecnia y turismo. Su primer trabajo fue en ventas en la empresa Atlantis Submarines. Ha laborado considerablemente para la Fundación de Parques y Museos de Cozumel tanto como director comercial, como subdirector e incluso como director de operaciones. Ha ocupado cargos con la CANACO y la Coparmex siendo responsable de conferencias nacionales de turismo y de convenciones nacionales.
Pedro está casado y es el orgulloso padre de Victoria.
Equipo de la Dirección de Turismo de Cozumel: En la actualidad cuentan con una plantilla de 20 personas. De éstos, 50% se encargan del manejo de los puestos de información tanto en tierra firme como en los muelles de buques turísticos y en el centro de la ciudad. Los empleados adicionales forman la administración de la Dirección de Turismo y varios han colaborado con dicha Dirección por al menos 10 años.
La Dirección Municipal de Turismo se ubica en el segundo piso de Plaza del Sol; a espaldas de la plaza del centro, justo detrás de la emblemática torre del reloj. El horario de atención es de 8 a.m. a 3 p.m., de lunes a viernes. Pueden encontrarlos en Facebook.
Los días 12 y 13 de noviembre, de hecho, la Isla será sede del 3er. Congreso Nacional de Turismo Competitivo (conactur.com). Uno de los principales temas de esta convención es el Turismo Digital, y se contará con la presencia de ejecutivos pertenecientes a los principales medios sociales de difusión de Latinoamérica.
En otra de las conferencias figurarán funcionarios municipales; entre éstos el alcalde de San Miguel de Allende (que en fechas recientes los votos de los lectores de Conde Nast Traveller le merecieron el 1er lugar como la Mejor Ciudad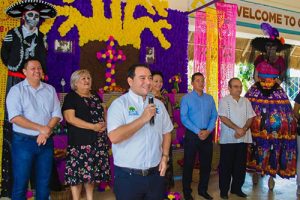 Pequeña en el Mundo) y los representantes de los "Pueblos Mágicos" quienes, en virtud de su historia cultural, obtuvieron un codiciado nivel por parte de la Secretaría Federal de Turismo. Estos eventos se encuentran abiertos al público y son libres de costo, previas reservaciones.
La filosofía de Pedro respecto al turismo: "Como habitantes de la Isla, lo más importante que podemos hacer es promover los aspectos importantes de la misma. Todos somos embajadores y es nuestro deber mostrar a otros la belleza, historia y cultura de Cozumel".
An ex-Connecticut Yankee who has called Cozumel home for over 18 years, Laura ran away to the Caribbean years ago, bumped around the islands teaching SCUBA diving, lost some time in Jamaica, and finally stopped in Cozumel for a 2 week vacation that hasn't ended yet. With a degree in Journalism from a fancy private college she convinced her parents to pay for, Laura writes, edits, and creates the weeklyCozumel 4 You news,social media, and promotional articles about the island, as well as moderates the Cozumel 4 You Facebook group, which currently has over 25,000 members. Her long suffering husband, Fabian, has long since resigned himself to having zero private life, as he's been involved in her various schemes and plots since his arrival. Proud parents to a variety of rescue dogs and cats, Laura continues to be the bane of her traditional Mexican mother-in-law's existence, as she muses her way through life in the Mexican Caribbean.
______________________________
Una ex yanqui de Connecticut quien llama hogar a Cozumel desde hace más de 15 años. Laura escapó al Caribe hace años, desplazándose de una isla a otra dando clases de BUCEO. Se dedicó a perder el tiempo en Jamaica y finalmente se detuvo en Cozumel para pasar unas vacaciones de 2 semanas que aún no terminan. Convenciendo a sus padres que pagaran una elegante universidad privada, obtuvo su título en Periodismo y Laura crea semanalmente Cozumel 4You, medios sociales y artículos promocionales sobre la Isla y también es moderadora en el grupo Cozumel 4 You en Facebook que actualmente cuenta con 25,000 miembros. Fabián, s umuy tolerante marido, desde hace mucho tiempo se resignó a no tener vida privada, pues se ha visto implicado en los diversos proyectos y planes que urde Laura. Son orgullosos padres de diversos perros y gatos rescatados. Mientras contempla su paso a través de la vida en el Caribe mexicano,Laura continúa siendo la pesadilla en la existencia de su muy tradicional suegra mexicana.
Latest posts by Laura Wilkinson (see all)