Cozumel Pet Care
Cozumel Pet Center Opens November 12
A Full Service Pet Care & Medical Facility  ….

Pets play an important role in daily human activity. In fact, numerous studies have shown the benefits of this interrelation, for example, interaction with pets can improve cardiovascular function, achieve a degree of responsibility, independence, reduce anxiety and improve interpersonal relationships. If our pets can give you all that, and much more, one way to repay their care and love is the power of health services.
For the first time in Cozumel Island, families with pets will have available a Veterinary clinic with the upmost regards for the health of their pets. Our services available, include:
Emergency service 24/7
House calls
Specialists including internal medicine
Telemedicine in order to access highly specialized vets, examples: opthamology and pet psychology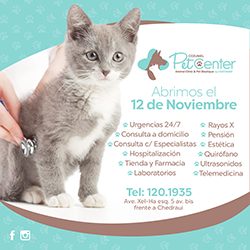 Hospitalization & OR
Laboratory & Xrays
Ultrasound
Pension
Grooming services
Pet store and pharmacy
We are pleased to welcome you to attend our opening on November 10th, 2018 at 6pm to celebrate with us, tour the clinic and meet our veterinarians. Our location is on Ave Xel Ha and Ave 5 bis. For more information please consult our Facebook page.
Cozumel Pet Center: Solutions for the health problems of your beloved pets.
En Noviembre 12 abre sus puertas Cozumel Pet Center
Un sitio con servicios de cuidados y médicos completos para mascotas . . .
Las mascotas juegan un papel importante en las actividades diarias de la vida humana. De hecho, numerosos estudios han demostrado los beneficios que conlleva esta interrelación. Por ejemplo, interactuar con las mascotas puede mejorar las funciones cardiovasculares, lograr un nivel de responsabilidad, independencia, reducir la ansiedad y mejorar las relaciones interpersonales. Si nuestras mascotas nos pueden dar todo eso, y mucho más, una manera de retribuir los cuidados y amor que éstas nos entregan es el poder de los servicios de salud.
Por primera ocasión en la Isla de Cozumel las familias con mascotas podrán tener a su disposición una clínica veterinaria con la más alta consideración a la salud de sus mascotas. Los servicios con los que contamos incluyen:
Servicios de emergencia las 24 horas, los 7 días de la semana;
Visitas médicas a casa;
Especialistas que incluyen medicina interna;
Telemedicina para poder tener acceso a veterinarios altamente especializados; por ejemplo: oftalmología y psicología animal,
Hospitalización y quirófano;
Laboratorio y rayos X;
Ultrasonido;
Pensión;
Servicios de peluquería;
Tienda para mascotas y farmacia.
Nos complace darle la bienvenida a nuestra inauguración el 10 de noviembre del 2018 a las 6 p.m. Celebre con nosotros, visite la clínica y conozca a nuestros veterinarios. Nos encontramos en Avenida Xel-Há y Avenida 5 bis. Para mayores detalles, por favor consulte nuestra página en Facebook.
Cozumel Pet Center: Soluciones para los problemas de salud de sus queridas mascotas.
Latest posts by Laura Wilkinson
(see all)