Join Art Feast at Casa Mission on Friday August 16

Enjoy a full day of experimentation and artistic creation. Join this Art Feast on Friday, August 16th, at Casa Missión.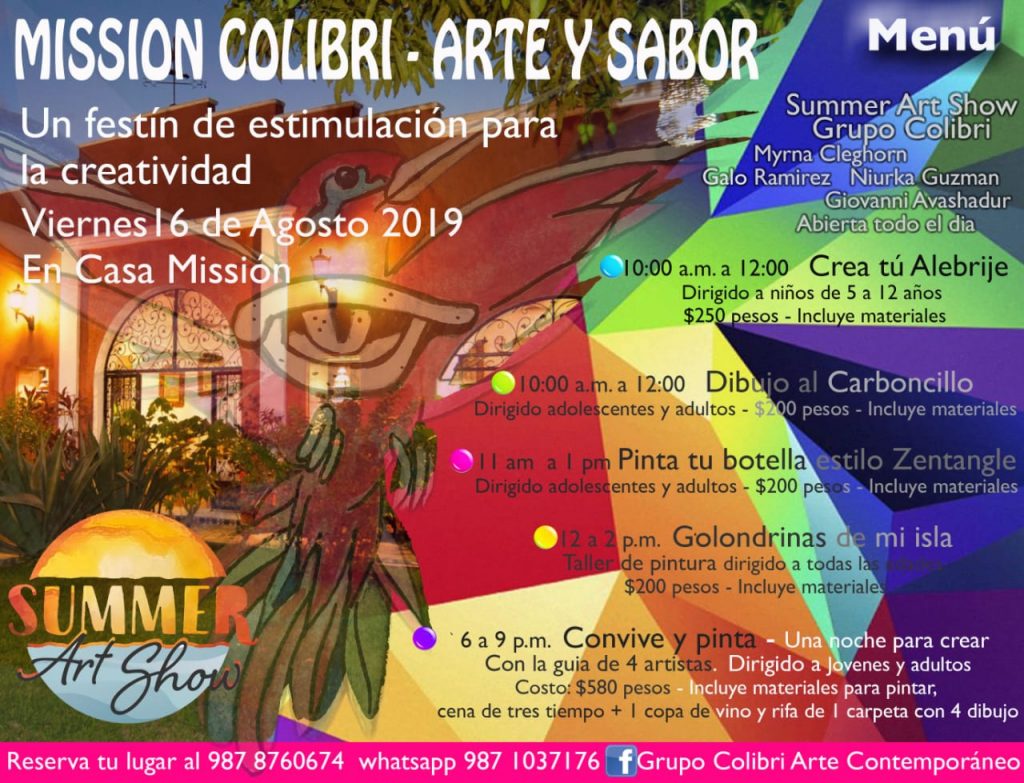 We start at 10 am with the opening of the pictorial exhibition of artists Myrna Cleghorn, Niurka Guzmán, Galo Ramirez and Giovanni Avashadur. (Open all day)
Choose from our Workshop Menu:
– 10:00 am to 12:30 pm: Create your own Alebrije. Experiment with the three-dimensional shape and the extensive range of vibrant colors that characterize the alebrijes. Cost $ 250 pesos. For children from 5 to 12 years old Includes supplies.
– 10:00 am to 12:00 pm: Charcoal Drawing Workshop. Explore the beauty of line and shape with this practical workshop. Cost $ 200 pesos. For young adults and up. Includes supplies.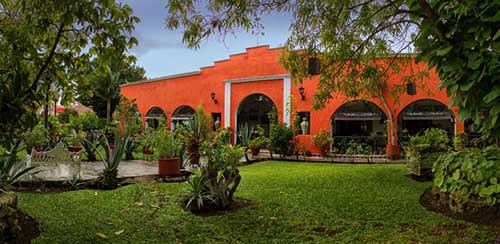 – 11:00 am to 1:00 pm: Paint your Zen tangle style bottle. Discover the therapeutic benefits of Zen tagle and live moments of relaxation and meditation, while working on your creativity. Cost $ 200 pesos. For young adults and up. Includes supplies.
– 12:00 to 2:00 pm: GOLONDRINAS DE MI ISLA. How do you imagine your Cozumeleñian swallow? Come and paint your Swallow with colorful Acrylics. We provide the supplies and you provide your imagination. Cost $ 200 pesos. Includes supplies.
– 6:00 – 9:00 pm: Close the day with our fun package: CONVIVE & PINTA. Create your own painting with the guidance of four experienced artists followed by a three-course dinner with the typical Mexican flavors of Casa Misión.
With the purchase of this package you participate in a raffle of a folder with four sketches by the artists of Grupo Colibrí Arte Contemporáneo. An excellent opportunity to win four original works of art! Cost $ 580 pesos.
Includes the supplies + 3 course dinner + 1 glass of wine + uncorking your own bottles + raffle folder with 4 works of art.
Reserve your place in advance. Limited availability.
For more information, 987 876 0674 / whatsapp 987 103 7176
Participen en el festín de arte en Casa Mission el viernes 16 de agosto
Disfruten un día completo de experimentación y creación artística. Únanse a este festín de arte el viernes 16 de agosto en Casa Missión.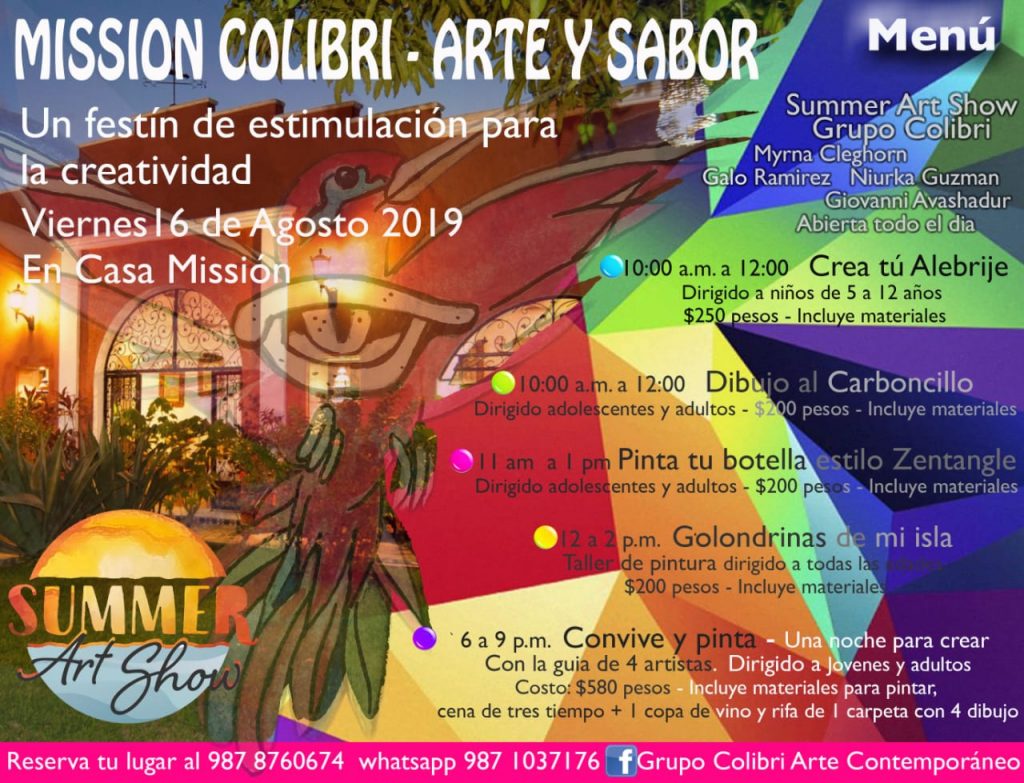 Comenzamos a las 10 a.m. con la inauguración de la exhibición pictórica de los artistas Myrna Cleghorn, Niurka Guzmán, Galo Ramírez y Giovanni Avashadur. (Estará abierto todo el día).
Pueden elegir del menú de talleres:
– 10:00 am a 12:30 pm: Creen su propio alebrije. Experimenten con estas formas tridimensionales y una amplia gama de colores vibrantes que caracterizan a los alebrijes. El costo es de $250 pesos. Para niños de 5 a 12 años se incluyen los materiales.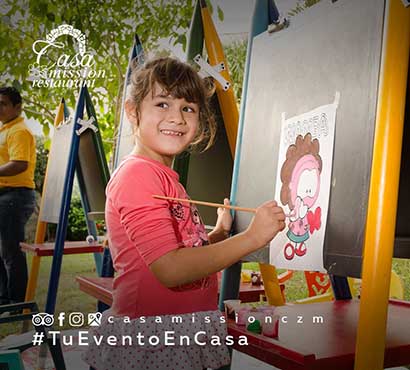 – 10:00 am a 12:30 pm: Taller de dibujo al carbón. Exploren la belleza de la línea y figura con este práctico taller. El costo es de $200 pesos. Para adultos jóvenes y mayores. Incluye materiales
– 11:00 am a 12:30 pm: Pinte su propia botella estilo Zen Tangale. Descrubra los beneficios terapéuticos de Zen Tangale y viva momentos de relajación y meditacion en tanto trabaja en su arte creativo. El costo es de $200 pesos. Para adultos jóvenes y mayores. Incluye materiales.
– 12:00 pm a 2:00 pm: Golondrinas de mi Isla. ¿Cómo se imaginan a una golondrina cozumeleña? Vengan y pinten su golondrina con coloridos acrílicos. Nosotros ponemos los materiales y ustedes ponen su imaginación. El costo es de $200 pesos. Incluye materiales.
– 6:00 pm a 9:00 pm: Cerrando el día con nuestro divertido paquete: Convive y Pinta. Creen su propia pintura bajo la guía de artistas expertos seguido de una cena de tres platillos con los típicos sabores mexicanos de Casa Missión.
Con la compra de este paquete participa en una rifa de un folder con cuatro dibujos creados por artistas del grupo Colibrí Arte Contemporáneo. ¡Esta es una excelente oportunidad para ganar cuatro obras de arte originales! El costo es de $580 pesos
Incluye los materiales, una cena de tres platillos, 1 copa de vino, descorche de sus propias botellas, rifa del folder con 4 obras de arte.
Reserve su lugar con antelación. Disponibilidad limitada.
Para más información llame al 987 876 0674 / WhatsApp 987 103 7176
An ex-Connecticut Yankee who has called Cozumel home for over 18 years, Laura ran away to the Caribbean years ago, bumped around the islands teaching SCUBA diving, lost some time in Jamaica, and finally stopped in Cozumel for a 2 week vacation that hasn't ended yet. With a degree in Journalism from a fancy private college she convinced her parents to pay for, Laura writes, edits, and creates the weeklyCozumel 4 You news,social media, and promotional articles about the island, as well as moderates the Cozumel 4 You Facebook group, which currently has over 25,000 members. Her long suffering husband, Fabian, has long since resigned himself to having zero private life, as he's been involved in her various schemes and plots since his arrival. Proud parents to a variety of rescue dogs and cats, Laura continues to be the bane of her traditional Mexican mother-in-law's existence, as she muses her way through life in the Mexican Caribbean.
______________________________
Una ex yanqui de Connecticut quien llama hogar a Cozumel desde hace más de 15 años. Laura escapó al Caribe hace años, desplazándose de una isla a otra dando clases de BUCEO. Se dedicó a perder el tiempo en Jamaica y finalmente se detuvo en Cozumel para pasar unas vacaciones de 2 semanas que aún no terminan. Convenciendo a sus padres que pagaran una elegante universidad privada, obtuvo su título en Periodismo y Laura crea semanalmente Cozumel 4You, medios sociales y artículos promocionales sobre la Isla y también es moderadora en el grupo Cozumel 4 You en Facebook que actualmente cuenta con 25,000 miembros. Fabián, s umuy tolerante marido, desde hace mucho tiempo se resignó a no tener vida privada, pues se ha visto implicado en los diversos proyectos y planes que urde Laura. Son orgullosos padres de diversos perros y gatos rescatados. Mientras contempla su paso a través de la vida en el Caribe mexicano,Laura continúa siendo la pesadilla en la existencia de su muy tradicional suegra mexicana.
Latest posts by Laura Wilkinson (see all)