Discover Mexico Market Cozumel
Discover Mexico Park to Host Artisan & Craft Market
September 1st starting at 6 pm ….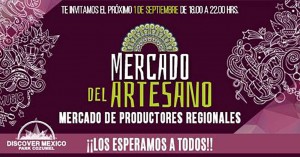 Coming up at Discover Mexico Park Cozumel on September 1st, starting at 6:00 pm, the artisan and handcrafts' market.
Discover Mexico Park Cozumel will be hosting their "Handcrafts' market" on this Saturday, September 1, at 6:00 p.m., and until 9:00 p.m. This is a free entrance event.  Various artisans from Cozumel Island as well as Playa del Carmen will be bringing their handcrafted products for sale, ranging from aromatherapy, knitted clothes and organic plants and snacks.
Additionally, the park will be offering their own snack food at reduced prices for all attendees to enjoy!
Join in for this great event suitable for all family members, and open for all locals, expats, as well as tourists. Visit
their Facebook event page for further info.
Discover Mexico presenta el mercado de artesanías y manualidades
1º de septiembre a partir de las 6 p.m.. . . .
A partir de las 6:00 pm del día 1º de septiembre, llega  al parque Discover Mexico en Cozumel el mercado de artesanías y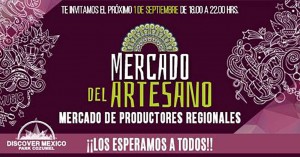 manualidades.
El parque Discover Mexico en Cozumel presenta el "Mercado de Manualidades" este sábado 1º e septiembre a partir de las 6:00 pm y hasta las 9:00 pm. Es un evento de entrada gratuita. Diversos artesanos de la Isla de Cozumel así como de Playa del Carmen, tendrán sus productos a la venta; desde aromaterapia, ropa tejida, plantas orgánicas y bocadillos.
Además, ¡el parque ofrecerá sus propios bocadillos a precios bajos para que todos los visitantes puedan disfrutarlos!
Sean parte de este gran evento adecuado para todos los miembros de la familia, abierto a todos los residentes locales, a los expatriados y turistas. Visiten su página en facebook para obtener mayor información.
Laura Wilkinson is the Editor for Cozumel 4 You. An ex-Connecticut Yankee who has called Cozumel home for over 15 years, Laura ran away to the Caribbean years ago, bumped around the islands teaching SCUBA diving, lost some time in Jamaica, and finally stopped in Cozumel for a 2 week vacation that hasn't ended yet. With a degree in Journalism from a fancy private college she convinced her parents to pay for, Laura writes, edits, and creates the weekly Cozumel 4 You news, promotional articles about the island, and her very own blog, which she finds hilarious. Her long suffering husband, the Fabster, has long since resigned himself to having zero private life, as he's been involved in her various schemes and plots since his arrival. Proud parents to a variety of rescue dogs and cats, Laura continues to be the bane of her traditional Mexican mother-in-law's existence, as she muses her way through life in the Mexican Caribbean.
Latest posts by Laura Wilkinson (see all)