Cozumel Humane Golf Tournament
Save the Date:  HSCI "Putts for Paws 2018"  Golf Tournament
Saturday November 3rd….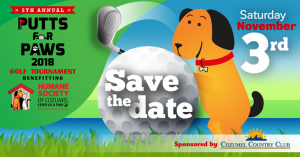 The 5th annual "2018 Charity Golf Tournament hosted by the Cozumel Country Club which takes place on Saturday November 3rd.  Tee time is 9am.  For registration information email us at pets@humanecozumel.org.  This year's event will be over the top with more than 60 prizes to give away at the post tournament lunch. Local restaurants  will provide a sumptuous meal at the end of the tournament and the drinks will be flowing.
Even if you're not a golfer or volunteering for the Tournament you're more than invited to the kick off cocktail  party!!
The  5 th annual Kick-off cocktail event  – which will take place the evening before – Friday November 2nd –  with a location to be announced!
For more information or to register your team please email  pets@humanecozumel.org
Reserven la fecha: Torneo de golf Putts for Paws de la Sociedad Humanitaria de la Isla de Cozumel
Sábado 3 de noviembre. . . .
Quinto Torneo de Beneficencia del Country Club de Cozumel que tendrá lugar el sábado 3 de noviembre. El tiempo de salida ("tee-time") es a las 9 a.m. Para información sobre cómo registrarse, envíennos un correo a pets@humanecozumel.org. El evento de este año será excepcional pues se repartirán más de 60 premios a la hora de la
comida del torneo. Restaurantes locales ofrecerán una magnífica comida y bebidas al final del torneo.
Incluso si usted no practica golf o es presta sus servicios como voluntario para el torneo, ¡está más que invitado a la fiesta de coctel! El 5º coctel anual, que se llevaría a cabo la noche anterior el viernes 2 de noviembre, ¡y se anunciará el local!
Para mayor información o para registrar a su equipo, por favor envíen un mensaje a pets@humanecozumel.org
Latest posts by Laura Wilkinson
(see all)