Amerimed Hospital Cozumel Eating Cozumel
Amerimed Hospital & El Palomar Restaurant Host Free Master Cooking Class
Wednesday June 27th – from 5 – 7 pm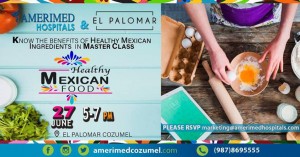 Amerimed Hospital Cozumel and El Palomar Restaurant have recently joined forces and will be hosting a Free "Master Class"  on cooking with healthy Mexican ingredients.
The class is free and open to the public, in fact, it's been touted as a "Meet, Greet & Eat"   Chef Paola Torroella, from El Palomar Restaurant has collaborated with Dra. Ixchel Rios, from Amerimed Hospital to create some delicious and healthy Mexican food using locally sourced ingredients.
The class will be held at El Palomar, which is located right on the waterfront in a historic building, just south of the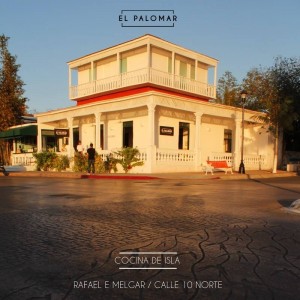 offices of the Port Captain.  For more information, please check out their Facebook event page.
Space is limited, so it's important to RSVP  to marketing@amerimedhospitals.com in order to save your space.
El Hospital Amerimed y el restaurante El Palomar ofrecen una clase magistral de cocina gratuita
Miércoles 27 de junio de 5 a 7 pm . . . .
Hace poco el hospital Amerimed de Cozumel y el restaurante El Palomar unieron fuerzas y ofrecerán una "Clase Magistral" de cocina con ingredientes mexicanos saludables.
La clase es gratuita y está abierta al público. De hecho se ha promocionado como  "Meet, Greet and Eat" (Reunámonos, Conozcámonos y Comamos). La Chef Paola Torroella del restaurante El Palomar ha colaborado con la Dra. Ixchel Ríos del hospital Amerimed para crear algunos platillos deliciosos y sanos con comida mexicana, usando ingredientes que se obtienen localmente.
La clase tendrá lugar en El Palomar que se ubica en el malecón en una construcción histórica, justo hacia el sur de las oficinas de la Capitanía de Puerto. Para obtener mayores detalles, por favor echen un vistazo a su página de eventos en Facebook.
El cupo es limitado por lo que es importante que confirme su asistencia en marketing@amerimedhospitals.com
Latest posts by Laura Wilkinson
(see all)