Cozumel Weekly News in Photos
by Karina Carrion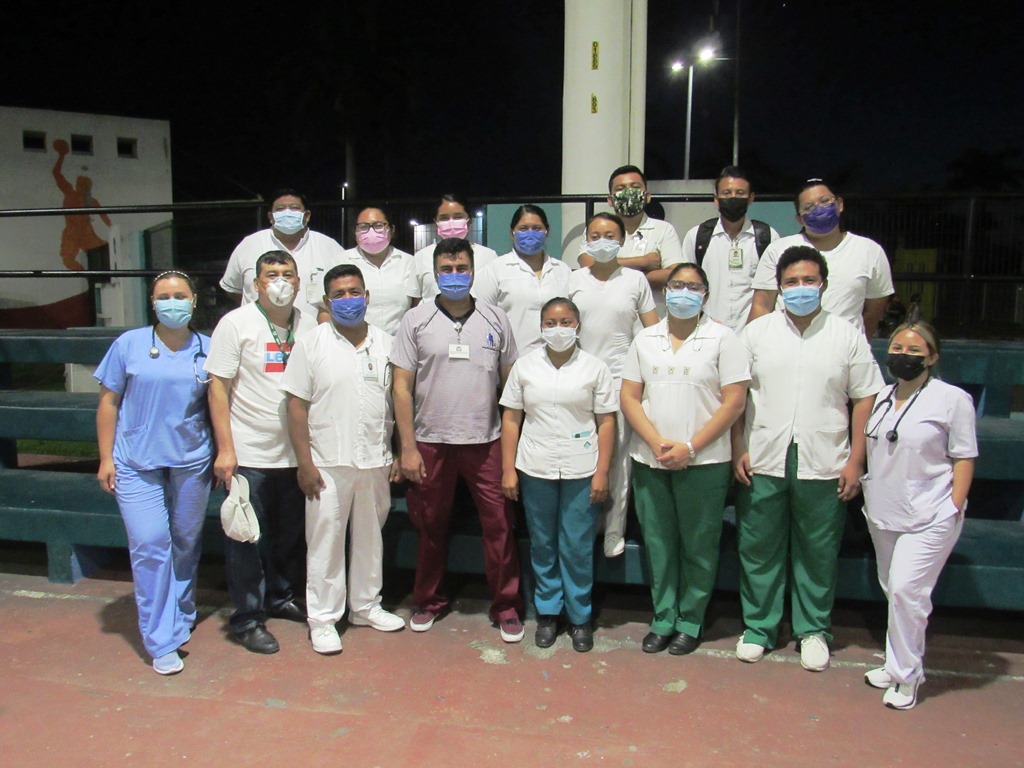 Much is being said about how late, boring and tiring it is while waiting in line to get the jab against Covid-19 on either of the programmed days in the Island. This Cozumel4You edition is paying a small homage to the more than 40 "heroes without cape" or health workers who have immunized thousands of islanders.
Contrary to recognition and accolades given to athletes, students, businessmen or politicians, the hard work done by the staff in the front line against SARS-Cov-2, such as doctors and nurses, has not been fully appreciated or recognized by the citizens.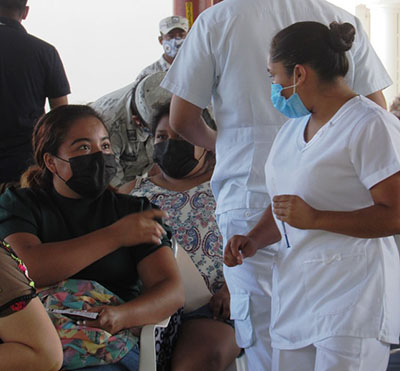 However, according to information we are sharing with you here, about 20 nurses of the Mexican Institute of Social Security (IMSS) in Cozumel assigned to the Covid vaccination shifts agreed that they do not need the applause despite the strain they have had to endure while vaccinating thousands and thousands of people. On the contrary, at the end of each day they celebrate with cheers and acknowledgements among themselves when they are finally alone in each venue, while people ignore the physical and mental condition they might have as part of that strain.
Through Collage Informativo, Cozume4You gives a special recognition to: Jackelin, Juan Ricalde, Alondra, Andreitus, Ángel, Blanca, Patricia, Paola, Keyla, Ismael, Cristel, Jorge, Ileana as well as the head of nurses, Lauro, without forgetting Ramón Magaña Ceja, the director of IMSS, as well as ISSSTE's staff. As well as all volunteers and members of the brigades known in Mexico as "Correcaminos" [Roadrunners] for their patience, dedication and devotion to each person that has been vaccinated as well as foreign nationals who reside in Cozumel.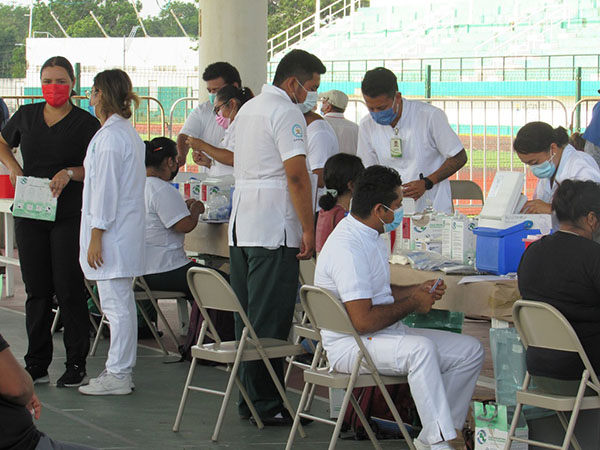 It would seem like an easy day, but all health workers have had to endure more than 12 hours working every day they apply the biological jabs, as this situation forces them to be standing for several hours as well as bending when they must apply the shot, a position which is quite uncomfortable and exhausting for those who believe it to be an easy thing, especially as sometimes citizens' vaccination schedules have been extended.
Juan RIcalde, one of the nurses assigned to the "Bicentenario" venue, part of IMSS Cozumel, that both him as well as his colleagues must meet their work hours for the rest of the day as their shifts do not end when they finish applying the shots given hospital duties and other services must be covered, and these are things that citizens do not understand or take into consideration, he regretted.
On the other hand, Lauro -the head nurse-, shared that at the early last February when the vaccination program began, a strategy was put in place which, though effective, has been improved to speed up the application of doses to as many people as possible. The strategy made it possible to give the vaccines to more than 10,000 people.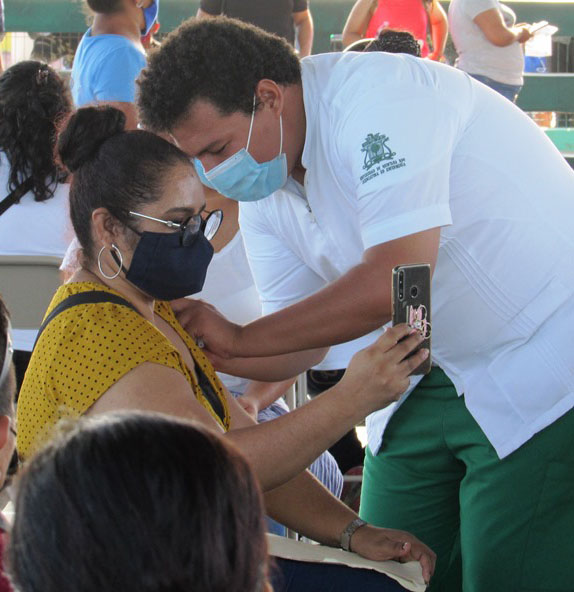 The "heroes without capes'" commitment continues day and night. They all agreed that facing the risk of Covid infection during each workday and outside is completely uncertain; likewise agree that the vaccine could allow fewer deaths than those recorded at the beginning of the pandemic. They also hope that citizens will be responsible and continue taking care of themselves even if they have had one or two jabs. For this reason and even more, Cozmel4You thanks health workers for the work they are doing.
COLLAGE INFORMATIVO
Por Karina Carrión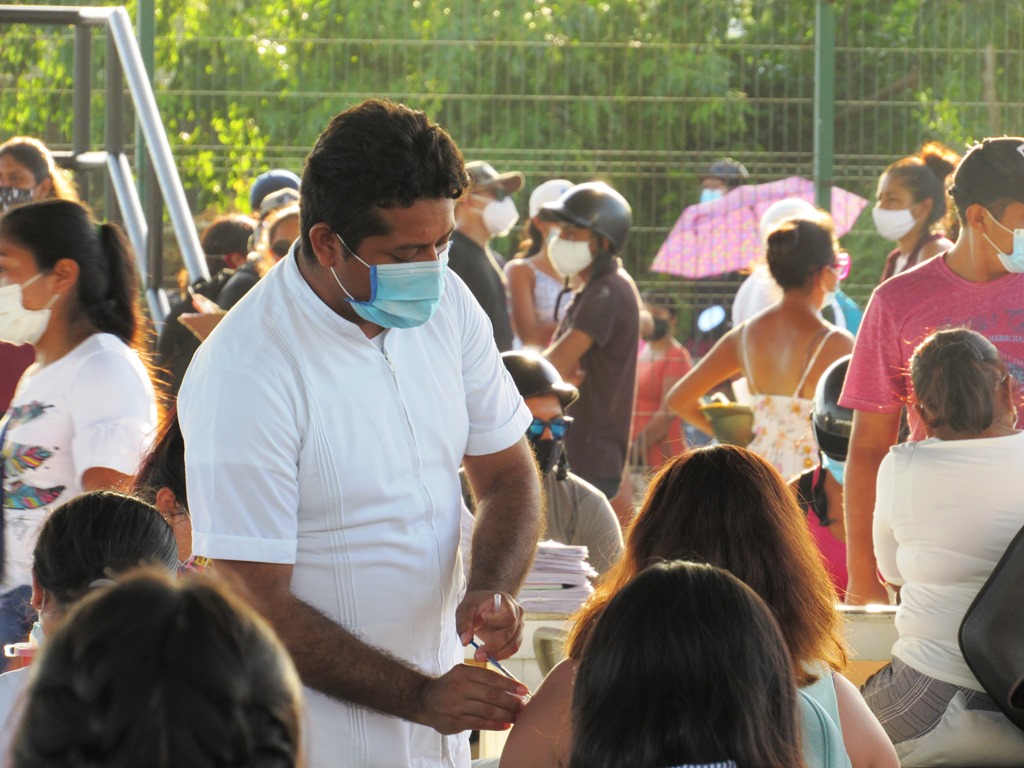 COZUMEL, agosto 2021.- Mucho se habla de lo tardío, aburrido y cansado que resulta esperar en las filas para recibir la vacuna en las diferentes jornadas de vacunación contra el Covid-19 en la isla; sin embargo, en esta edición "Cozumel4you" rinde un pequeño homenaje a por los más de 40 "Héroes sin capa" o trabajadores de la salud que han atendido a miles de isleños para inmunizarlos
Contrario a los reconocimientos y ovaciones que se han dado a deportistas, estudiantes, empresarios o políticos, el arduo trabajo del personal de la primera línea de riesgo de contagio del SARS-CoV-2 como son los médicos y enfermeros, no ha sido del todo valorado o reconocido por los ciudadanos.
Sin embargo, de acuerdo a información les compartimos que cerca de 20 enfermeros del Instituto Mexicano del Seguro Social (IMSS) de Cozumel, comisionados para los turnos de la jornada de vacunación contra el Covid, coincidieron en que no han necesitado de aplausos pese al cansancio que han tenido que aguantar al vacunar a miles y miles de personas; por el contrario, al concluir cada jornada celebran con aplausos y reconocimientos entre ellos al quedarse solos en cada recinto, mientras que la gente ignora la condición física y mental que pudieran tener como parte del cansancio.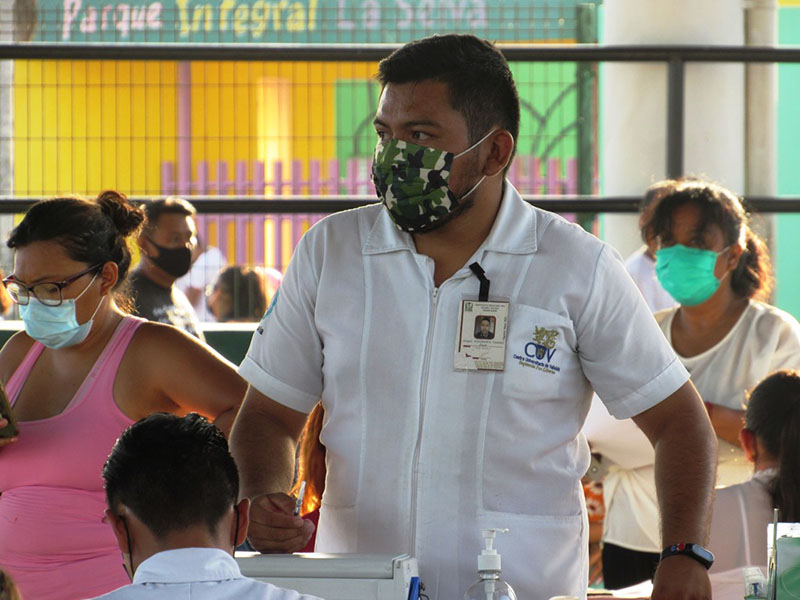 De Cozumel 4you, a través del espacio de Collage Informativo,  brindan un reconocimiento a: Jackelin, Juan Ricalde, Alondra, Andreitus, Ángel, Blanca, Patricia, Paola, Keyla, Ismael, Cristel, Jorge,  Ileana, así como al Jefe de enfermeros, Lauro, sin faltar el director del IMSS, Ramón Magaña Ceja, de igual manera a todo el personal del ISSSTE, contemplando a todos los voluntarios e integrantes de las brigadas denominadas en México como "Correcaminos", debido a la paciencia, entrega y dedicación con cada una de las personas que han sido vacunadas, entre éstos se han incluido a residentes extranjeros.
Pareciera una jornada fácil; sin embargo los trabajadores de la salud han tenido que resistir más de 12 horas de labor en cada jornada en la que han aplicado miles de biológicos a las personas, situación que los obliga a permanecer de pie por varias horas, así como a inclinarse para la aplicación, posición que resulta incómoda y agotadora para quien considere que es una acción fácil, sobre todo porque en ocasiones se ha extendido el horario de vacunación de los ciudadanos.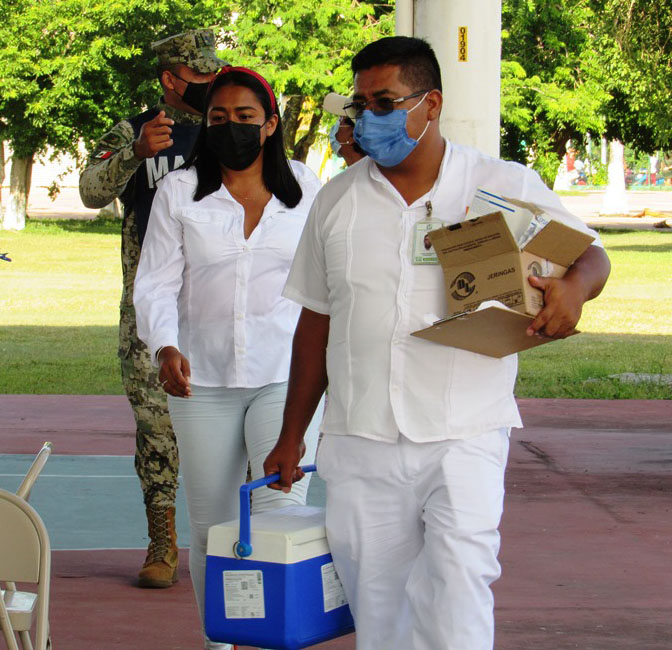 Juan Ricalde, uno de los enfermeros asignados al módulo de la "Bicentenario", perteneciente al IMSS Cozumel, refirió que al igual que sus demás compañeros, tienen que cumplir con sus horas laborales el resto del día, porque su jornada no concluye en la vacunación, toda vez que algunos de éstos tienen que complementar las guardias y otros servicios en el nosocomio, pero son cosas que los ciudadanos no comprenden o valoran, lamentó.
Por su parte, Lauro, jefe de enfermeros, compartió que al inicio de las jornadas en febrero pasado, realizaron una estrategia de vacunación que si bien, fue efectiva, la ha mejorado para agilizar la aplicación de las dosis a mayor cantidad de gente posible, lo que tan solo en una semana les permitió vacunar a más de 10 mil personas.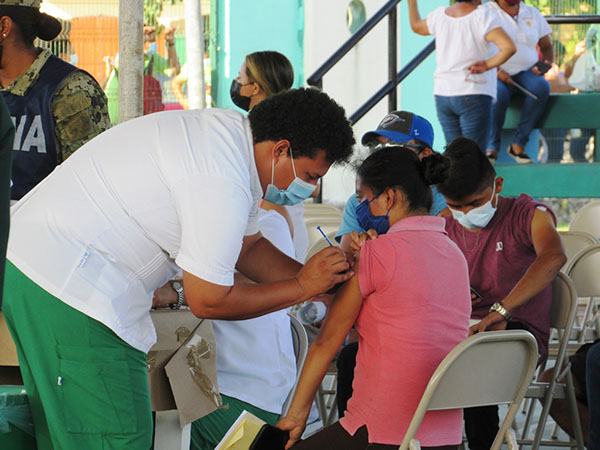 El compromiso de los héroes sin capa permanece día y noche, por lo que coincidieron en referir que el enfrentarse al riesgo de contagio de Covid durante cada jornada laboral y fuera de ésta, es de total incertidumbre, por lo que consideraron que la aplicación de la vacuna podrá permitir menos casos de mortalidad como se registró al inicio de la pandemia; sin embargo esperan que los ciudadanos sean responsables y continúen cuidándose a pesar de estar inmunizados con una o las dos dosis, señalaron, por eso y más, "Cozumel 4You" agradece a los trabajadores de la salud por su trabajo.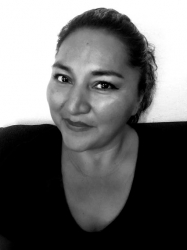 Latest posts by Kary Carrión
(see all)