Quintana Roo Vaccination Rates
NEARLY 1 MILLION QUINTANA ROO INHABITANTS HAVE BEEN FULLY VACCINATED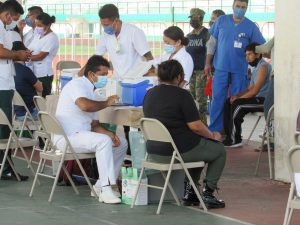 In Quintana Roo, a total of 999,186 people have been fully vaccinated against COVID-19.
*Of the two-dose type, 965,662 have already received the second jab, and a total of 33,524 have the one-dose vaccine.
Chetumal. – The Secretary of Health, Alejandra Aguirre Crespo, informed that from January until 1 p.m. on November 22 the total of doses applied in Quintana Roo COVID-19 is 2,135,542.
She explained that of the first dose a total of 1 million 136 thousand 356 have been applied, and 965 thousand 662 of the second one, while 33 thousand 524 doses have been the one-dose vaccine.
She elaborated by saying that 35 thousand 331 doses were given to health care personnel; 216 thousand 207 to people over 60; 274 thousand 114, to people between 50 and 59, and 394 thousand 330 for people between 40 and 49.
She added that for people 30 to 39 the doses applied were 492 thousand 935; from 18 to 29 years old, 676 thousand 485; pregnant women, 10 thousand 820; youngsters  12 to 17 years old with comorbidities 1 thousand 209; for those in the educational system 30 thousand 256; and among brigade personnel, volunteers and other groups a total of 3 thousand 855.
She also made a call asking the population not to let their guard down and continue correctly using the masks, social distancing and hand disinfection frequently washing hands or using alcohol gel to reduce contagion risks.
Cerca de 1 millón de habitantes de Quintana Roo han sido totalmente vacunados
En Quintana Roo, un total de 999 mil 186 personas cuentan con su esquema completo de vacunación contra la COVID-19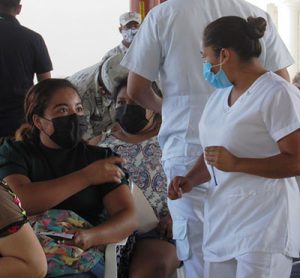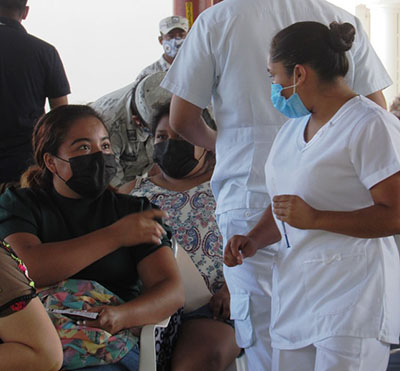 *Del tipo de dos dosis, 965 mil 662 ya recibieron la dos y suman 33 mil 524 los que cuentan con la vacuna unidosis
Chetumal. – De enero al corte de las 13 horas del 22 de noviembre, en Quintana Roo, el total de dosis acumuladas aplicadas contra la COVID-19 es de 2 millones 135 mil 542, informó la secretaria de Salud Alejandra Aguirre Crespo.
Explicó que, del esquema de dos dosis, se han aplicado un total 1 millón 136 mil 356 de la primera y 965 mil 662 de la segunda, en tanto de unidosis suman 33 mil 524.
Detalló que en personal de salud se aplicaron 35 mil 331 dosis, en mayores de 60 años 216 mil 207, en los de 50 a 59 años de edad 274 mil 114 y en los de 40 a 49 años un total de 394 mil 330.
Agregó que en las personas de 30 a 39 años el acumulado de dosis aplicadas es de 492 mil 935, en los de 18 a 29 años es de 676 mil 485, en embarazadas de 10 mil 820, en adolescentes de 12 a 17 años con comorbilidades de mil 209, en personal del sistema educativo de 30 mil 256, y en personal de brigadas, voluntarios y otros grupos es de un total de 3 mil 855.
Así mismo hizo un llamado a la población a no bajar la guardia y continuar con el uso correcto de cubrebocas, la sana distancia y la desinfección de manos con el lavado frecuente o uso del alcohol gel para disminuir los riesgos de contagio.
Latest posts by Laura Wilkinson
(see all)