Cozumel Cruz Roja  New Ambulance
Cozumel's Cruz Roja Receives New Ambulance
Donations from residents & foundations create a safer island…
Cozumel's Cruz Roja, or Red Cross in English, recently took delivery of a brand-new ambulance.  Daniel Cortes, the organization's President, expressed his gratitude to all of the individuals that made such a monumental achievement possible.
The new ambulance is  affixed with the logos of the various organizations that have contributed.  Of specific note is the "Carnaval Group," a group of volunteers who   once-a-year man a Mardi Gras bead booth, accepting donations of $3, $5 or $10 (USD or the equivalent in Mexican pesos) for the Cruz Roja in exchange for a string of Mardi Gras beads.
Cozumel's Cruz Roja's continued service depends solely on community support. The local delegation is not financed by the State or National Red Cross headquarters.
Though our municipal government offers certain emergency and rescue services through its Civil Protection and C-4, the Red Cross is not a part of the government. And it is not economically supported by the government.
Some of the services the Cruz Roja provides here in Cozumel are:
— Free 24-hour/365 day, emergency ambulance response. Dial 065 from any telephone for direct connection to the Red Cross dispatcher.
— Walk-in and by-appointment medical services at the best prices in town! These include general medicine, dentistry, x-ray and orthopedics, laboratory and infirmary/nursing services. Our facility is clean, federally-certified and many of our professionals speak English as well as Spanish. Your use of the clinic is important because, with increased numbers of patients, we can offer more doctors with more specialties during more hours of each day.
— Professional training and certification in Cozumel for local residents to become EMT's, paramedics, lifeguards, and aquatic rescue personnel. The Red Cross also teaches employees at many businesses on the island about public hygiene and safety,  first-aid and CPR, and other specific items of interest.
—  Educational and volunteer opportunities for local youth. The youth movement (Juventud) of the Red Cross is very active here.
(Thank you to Daniel Cortes (President, Cozumel Delegation), Martha Sempere (Past President), and Deborah Bollag (Consejera) for information on the activities and services provided by the Cruz Roja in a previous edition of Cozumel 4 You NEWS)
Llega nueva ambulancia a la Cruz Roja de Cozumel
En fechas recientes llegó una nueva ambulancia a la Cruz Roja de Cozumel. Daniel Cortés, presidente de la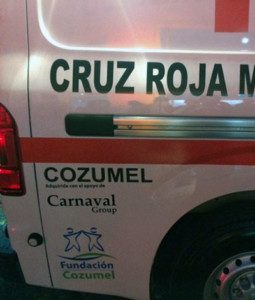 organización, expresó su agradecimiento a todos los que brindaron su apoyo para que este gran logro se convirtiera en una realidad.
La nueva ambulancia porta los logotipos de las diversas empresas que contribuyeron. Algo que merece resaltarse es el "Grupo de Carnaval" un grupo de voluntarios que una vez al año se encargan del estand de venta de collares para el Carnaval, aceptando donativos de $3, $5 o $10 dólares estadunidenses o su equivalente en moneda nacional) para la Cruz Roja a cambio de un collar de Carnaval.
El servicio permanente de la Cuz Roja depende únicamente del apoyo de la comunidad. La delegación local no cuenta con financiamiento del Estado o de la central de la Cruz Roja.
No obstante que nuestro gobierno municipal ofrece ciertos servicios de emergencia y rescate a través de Protección Civil y  el C-4, la Cruz Roja no es parte del gobierno, y no cuenta con el apoyo de éste.
Algunos servicios que ofrece la Cruz Roja en Cozumel son:
– Respuesta de ambulancia de emergencia las 24 horas del día, los 35 días de la semana. Marque 065 para obtener conexión directa con el despachador de la Cruz Roja.
– Servicios médicos sin previa cita y con cita, ¡a los mejores precios de la ciudad! Estos incluyen medicina general, dentista, rayos x y ortopedia, laboratorio y servicios de enfermería. Nuestras instalaciones están limpias, cuentan con certificación a nivel federal y muchos de nuestros profesional hablan inglés y español. El uso que usted haga de la clínica es importante puesto que con el incremento de pacientes nos es posible ofrecer más especialidades médicas, durante más horas al día.
– Capacitación y certificación profesional en Cozumel para que los habitantes de Cozumel se conviertan en Técnicos Médicos en Emergencias, en paramédicos, guardavidas y personal de rescate acuático. La Cruz Roja también imparte enseñanza a los empleados de muchas empresas en la Isla acerca de la higiene y seguridad públicas, primeros auxilios y RCP, así como otros temas de interés.
– Oportunidades educativas y como voluntarios para la juventud local. El movimiento Juventud de la Cruz Roja es muy activo es Cozumel.
(Agradecemos a Daniel Cortés (presidente de la delegación Cozumel), a Marta Sempere (presidente anterior) y a Deborah Bollag (consejera) por la información sobre las actividades y servicios proporcionados por la Cruz Roja en una edición previa de NOTICIAS Cozumel 4 You).
An ex-Connecticut Yankee who has called Cozumel home for over 18 years, Laura ran away to the Caribbean years ago, bumped around the islands teaching SCUBA diving, lost some time in Jamaica, and finally stopped in Cozumel for a 2 week vacation that hasn't ended yet. With a degree in Journalism from a fancy private college she convinced her parents to pay for, Laura writes, edits, and creates the weeklyCozumel 4 You news,social media, and promotional articles about the island, as well as moderates the Cozumel 4 You Facebook group, which currently has over 25,000 members. Her long suffering husband, Fabian, has long since resigned himself to having zero private life, as he's been involved in her various schemes and plots since his arrival. Proud parents to a variety of rescue dogs and cats, Laura continues to be the bane of her traditional Mexican mother-in-law's existence, as she muses her way through life in the Mexican Caribbean.
______________________________
Una ex yanqui de Connecticut quien llama hogar a Cozumel desde hace más de 15 años. Laura escapó al Caribe hace años, desplazándose de una isla a otra dando clases de BUCEO. Se dedicó a perder el tiempo en Jamaica y finalmente se detuvo en Cozumel para pasar unas vacaciones de 2 semanas que aún no terminan. Convenciendo a sus padres que pagaran una elegante universidad privada, obtuvo su título en Periodismo y Laura crea semanalmente Cozumel 4You, medios sociales y artículos promocionales sobre la Isla y también es moderadora en el grupo Cozumel 4 You en Facebook que actualmente cuenta con 25,000 miembros. Fabián, s umuy tolerante marido, desde hace mucho tiempo se resignó a no tener vida privada, pues se ha visto implicado en los diversos proyectos y planes que urde Laura. Son orgullosos padres de diversos perros y gatos rescatados. Mientras contempla su paso a través de la vida en el Caribe mexicano,Laura continúa siendo la pesadilla en la existencia de su muy tradicional suegra mexicana.
Latest posts by Laura Wilkinson (see all)