Art in Cozumel: Exhibition in Memory of Minerva Marí Hadad
text & translation by Greg Dietrich and Liliana Macotela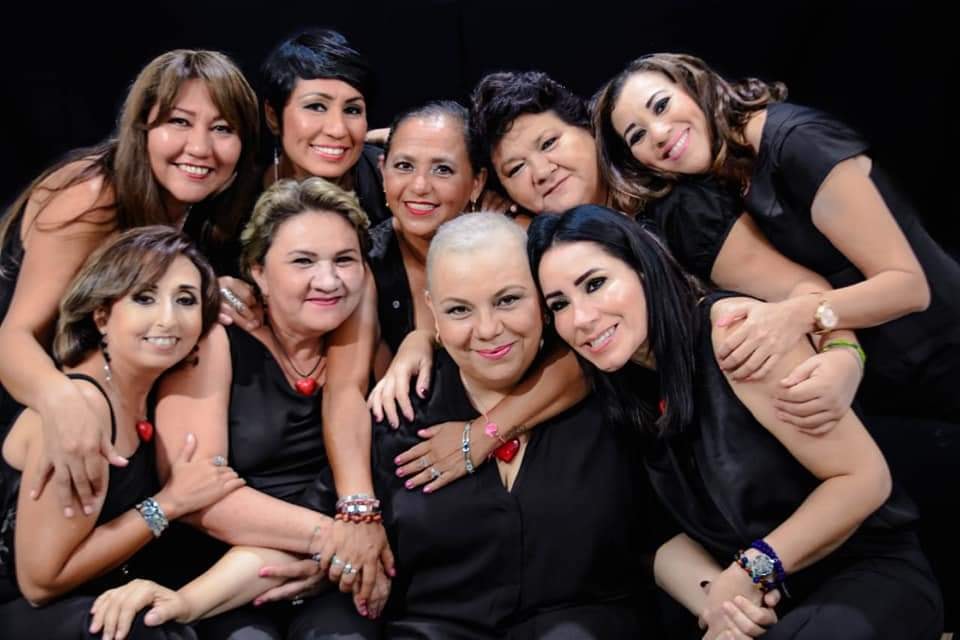 This article is dedicated to Minerva Marí Hadad, a Cozumel woman who worked in the island's cultural sphere for more than half her life through the state and municipal government. But unfortunately, on November 3 of this year she died after four years of tirelessly fighting cancer.
Throughout her life, painting was part of her history. While working for 15 years as the person in charge of the Pedagogy area of ​​the Museum of the Island, within the Foundation of Parks and Museums of Cozumel, Minerva painted pictures in her free time.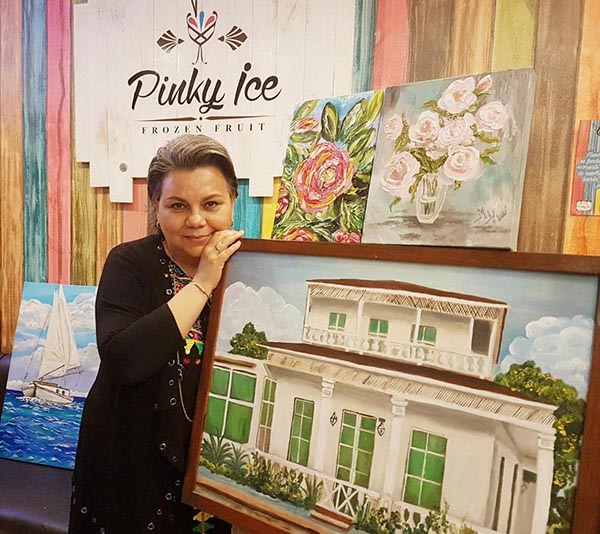 Coming from a local family, she also had a great love for the island and for local traditions, so during the time she worked as a culture officer; she promoted the customs of the local culture with various activities.
She also served as director of municipal Culture and later in April 2011 she was appointed director of the Casa de la Cultura Ixchel. This allowed her to make friends and relationships with the local community, including of course, the artists. At the same time, she jumped into experimenting with art and letting people see what he was doing. She had two solo exhibitions and participated in dozens of group shows.
Her pictorial work remained not only among her family, but also among friends and visitors who at different times acquired some of her paintings.
Minerva Marí Hadad was only three days away from turning 54 when she left this world, but she left in the memory of those who knew her, a great affection, good memories and the admiration of friends and family.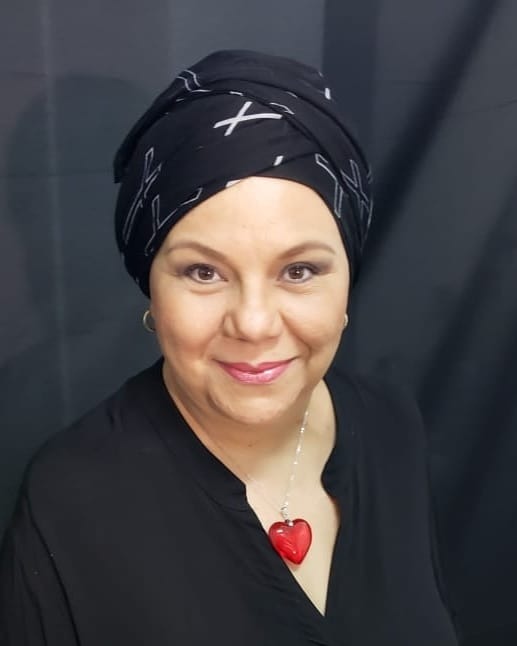 That is why the Cozumel Parks and Museums Foundation, through the Museum of the Island, has organized in her honor, the exhibition: Posthumous Tribute to Minerva Marí Hadad "The Artist", which will open on Thursday, December 10 at 7pm, and will also be broadcast on Face Live. The exhibit will be open until January 10, 2021
More than 70 works in different formats make up this special exhibition in memory of someone who found part of her path and essence in art. One of her last thoughts, she dedicated to local artists:
"To my fellow artists, let them know that I ask them to fight so that the magic of art and culture in our town never disappears, that they continue to be free in their creativity to continue having a world full of color, music, images, sensations and wonderful lyrics".
Let us remember and celebrate with this exhibition, not the cultural official, but the painter from Cozumel.
Exposición en Memoria de Minerva Marí Hadad
texto & traduccion por Greg Dietrich & Liliana Macotela
Este artículo está dedicado a Minerva Marí Hadad, una mujer cozumeleña que más de la mitad de su vida laboró en el ámbito cultural de la isla a través del gobierno estatal y municipal. Pero desafortunadamente el pasado 3 de noviembre de este año ella murió, tras cuatro años de luchar incansablemente contra el cáncer.
Durante toda su vida, la pintura fue parte de su historia. Y fue así que paralelamente a haber trabajado durante 15 años como encargada del área de Pedagogía del Museo de la Isla, dentro de la Fundación de Parques y Museos de Cozumel, Minerva pintaba cuadros en su tiempo libre.
Proveniente de una familia local, también tenía un gran amor por la Isla y por las tradiciones locales, por ello durante el tiempo en que se desempeñó como funcionaria de la cultura, impulsó con diversas actividades, las costumbres de la cultura local.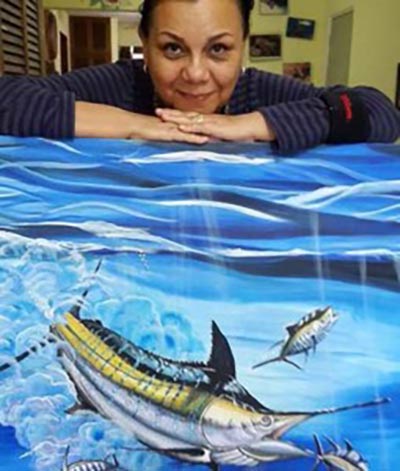 Ella también se desempeñó como directora de Cultura municipal y posteriormente en abril del 2011 fue nombrada directora de la Casa de la Cultura Ixchel . Esto le permitió hacer amistades y relaciones con la comunidad local, incluidos, por supuesto, a los artistas, y al mismo tiempo, lanzarse a experimentar con el arte y dejar ver lo que hacía. Tuvo dos exposiciones individuales y participó en decenas de muestras colectivas.
Su obra pictórica quedó no sólo entre su familia, sino entre amigos y visitantes que en diferentes momentos adquirieron alguno de sus cuadros.
Minerva Marí Hadad estaba a tres días de cumplir 54 años, cuando se marchó de este mundo, pero dejó en la memoria de quienes le conocieron, un gran cariño, buenos recuerdos y la admiración de amigos y familia.
Es por ello, que la Fundación de Parques y Museos de Cozumel, a través del Museo de la Isla ha organizado en su honor, la exposición: Homenaje Póstumo a Minerva Marí Hadad "La artista", se inaugurará el jueves 10 de diciembre a las 7 de la noche y también se transmitirá por Face Live.
Se podrá visitar la exposición hasta el 10 de Enero del 2021.
Más de 70 obras en diferentes formatos, integran esta esta especial muestra en memoria de alguien que encontró en el arte parte de su camino y de su esencia. Uno de sus últimos pensamientos, los dedicó a los artistas locales:
"A mis colegas artistas, háganles saber que les pido que luchen para que nunca desaparezca la magia del arte y la cultura en nuestro pueblo, que sigan siendo libres en su creatividad para seguir teniendo un mundo lleno de color, música, imágenes, sensaciones y letras maravillosas". Recordemos y celebremos con esta exposición no a la funcionaria cultural, sino a la pintora cozumeleña.

Latest posts by Greg Dietrich
(see all)