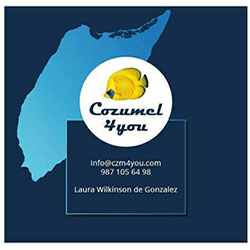 Cozumel 4 You is a comprehensive marketing and promotions company helping small business in Cozumel to bond and grow together. We're dedicated to promoting small locally owned businesses rather than the large conglomerate corporations.
As our customer, you are united with other local area merchants, pooling your marketing efforts and creating a stronger promotional campaign.
The Cozumel 4 You Website maintains consistent high Google rankings. Our clients receive their own webpage within the Cozumel 4 You website, which serves additional search engine-friendly source for potential customers to land at your door.
The Cozumel 4 You weekly bilingual News reaches nearly 18,000 Cozumel based or Cozumel friendly readers weekly! Cozumel's weekly island news in English and Spanish – we are the island's number one source of positive news, histories & stories about living in Mexico.
Every Thursday readers world-wide receive the Cozumel 4 You News directly to their email inbox or on their smartphone. Best of all, since it's an entirely internet based platform – its trackable. That means there's no more guesswork with your precious advertising budget. Together with the Cozumel 4 You marketing group we can design a strategy that really works for your business. Our unparalleled web stats can tell you exactly where our readers – your customers – interests lie.
The Cozumel 4 You Facebook Group has over 27,000 members an is an instant source of Cozumel information for residents as well as visitors.
Let Cozumel 4 You assist you in:
Creating a specific marketing plan, complete with clear and easy steps to help you reach your goal, while remaining in your budget.
Increase your web presence through social marketing, search engine optimization and a fantastic website.
Manage your social media platforms – such as Facebook, IG and Twitter